SRO said it's time to go: Officer Olsen leaves LHS for Florida
Officer Olsen says goodbye to LHS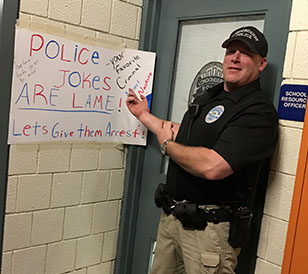 Jacob Slide, Reporter
October 21, 2016
Hang on for a minute...we're trying to find some more stories you might like.
After year of being the Student Resource Officer at LHS, Officer Olsen and his family have moved to Florida, officially leaving LHS on Friday, October 7.
He was readily available to assist both students and administrators, so he will be missed at LHS. One administrator in particular who will miss him is House 4 Assistant Principal Ms. Sullivan.
"He was always there for us," Sullivan said. "He was great backup for discipline issues and was also a great resource for students in legal trouble."
Olsen was always armed and ready for anything LHS threw at him.
"I'm going to miss the feeling of faith," Sullivan said. " I knew when he was in the building I had nothing to worry about and always felt safe."
Prior to becoming an SRO, Olsen was a patrol officer for 12 years, which he said was much different from being in the school.
"There is a lot more bullying and marijuana to deal with at the school than as a patrol officer," Olsen said.
Olsen was always in the halls or classrooms talking to both students and staff members, so he got to know the LHS community very well.
"I'm going to miss the comradery here," Olsen said. "I am definitely going to miss being a Lancer."
A new, permanent SRO will be assigned to the school in January, but until then three officers will be at the school serving as SROs on a rotating basis.