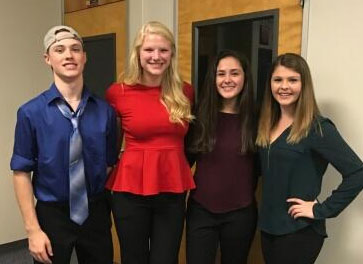 Photo by Liz Iaconis
Eager junior and self-proclaimed drama queen, Mary Sullivan has big plans for the a cappella group she founded this school year just in time for Prism.
Sullivan has had few experiences singing a cappella but saw a need to change up the typical music scene at the school, so she created a small singing group called Hosh Posh Losh, in honor of her beloved choir teacher, Mrs. Loschiavo.  The quartet will be singing the Pentatonix rendition of  "No" by Meghan Trainor at Prism this weekend.
"I mean, Mr. Beaulieu had his band Power Serge, so why doesn't Mrs. Loschiavo get a vocal band?" Sullivan asked herself upon forming her singing group.
Sullivan thinks the school needs more singing-based acts and describes this year's annual Prism concert as an opportunity to make that happen. She thought a cappella would supply something new and different than many of the solos and duets featured at Prism. She said her outgoing nature, which she describes as "spicy," has shaped Hosh Posh Losh.
"When something spicy comes up, it's memorable," Sullivan said. "I wanted to do something fun."
Getting the group together, however, was not an easy task. Sullivan, an alto singer, set out to find a soprano, tenor, bass, and beatbox part to create a full a cappella range. She knew it would not be simple to convince fellow singers to go out on a limb and join her group, but was optimistic about her capabilities.
"I knew that if I was aggressive enough, people would do it," Sullivan said.  "I just had to find the right ones."
Her first addition to the team was a friend, sophomore Abigail Palmer. Since Palmer has an impressive vocal range, according to Sullivan, she knew Palmer would have the talent and ability to sing the lower part generally challenging for girls: tenor.
"I know it's a little bit weird," Palmer said, "but I'm so proud that I can sing tenor, and I'm very excited to be part of my first audition-based Prism act."
With a duo under their belt, Hosh Posh Losh members began looking for a bass and beatbox, which Sullivan found in sophomore Michael Crowley, whose name she didn't even know at the time.
"I thought his name was Matt," Sullivan said. "I'm next to him in choir, and I noticed how good he was, but I kept calling him Matt. Turns out, his name is Mike, but somehow, we got him to join anyway."
The new group, was almost complete, but Sullivan, Palmer, and Crowley still needed a soprano. Sullivan said she knew the perfect person for the job, which was a good friend of hers, junior Josie Collins.
"Josie is so sassy," Sullivan said.  "She can do this, I said to myself. The part is made for her."
Collins, along with Palmer and Crowley praise Sullivan for the creation of Hosh Posh Losh. Sullivan says her leadership skills are not strong, but her group members disagree. They were all very happy to be involved in Sullivan's group and appreciate what she brings to the group.
"She's the idea man," Collins said. "You can always count on her."
All members of Hosh Posh Losh agree that Sullivan brought together something special. They anticipate this group will last through at least next year, when Sullivan and Collins are seniors, and hopefully, Palmer and Crowley will continue the group in their senior year.
When asked about the future of the new a cappella showstoppers, Sullivan said, "Oh, you know that next year we will be back and better than ever."