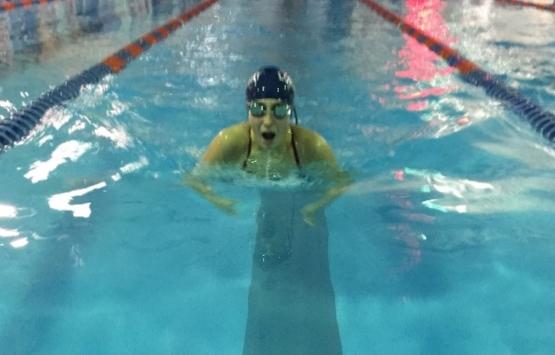 Photo courtesy of Anna Kemball-Cook
Boys' Swim
The boys' swim team contains 14  swimmers this season and according to sophomore Harry Feig is one of the strongest team atmospheres he's ever been part of.
"Out of all the teams I've been on, it has the most team bonding," Feig said.
He feels like the swim team is a family and says the team works amazingly together. This season, they'd like to get Lancer Nation behind their family.
"Swimming is a sport, and it's hard," Feig said. "It would be nice to see some people other than parents at the meets this year."
Two seniors are expected to swim well for the Lancers this year. Senior Nick Byrne is expected to be a stand-out this season and is currently recovering from an injury, but could return as soon as this Thursday. Senior Jack Stuart is currently training to carry the team.
"Our seniors are already doing really well this year, even with minor setbacks like injuries," Feig said. "They're tall, which helps, fast, try very hard in practice and have the most experience."
Stuart, who will likely play a key role in this season, speaks highly of his teammate junior Brian Parrott, along with senior Byrne. Even in such an individual sport, the teammates rely on each other and are impressed with each other's dedication and talent.
"They're both hard-working guys, and they are consistently good in meets. Neither of them makes any excuses," Stuart said.
Last year's team had many successes with swimmers representing them in the state meet, and the hope is to achieve similar results this year.
"The team is much younger this year. We're definitely more enthusiastic and fired up [than in past seasons]," Stuart said. "The team is very fun and hardworking and believes that with experience will become more competitive."
Girls' Swim
Girls' swim was already off to a head start this season, losing only one senior this past year and gaining a large number of freshmen for the season. This experienced team of accomplished upperclassmen combined with hopeful newbies, will hopefully lead the Lancers to  a great showing at the state meet for the second year in a row.
"[The freshmen] are very eager to learn, so their energy mixed with the upperclassmen has made a great season so far," senior Emily Buttafuoco said.
Buttafuoco anticipates that junior Maddy Martin will do a great job in distance races this season and hopes she and fellow senior Anna Gruchot can continue their successes in the pool as sprinters. Buttafuoco also credits freshman Jazzy Brown, seeing a lot of potential in the first year Lancer swimmer.
The team is larger than last year, but Buttafuoco describes the group as a "tight knit bunch." All of the swimmers have high expectations for each other, and Buttafuoco says the team is working amazingly together.
"Swim is mainly an individual sport but being so close really helps us build a team," Buttafuoco said.
The girls' season is already underway with two meets under their belts, but there is plenty of time to get out and support them all the way up to the state meet.