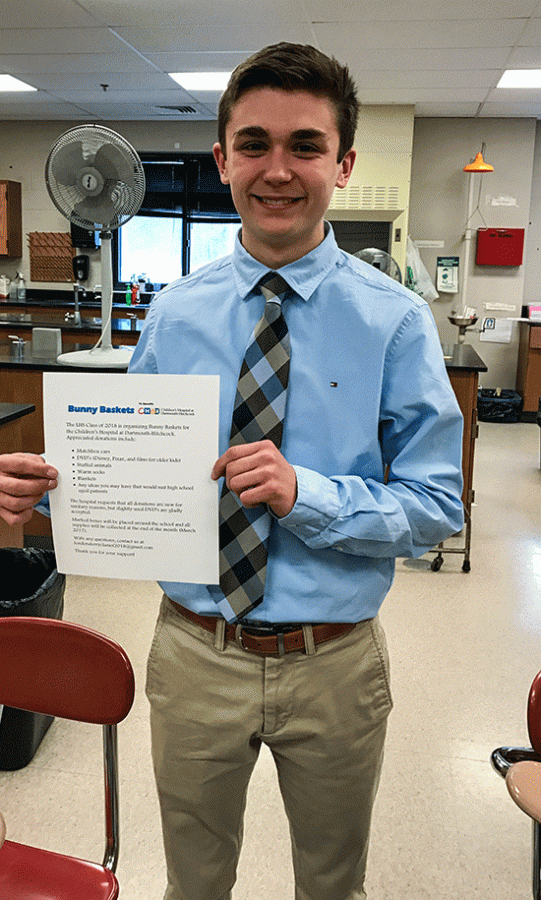 Until the beginning of April, the Class of 2018 is organizing "Bunny Baskets" to donate to the Children's Hospital at Dartmouth-Hitchcock. Students and teachers alike can donate new items from matchbox cars to blankets.
While visiting a family member at Dartmouth-Hitchcock, Class of 2018 President Jeff Cieslikowski saw the donation idea and was inspired to bring the effort to Londonderry.
"I want to make it a bigger event because we promoted the cause freshman year as well," Cieslikowski said.
After coordinating with staff at Dartmouth-Hitchcock, designing posters, and advertising the event, reps from the Class of 2018 will be collecting donations until the first week of April. Donation baskets can be found in both the Main Office and House 4.
"Initially, our goal for collection was monetary, but now we are focusing on collecting more quality items," Cieslikowski said. "We are not doing it for attention. We are at the age to know what kind of things kids would like and are able to make sure they get what they need. We hope that we can collect items that go beyond the classic or cliche donations."
For more information, please see Class of 2018 President Jeff Cieslikowski or class advisers Mrs. Donovan and Ms. McMahon.