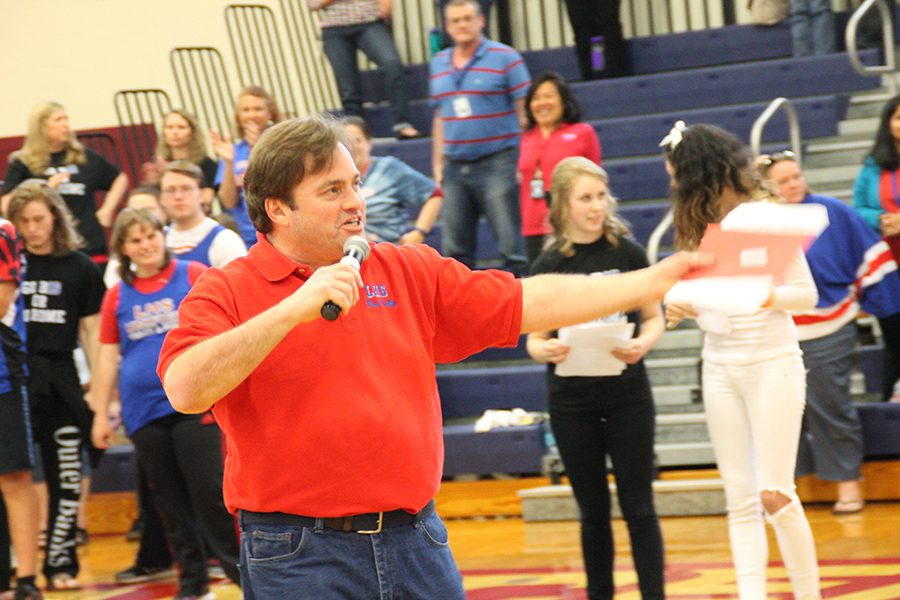 The powerful, inspirational voice of Mr. Juster fills the gym during pep rallies and the Day of Giving assembly, unifying thousands of bodies as one singular, dynamic force.
Since he's not been in school this past week, however, it is said that you can still hear the echos of "Pep Rally Past" in the gym if you listen closely enough.  And while he's gone, if he listens closely enough, he will hear the hearts of Lancer Nation beat strongly for him.
Walking into his classroom, there is a lack of technicolor energy that exists when he is there. Instead of bright, vivid, beautiful strokes of color that will make anyone "feel up and ready" (as he normally starts his class), there is this pale, drab sense of color, like there is something (or someone) missing.
Yeah, Lancer Nation just isn't the same when Mr. Juster isn't here.
He is selfless, compassionate, and is never taking–always giving. So when he needs us, we want to be there for him. Therefore, this past Wednesday Lancer Nation decked themselves out in red, white, and blue to show him that we appreciate everything that he has done for us.
He has affected everyone he has ever met–including myself. I sat in his Honors English 10 class just last year. Even on my darkest, most dismal days, his room was a four-walled force-field that blocks all the negative emotions for 45 minutes.
His life stories and maps drawn with Expo marker makes everyone smile. The best thing he has done for me though, is the story he wrote for our class. At the end of the school year, our last class before finals, he wrote a story about D period Honors English 10.  The story took place in the future at a reunion for our class, and it reflected what our lives might be like. That story left everyone in tears because he bonded us together perfectly.
I am not the only one he has touched with his kindness, of course.
"Whenever I think of Mr. Juster, I immediately think of pep rallies, and I think today is so awesome because Lancer Nation came out in red, white, and blue," Ms. Sloper said. "This is what he would want, and they are in our thoughts and prayers. We are here for them."
Juniors Morgan Leonard and Victoria Newbury have both donated their hair and know Mr. Juster well.
"I stop by and talk to him every day. It will be my fourth year of doing it next year," Leonard said. "He is probably the best teacher. He does so much."
Newbury said that Juster has helped her through many rough patches in her life.
"Mr. Juster is the one person you can go to for anything," Newbury said. "I have been able to to tell him that my mom has been diagnosed with cancer. He was really able to understand it and help me through it."
Heather Ricker, a student of Juster's and a Pantene Angel, hopes the best for Juster.
"Mr. Juster is one of the most influential teachers I have ever had. He made a huge positive impact on me. He made me love writing, and he really connects with all his students. I thank him forever for all he has done," Ricker said. "I hope he is doing well, that it all goes smoothly, and that he recovers quickly because we all miss him here and love him lots."
We all love you so much, Mr. Juster.  We hope you are "feeling up and feeling ready" soon.