Students to display musical talents at annual Prism Concert this weekend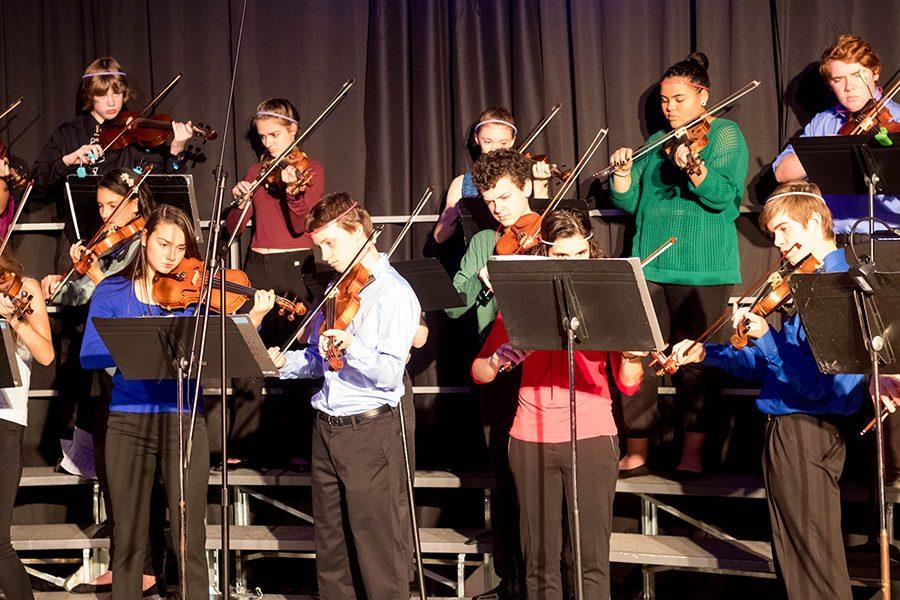 Lilly Grodt and Liz Iaconis
October 27, 2017
When the lights go down in the cafeteria this weekend, the sounds of instruments and voices will rise up as students share their musical talents at this weekend's Prism Concert. 
Produced by music teachers Mr. Beaulieu and Mrs. Loschiavo, the concert consists of music performed by soloists, groups and ensembles of students.
Beaulieu said what makes it so special is that "students get to decide what they sing."
This is the 14th Prism Concert showcasing students' talent and passion for music in front of an audience of parents, students and faculty. Held in the cafeteria, the concert lasts two days with a total of three shows, and it offers and a variety of music for the audience to listen to.
The most rewarding part for Loschiavo is "seeing students perform in a location where family and friends get to come watch."
She also likes seeing those kids who no one even knows can sing or play an instrument perform each year.
Beaulieu often chooses a pop tune for his jazz ensemble and tries to feature a singer when he can. For his orchestra he performs a popular or known song as well as a classical-contemporary selection.By choosing less common music for these two groups, it helps showcase the talent of these students in a way that isn't always portrayed.
In order to be able to be in the show, each act or person must first audition.  This year 63 soloists and groups auditioned and 26 groups made the cut and will be performing this weekend.  The amount of acts that get in the show will vary depending on the length of performances.
"So many people auditioned this year, we were considering doing three different sets," Beaulieu said. "That would have been more likely if we had an auditorium."
Beaulieu said that communication and scheduling is "one of the hardest parts" of the Prism Concert.  Working as a team, Beaulieu and Loschiavo plan out all the details and co-produce the weekend event.  As the years have progressed, the two have changed the style and expanded the length of the show depending on who will be performing. 
Planning starts in June of the previous school year and goes until the end of Prism in late October. Although this is quite a task, students are able to volunteer and help the show run smoothly, and they are able to learn about stage crew and production while being with their friends.
The special thing about Prism is that it is what the students choose it to be.
"It's a feel-good weekend," Losciavo said.
List of acts to be performed at Prism:
Turn The Beat Around – Orchestra, Choir and Jazz Ensemble
Movin' Out – Andrew Johnson
Beauty and the Beast – Jazz Ensemble
Angels and Demons – Maxwell Tsekrekas
Titanium – Chloe Ferraro
Half The Man – Nadia King
Only Us from Dear Evan Hansen – Andrea Cashin and Noah Payeur
A Minor Transition – Andrea Johnston
Sweet Child of Mine – Orchestra
Giants in the Sky from Into The Woods – Ben Dionne
I Will Survive – Urvi Chakraborty
Tarantellla – Jon Mok
An Awkward Duet – Danika Dixon and Caty Mahan
Crossword Puzzle from Starting Here Starting Now – Maya Lincoln
Lights – Ellen Kester
Take Me to Church – Rachel Cook, Zack Chau, Vituu Touch and Brittney Fernandez
Gonna Get Over You –  Chamber Choir
Red Wing (Five String Boogie Woogie) – Eric Nowak
The First Show – Evan Miller and Tyler Dupuis
Seinfeld – Brendan Schabhetl, Mike Crowley, Danika Dixon, Trevor Senecal, Ross Carroll, Patrick Strong, Jimmy Fitzgibbons, Jake Gagnon and Julia Turk
INTERMISSION
Black Sea – Orchestra
Centerfold – Brendan Schabetl, Mike Crowley, Tyler Dupuis and Joey Hernandez
Heart Failure – Carleigh McRitchie
How Will I Know – Ellen Kester, Josie Collins, Abby Palmer and Nadia King
Someone Like You from Jekyll and Hyde: The Musical  – Mary Sullivan
Jar of Hearts – Faith Gormley and Taryn Kocak
Waving Through a Window from Dear Evan Hansen – Chris Maio
Beautiful – Sophia Norton and Alexa Calligandes
Somebody to Love – Chamber and Concert Choirs
Believer – Jake Gagnon
Cantina Band – Tyler Dupuis and Luke Pascarelli
Journey to the Past from Anastasia: The Musical – Emily Thomas
Medley from Les Miserables – Orchestra, Choir and Jazz Ensemble