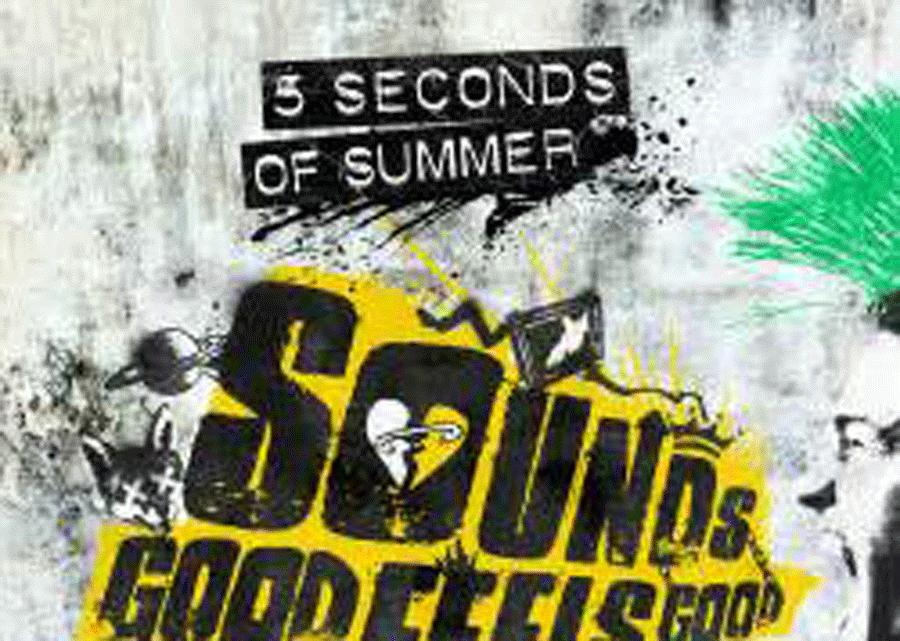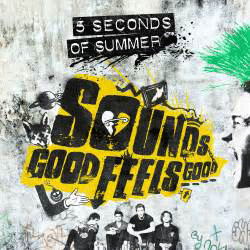 Thanks to a band of four slightly immature Australian men, my life has changed forever. The pop-punk(ish) group, Five Seconds of Summer (5SOS) formed in 2011, and since then they have released two studio albums, Five Seconds of Summer and Sounds Good Feels Good (SGFG). In 2013, 5SOS toured with One Direction during their Take Me Home tour, what caused their rise to international fame.
As a One Direction fan, their support helped me to discover 5SOS. A year after they toured with One Direction, 5SOS released their self-titled album. I didn't care for it when it originally came out, but within a few months, I gave them a chance. Soon enough, I was obsessed. I found myself counting down the days until SGFG was to come out in 2015. Two years later, this album has had a tremendous impact on my life.
Track one: Money
The 17-track album opens with "Money", which begins with a door squeak and some indistinguishable conversation between the bandmates. All of the sudden, they shout "TAKE MY MONEY!" and continue straight into the first verse, which is energetic and fast-paced. The first time I ever listened to "Money", I made the mistake of turning my volume up all the way to decipher what the band members were discussing.
I think I jumped about three feet into the air when they shouted, "TAKE MY MONEY!"
"Money" is not my favorite track, and I hardly ever find myself coming back to it. The lyrics are basic and overused, as they are simply about falling in love with a girl. This girl so happens to be referred to as "you", and describes a stereotypical teenage girl who's into the pop-punk scene.  Compared to other songs on this album, "Money" falls short. However, I concede it was a good idea to start the album with a driving pop-punk song that fans were looking for in this record.
Song rating: 3 / 10
Track two: She's Kinda Hot
Lead single "She's Kinda Hot" sets the stage for 5SOS's concept of creating their own little world with with their fans, as evidence by the lyric "we are the kings and the queens of the new broken scene." It's also supported by track seven, "Safety Pin".  Although this is a song that I don't find myself coming back to very often, I do enjoy listening to it on occasion.  
I love drummer Ashton Irwin's solo, and the "na na na"s make the song unique and strangely pounding. The message behind the song is also relevant. The lead single of 5SOS's first album was "She Looks so Perfect", and when "She's Kinda Hot" was announced, I think a majority of fans, including myself, thought the song was going to be "She Looks so Perfect 2.0" due to the similarity of titles.
Instead, the band shocked everyone with a song about being proud of who you are. The lyric "they say we're losers, and we're alright with that," was the first time I realized this band is about more than just girls and money. Sure, they've always been passionate about their music, but opening for One Direction introduced a whole new world to 5SOS: a world filled with teenage girls ready to fall at their feet.
SGFG was when 5SOS finally broke through the barrier of writing simple love songs.  Though I don't listen to it very often, "She's Kinda Hot" was a great choice for a lead single and promotes a good message.
Song rating: 5.5 / 10
Track three: Hey Everybody!
"Hey Everybody!" was not a song that I particularly liked the first time I heard it, nor the second time, nor the third. Due to the way 5SOS sampled Duran Duran's "Hungry Like the Wolf" in this song, my dislike towards "Hungry Like the Wolf" translated into "Hey Everybody" as well.
Until the music video came out, I didn't listen to it again.  By using the four band members in bubble wrap going down a large slip-n-slide and lead guitarist Michael Clifford sign spinning in a hot dog suit, 5SOS could not have made a better video for a terrible song.
Song rating: 3.5 / 10
Track four: Permanent Vacation
"Permanent Vacation" was a song fans were familiar with before the album came out, as the band had been playing the song throughout their first headlining tour, Rock Out With Your Socks Out. The bridge of "Permanent Vacation" reminds me of the bridge of Green Day's "Holiday", which is perhaps why I find myself coming back to "Permanent Vacation" more so than the first three songs on this record.
Green Day is another one of my favorite bands, so I really love seeing the influence they've had on 5SOS and their music. It's not surprising that these two bridges sound similar. In fact, 5SOS's producer and "band dad" John Feldmann has said that the song "could be a Green Day song from 1994."
As someone who has been to two Green Day concerts, I've seen "Holiday" live twice. Each time was absolutely incredible, with my fist pumping and I was screaming the lyrics as loud as I possibly could. I'm sure that the experience of "Permanent Vacation" live would be relatively the same to "Holiday".
Though not quite the anti-war song Green Day has released, "Permanent Vacation" is a good recovery from the 'eh' beginning on this record.
Song Rating: 6.5 / 10
Track five: Jet Black Heart
"Jet Black Heart" is Clifford's song. During 2016, 5SOS embarked on their second headlining tour, Sounds Live Feels Live (SLFL). A little after the halfway point in each concert, the lights would dim to a blue-almost-green color, and all bandmates except Clifford would exit the stage. From there, Clifford would sing the first verse and chorus of "Jet Black Heart" by himself, and the band would join in at the second verse.
Usually, before Clifford could start singing, fans would start cheering, and Clifford would cry. This became known as Clifford's moment, which was a heartfelt connection between the band and the fans, and was definitely one of the highlights of the tour.
As said by Feldmann, "Jet Black Heart" is an "early-00s, super emo rock, semi-ballad." I think that's the perfect way to describe it. Driven by heavy guitar and vocals, the lyrics only add the emotional element. Clifford opens the song with "everybody's got their demons. Even wide awake or dreaming." By that point, I already knew I was going to need a tissue by the end of this song.
In my opinion, this is one of 5SOS's best singles, and something that contributes largely to the bond between both the band and their fans.
Song rating: 6.5 / 10
Track six: Catch Fire
"Catch Fire" took almost a year to grow on me. It's boring, and the lyrics are basic. "Catch Fire" is much weaker than the rest of the record. However, I can't deny that lead singer Luke Hemmings's note at the beginning of the final chorus is impressive. Honestly, I find myself skipping this song more often than not.
Song rating: 3 / 10
Track seven: Safety Pin
From Irwin's opening solo to the last two lines of "Safety Pin," I was hooked on this song. "No more waiting, we can save us from falling," is both the bridge and outro of the song. Led by Hemmings, the last two lines of the song are sung a capella, which creates an effect that I'm sure would be absolutely incredible live.
The safety pin was the symbol for both the album and the concept of the new broken scene, so I really don't understand why they never performed it live. Regardless, it's an incredible song.
Song rating: 7 / 10
Track eight: Waste the Night
When I first heard "Waste the Night", the only thing that popped into my mind was that it sounded like indie rock band The 1975 and jam-band Moon Taxi had a baby. This is a song I imagine myself driving down the highway to during the final stages of a sunset, with a thin ribbon of a deep orange color covering the bottom of the sky and stars becoming visible.
The chorus is driving with the repetition of the lyric "I don't wanna waste it, I don't wanna waste the night." The final chorus fades into a soft interlude. Bassist Calum Hood sings incoherently, and I find it calming. Personally, that's my favorite part of the song.
Hemmings controls the crowd wonderfully during "Waste the Night" live, and all band members seem to enjoy playing this track. This song is definitely a favorite of mine in the band's discography.
Song rating: 8.5 / 10
Track nine: Vapor
"Vapor" is a track that, once again, reminds me of The 1975. This is no surprise. Producer Zakk Cervini has stated that "Vapor" is a sister track to "Waste the Night". 5SOS play around with repetition of the last word at the end of a line for two lines, then skip two lines in each verse, and, personally, I think this adds an element to the song that adds more to the lyrics.
The chorus, led by Hemmings, is powerful, with haunting lyrics that stick in your head. "I want to breathe you in like your vapor. I want to be the one you remember. I want to feel your love like the weather, all over me, all over me." This lyric is easily one of the most memorable of SGFG, and it's something that I always think of when I'm listening to not only this song, but also the rest of the record. Just like "Waste the Night", this song is easily one of my favorites in their discography.
Song rating: 8.5 / 10
Track ten: Castaway
"Castaway" is exactly what the band needed to stray away from their boy band image. It's intense, with a pre-chorus that builds up to an exploding chorus. The "oooh"s that start and appear throughout the song adds to the lyrics and brings them to life. "Castaway" should have been a single. It had so much potential. It's a fan favorite, as it's the sound both 5SOS and fans were looking for, and the music video would have been incredible!
Live, 5SOS put on a great show of "Castaway". Everyone gets into it, and the guitar battle between Hemmings and Clifford is an incredible way to display their talent and hype the crowd up.
Song rating: 8.5 / 10
Track eleven: The Girl Who Cried Wolf
"The Girl Who Cried Wolf" was originally released on the She's Kinda Hot EP and was the only song from the EP to make the album, excluding "She's Kinda Hot".  The pre-chorus of this song builds up but doesn't deliver what it promises, and the verses are just okay. However, the bridge is what kicks this song into action and brings the fire that the pre-chorus promises. Clifford repeats the lyric "is anyone there at all" over and over with intensity and emotion that brings something to the table that Hemmings doesn't on this particular track.
Once again, Clifford delivers an incredible outro with a soft voice and raw emotion that makes you feel like you're the one he's asking if anyone's there at all.
I wouldn't say that "The Girl Who Cried Wolf" is 5SOS's best song, or even the best song on this album, but Clifford truly took the reigns on this song and brought it to life with just his voice, which makes this track just all that much better.
Song rating: 7 / 10
Track twelve: Broken Home
Personally, I can't relate to "Broken Home", as my parents are together. However, I appreciate that 5SOS didn't stray from writing about serious topics, and it's great that some fans have something to connect to. Once again, Clifford delivers some powerful lines in the beginning of final chorus. Also, "Broken Home" is where I find Hemmings to finally deliver his emotion with his singing.
Song rating: 5 / 10
Track thirteen: Fly Away
"Fly Away" came along with pre-ordering Sounds Good Feels Good, and it was the perfect choice to tease the album. It gave fans what they were looking for, a fun pop-punk song to jam to. The "na-na-na"s sprinkled throughout the song are an immediate reference back to "She's Kinda Hot", and it enforces the pop-punkiness of the song.
I imagine that "Fly Away" live would have been fun, fire blasts going off at the beginning of the chorus and them doing their perfectly timed, iconic "She Looks So Perfect" jump.
Song rating: 5.5 / 10
Track fourteen: Invisible
"Invisible" opens with Clifford asking "whoa, what's this", and then the sound of a typewriter. Though the band has stated the song is only about someone running away, I've always thought of it as a suicide note.
'Band dad' Feldmann has said that Hood came in and claimed "Invisible" as his song, which is sad that he found "Invisible" to be the song he related to most, but "Invisible" absolutely would not be the incredible song that it is today if Hemmings or Clifford sang it. Hood's smooth, strangely calming voice is filled with raw emotion, only adding to the mood of the song. To add to the suicide note, the typewriter sound effect in the background of the song adds the element of Calum writing the suicide note as he's singing.
In the second chorus, the pace kicks up. Hood's voice becomes more desperate as he repeats "who am I? Who am I when I don't know myself. Who am I? Who am I? Invisible" twice. At the second invisible, he holds the note and it goes quiet for a few seconds, before a guitar kicks in. Hood sings quietly, "another day, the walls are built to keep me safe. I can't escape, it's too late," and everything fades into a violin solo that leaves the listener's heart broken. Well, at least mine was.
"Invisible" is definitely one of my favorites off of this record. Hood does an amazing job—one that leaves my heart heavy.
Song rating: 10 / 10
Track fifteen: Airplanes
"Airplanes" is a song almost exclusively sung by Clifford, led with heavy guitar and powerful vocals. The pre-chorus builds up and delivers what it promises, something the band has learned how to do very well. The bridge is intense, like something out of a movie when the protagonist has decided to take charge of the situation. It leads into a guitar solo, that, I imagine, would have been incredible live.  
My first impression of  "Airplanes" was that it sounds like a Christmas carol. Maybe that's why I love it so much. "Airplanes" is definitely one of the most underrated songs off of this album, and I wish that they had played it during their tour.
Song rating: 9.5 / 10
Track sixteen: San Francisco
I think "San Francisco" is a boring song. I find myself falling asleep up until the outro, in which Hemmings leads with the repetition of the same lyric over and over. The lyrics are sweet, and Hemmings puts a tone of almost desperation up front, and it works wonderfully. The song fades into an interlude that I find has no place in this song. Usually, I skip it.
Song rating: 6 / 10
Track seventeen: Outer Space / Carry On
Without a doubt, "Outer Space / Carry On" is my favorite from this album. The verses of "Outer Space" drag the listener in. The chorus seems like pent-up frustration represented musically, which I love. But, the bridge is what puts "Outer Space" above any other track on this album. It builds up, loudly and almost happily, in a strange way. To end "Outer Space", Hood begins to sing "love me like you did, love me like you did. I'll give you anything, I'll give you anything." He repeats the lyric four times, holding the 'anything' on the final line.
"Outer Space" ends there, fading into what links the two songs together: the sound of the ocean. The waves rolling in for a few seconds begins to fade into the sound of a single organ. Hemmings begins the song, a smooth, low tone that's calming with the organ in the back. "Carry on, outlast the ignorance. Moving on, survive the innocence. Won't be long, won't be long, won't be long. You know it's gonna get better."
That is easily my favorite lyric from this record. Sung by Hemmings, it ends the record off on a positive note.
As someone who struggles with anxiety, I can't tell you how much listening to "Carry On" has actually helped me feel better. Certain members of 5SOS have struggled with mental illness, and I think it's great that they don't stray away from tough topics. Most fans, including myself, have a soft spot for "Carry On". In my opinion, it's 5SOS's best song, musically and lyrically.
I'm very happy that "Carry On" has gotten the love it deserves, and I really hope that 5SOS continue to play it on their tours.
Song rating: 10 / 10
Sounds Good Feels Good is easily my favorite album of all time. Songs like "Outer Space / Carry On" and "Broken Home", and even "She's Kinda Hot", solidify this band as more than just some boy band that only appeals to teenage girls. Sure, they have a large following of teenage girls, including myself, but they make music that can be appreciated by anyone.
Most of the songs on this album are about things that matter. 5SOS didn't avoid writing about tough topics, and I appreciate that.
Irwin has said that the music they've written for their new album is the best they've ever written. I believe him, but I'm not quite sure they'll be able to top "Carry On" or "Invisible". Regardless, I absolutely look forward to what this band will release in the future, and maybe their new album will replace Sounds Good Feels Good as my all time favorite.