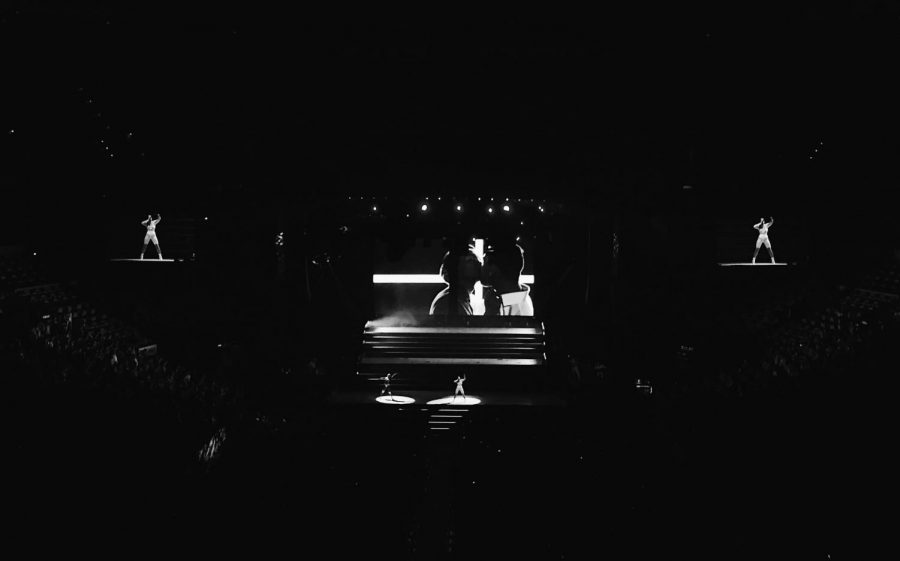 I pestered my parents for a week about getting tickets for electropop artist Halsey's concert in Boston. I texted them pictures of an ad for tickets, and I constantly reminded them they would sell out quickly. Finally, I got a text from my mom which said, "Happy early birthday!" with an image of an email, confirming that my dad bought us the tickets I so desperately wanted.  
I waited 148 days for the concert, and when Oct. 6 rolled around, the day moved as slowly as possible. After all, I did wait all that time for it, and, after seeing videos and pictures from previous shows during the tour, I couldn't have been any more excited. After my dad took me to dinner at the Boston Beer Garden, we finally made our way over to the TD Garden, which was hosting Halsey in concert.  
The night opened with electropop artist Charli XCX and R&B artist PartyNextDoor (PND). To be honest, I wouldn't call myself a fan of either, but I prefered Charli XCX's set compared to PND's. PND's backup band was more impressive than the rapper himself. He didn't interact with the crowd and awkwardly maneuvered around the stage. Though I only saw half of his set (as the other half I was rushing to the bathroom because of the water bottle I drank in twenty minutes), I didn't feel any obligation to cheer or even watch him. Maybe it's just not my style of music, but I feel Charli XCX should've come on second, rather than PND. Charli XCX was energetic, interesting, and engaged with the crowd—all characteristics that would've hyped the crowd up more than PND.
Halsey began her setlist with "The Prologue" from her most recent album, Hopeless Fountain Kingdom (HFK). HFK is a concept record, based on a flipped, modern, more dangerous version of Shakespeare's Romeo and Juliet, and the album opens with Halsey's reading of Shakespeare's prologue from Romeo and Juliet. I never listen to "The Prologue," but I understand why Halsey began her show with it. "The Prologue" was played from tape rather than sung live, and continued straight into "Eyes Closed," also off of HFK.
For "The Prologue" and "Eyes Closed", I remained sitting. It wasn't until "Hold Me Down", off of Badlands, Halsey's first album, that I found myself jumping to my feet. "Hold Me Down" is loud and repetitive, and it's definitely a song that gets the crowd going. "Hold me down, hold me down. Sneaking out the back door, making no sound. Knock me out, knock me out. Saying that I want more, this what I live for," is what I found myself screaming and jumping along to.
Halsey continued on to two songs that I don't really enjoy. "Castle" is a song that never stuck out to me amongst her others, and "Good Mourning" is much like "The Prologue". I don't listen to "Good Mourning" very often, but I was very impressed when hearing it live.
The visuals used during "Good Mourning" were absolutely incredible, with an orange fish swimming around and lights flashing oranges and blues that set the mood for the song. The background visuals at Halsey's concerts are something she takes pride in. She pays attention to details and assures that everything is as perfect as it could be for her fans, which is something I admire about her.
After "Good Mourning," Halsey began leading a clap. As soon as the clapping had begun, my jaw dropped open. "Heaven in Hiding" is one of my favorites from HFK, with a pounding chorus. It's loud, and Halsey's voice raised with each word during the chorus, building up the energy of the crowd.
At that point, Halsey began to  play one incredible song after the other. From "Strangers," a single from HFK; to "Roman Holiday," my favorite song of hers; to "Walls Could Talk" off HFK. "Walls Could Talk" is easily my favorite from HFK and was absolutely incredible live. Between her red unitard and thigh-high boots, and the soft pre-chorus that built up to a beat drop and short dance combo between Halsey and her very talented backup dancer, I was impressed. Backup dancer TeeTee adds an element to the story and makes Halsey look thirty times cooler.
"Have any of you recently just gotten out of a relationship?" The crowd roared. "Well then, I beg you to consider the option that you were the problem!" The crowd booed as Halsey giggled. "No? Sometimes, you just gotta admit it."
"Bad at Love" kicked in, and the crowd cheered as visuals reminiscent of the desert and gas stations appeared on the screens behind Halsey.
After brightly-colored confetti fell during "Alone," a piano was dragged onto the stage while Halsey changed. She sang a heartfelt version of the song "Sorry," before quickly exiting the stage for another costume change.
A guitar had kicked in, and my jaw dropped open. At the first pound of the drum, blue and orange lights flashed as a small flame appeared. Halsey sat down on the steps on stage, a hood covering her face. As the pre-chorus built up, the steps began to flash between blue and orange, and Halsey's voice had gotten louder with every word. She stood up from the step she had been sitting on as she sings with grit in her voice while the exploding chorus begins. She ripped her hood off as fire blasts had gone off in the background. "Angel on Fire" is an explosion represented in a song.
From here, Halsey moved to the B-stage. She sung "Lie", easily my least favorite song from HFK. The orange fish from "Good Mourning" reappeared during "Lie", imprinted on the small stage. At the end of "Lie", TeeTee appeared. Halsey and TeeTee performed a dance combo, splashing water with each stomp at the pound of the drum. It was intense as Halsey and TeeTee battle in a fake fight before everything went black.
TeeTee rushed off the stage as Halsey appeared, now free of her mask and hood. She sung the beginning of "Don't Play," another one of my least favorites from HFK. TeeTee reappeared right before the beat dropped, where the pair performed another dance combo.
At the end of "Don't Play," Halsey exitted B-stage, still repeating "Women… Don't play no games!" TeeTee remained on the B-stage, as Halsey moved to the A-stage again.
"Now, here in the Hopeless Fountain Kingdom, we have a democracy," Halsey said, announcing that the VIP section chose for her to play Badlands' "Drive." At the end of the first chorus, Halsey asked, "Will you guys please give me the honor of taking out a light? Any kind of light: your phone or a lighter— if you're old enough to have a lighter. I don't know." Almost immediately, I reach into my purse for my phone. The arena lit up, and I shed a tear or two. By knowing how much "Drive" means to Halsey, my heart hurt.  
"This is a very, very special song that I feel has always represented my relationship with you guys, so I am going to play it," Halsey said as the chords of "Is There Somewhere" sounded through the arena, and my heart sunk to my stomach. Not only is "Is There Somewhere" a sad song, but it truly is the song that represents the connection between Halsey and her fans. When the fourth verse had ended, Halsey ran into the audience. She made her way around the floor, giving fans hugs and taking selfies, even continuing to sing into the outro. Halsey shouted, "Could we pretend that we're in love?" The lights faded.
Halsey continued on to "Now or Never," lead single from HFK and "Colors," from Badlands. I spent the entirety of "Colors" screaming the lyrics and jumping up and down. To be honest, I think I scared the girl standing next to me. To end her setlist, Halsey played "Young God," a song that I imagine connects to "Is There Somewhere". As she disappeared off stage, a video montage from her summer tour had played.
"You didn't think I was gonna let you off that easy, did ya," Halsey joked after singing "Gasoline," the first song in the encore.
"If you walk away from this show," Halsey began, "and you only remember one thing, let it be this: This song ["Hurricane"] is a reminder that you do not belong to anybody but yourself."
And, that night, I truly did feel like I didn't belong to anybody but myself.