All Time Low releases storytelling album "Last Young Renegade"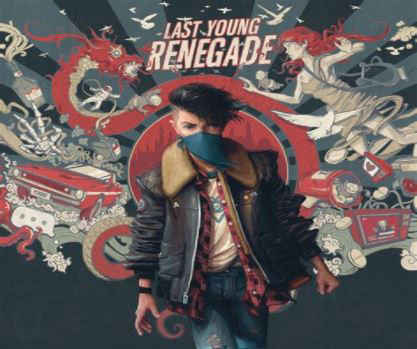 Jill Spencer, Reporter
February 1, 2018
Hang on for a minute...we're trying to find some more stories you might like.
All Time Low, a pop-punk/alternative band formed in 2003 based out of Baltimore Maryland, recently released their seventh full length studio album Last Young Renegade. This is their first release with their new record label Fueled by Ramen after making the transition over from their previous label, Hopeless Records.
Since forming, All Time Low has become a big advocate for the scene— and that is a huge reason why this brand of music is still popular and thriving. The band has been on tour and writing new music constantly since their first release in 2006. With all that they've written comes a lot of variety for what to use in a set list and that was kept in mind while writing this album.    
This is All Time Low's first concept album, meaning the album has a story and the same theme is carried from beginning to end. This was only one of the new techniques All Time Low used on this album. They also explored a lot of different sounds and synths in the writing and recording process of Last Young Renegade.
But don't worry, All Time Low hasn't forgotten their roots and completely abandoned their old sound, this is still very much an All Time Low Album and they raise a glass to that in the track "Nice2KnoU".
"Last Young Renegade is a story of self-realization," lead singer Alex Gaskarth said in a social media post shortly following the albums release.
Throughout the album there is self doubt and rejuvenation.  
From the album's title track "Last Young Renegade" to the closing track "Afterglow," the album takes the listener on a journey reflecting the good, the bad and the ugly of a person's life.  
While the first songs reflect on a young, careless love that ended in disaster, there is a celebratory ending to the album reminding you that there is always a way out of the dark.
"Drugs & Candy" is an ode to a toxic relationship is more of a temporary fix and ultimately is causing more harm than good. "Dark Side of Your Room" is kind of the other side of that. It is staying with that person and chasing them down a road you shouldn't go down and ending up totally lost.  
This album has its ups and downs. From how personal and dark the song "Nightmares" is. To "Ground Control" which Gaskarth has said is the most optimistic song he has ever written.
"Good Times" was the first song that Gaskarth wrote for Last Young Renegade.  It inspired the tone for the album and is kind of poetic in the sense of it speaking to being on the edge of something unknown and needing to take the next step— which is uncertain, exciting and terrifying. As a fan of this band for eleven years, and watching every interview leading up to Last Young Renegade's release, it seems like that is exactly what All Time Low did with this album. And they nailed it.
Last Young Renegade is definitely a different sound and a different approach for the band, but I think it's the next step for them. They know how to write a different album and still stay true to themselves, and their fans seem to love it and responded very well to the change in sound, myself included.
Last Young Renegade is a very honest album. It's real and vulnerable. It talks about common experiences that we've all had but maybe would not like to admit.
While Last Young Renegade  isn't my favorite All Time Low album, it is still well worth the listen.