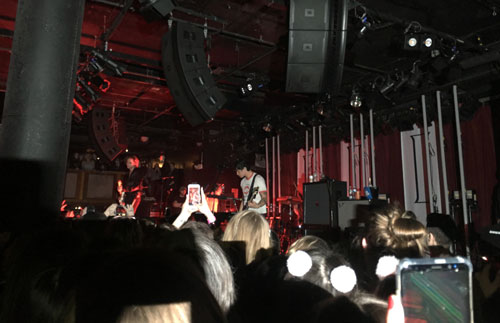 Photo by Anna Drabik
I waited for years for this day to come.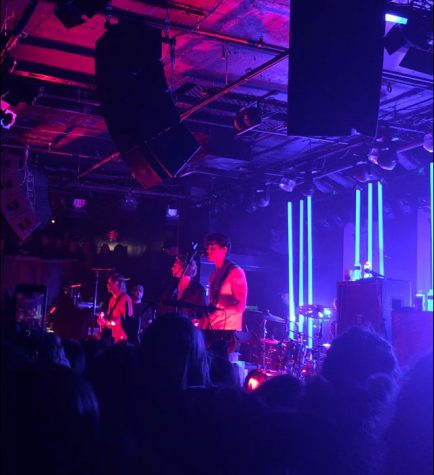 I watched my friends go to 5 Seconds of Summer (5SOS) concerts. I watched the tour diaries. I watched other people stress about buying tickets to a 5SOS concert.
And then, I finally got to experience it myself.
March 2, 2018; 7:50 A.M., February vacation week: I receive a text with my access code to the presale from Ticketmaster.
Two hours later, I'm sitting on my grandparents' porch in Florida, constantly refreshing the Ticketmaster website. When the clock hits 10, I purchase my tickets while my hands are shaking.
Fast-forward to April 8, 2018, 6:27 P.M.: my dad and I arrive at where we typically park for concerts at Boston's Paradise Rock Club. When we get to the venue, we discover the line has wrapped around three different sidewalks. I wasn't really surprised, as people had been queueing since 8 A.M.
My dad and I spent about 50 minutes in line when it was only 40 degrees, and my toes were completely numb by the time I was inside the venue.
As soon as I found a spot in the crowd, I lost my dad; I didn't see him until the show ended. Though the website and tickets stated that the show was to start at 8, the boys of 5SOS didn't come on until 8:50, at which point my toes were unfrozen, and I was sweating.
As soon as the opening chords of "She Looks so Perfect" sounded throughout the venue, the crowd began pushing as hard as possible to get closer. I'm 90% sure my feet left the ground at one point.
When 5SOS made the transition between "She Looks so Perfect" and "Girls Talk Boys," one of the girls I had been talking to before the show grabbed my shoulders and pushed me into the spot in front of her. Either she noticed I couldn't see anything, or she wanted a better spot herself, but I actually could see once she moved me, and I was grateful.
Ironically enough, the time when I saw the most phones in the air was "Disconnected," but I was one of them for 14 seconds.
"Can we just, for a minute, talk about Michael Clifford in orange," frontman Luke Hemmings said. "You look good, man, you look good… This is an oddly shaped venue. How are we feeling over here," Hemmings asked, pointing to the right.
The crowd cheered.
"And over here?" Hemmings pointed to the left.
The crowd cheered.
"The reason we are here tonight is because we have a third album coming out, " Hemmings said. "Thank God we have a third album coming out. Can we play a new song for you?"
The crowd cheered, again.
"This song's called 'Moving Along,'" Hemmings said as bassist Calum Hood began to sing.
Personally, I love "Moving Along," and I was the only one singing along in my section, which was embarrassing, especially when I got the lyrics wrong.
From there, 5SOS played "She's Kinda Hot" and "Valentine," another new song. After "Valentine," 5SOS kept the crowd going with "ooh"s, which is when drummer Ashton Irwin stood up on his drum kit, and it was the only time during the show that I saw him.
"Boston, how are y'all feeling right now," Hood asked.
The crowd cheered.
"You know 5 Seconds of Summer missed you, right?"
The crowd cheered.
"Did you miss us?"
The crowd cheered.
"You guys are, uh, you're the first people in North America to hear our new songs, and I'm so glad I want to say thank you, thank you, thank you to every single one of you for coming out," Hood said. "I'm only gonna ask one thing, I only have one question to ask to every single one of you. Do you guys wanna sing with me right now?"
The crowd cheered.
"Do you wanna sing with your friend Calum Hood right now?"
The crowd cheered.
"Alright, let's go," Hood said before beginning to sing "Amnesia." When 5SOS slowed things down for "Amnesia," the seventh song, the pushing in the crowd finally calmed down.
After "Lie to Me," another new song, fans began to break out their orange hearts for "Waste the Night." The orange hearts have been a tradition since 5SOS's first headliner show in Massachusetts back in 2013, and the creator has said that she "hopes to continue [this fan project] every headline show that [5SOS] do in Massachusetts."
"Boston, this is probably the best place in the world right now," lead guitarist Michael Clifford said after playing "Talk Fast." "It feels like we played a game of, like, what's the maximum size venue that's still classified as a bar that we can play. So, in some sense, we're a bar band right now."
The crowd cheered.
"Who's been waiting to see us?"
The crowd cheered.
"The next song we're gonna play is really important, to all of us and I'm sure to everyone else. It's a special one, it's 'Youngblood.'"
The next morning, 5SOS announced the release date of their third studio album, Youngblood, that the track "Youngblood" would be released along with the preorder, and that they would be doing another tour in North America.
During "Jet Black Heart," I'm not going to lie, I started to cry. This band means so much more to me that I could put into words, and, even though I say it about every concert I attend, this was the greatest night of my life. Despite the pushing and getting up early for school the next day, it was well worth it.
They closed with "Want You Back," lead single from Youngblood, and, before I knew it, the boys took their final bow.
"Boston, thank you very much for being here," Hemmings said. "We'll be back!"
I'll see my boys again in Boston in August.