Boys' Lacrosse rolls into the semifinals after gritty win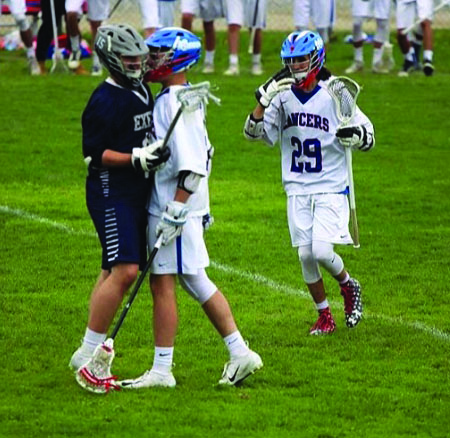 Hang on for a minute...we're trying to find some more stories you might like.
After a incredible comeback win against Bedford, the boys' varsity lacrosse team look to continue their underdog season against BG. BG is undefeated and has 9 D1 commits on their roster, but that hasn't phased senior captain Mike McAlister.
"Their defense isn't nearly as good as their offense," McAlister said. "I think that we can score on them if we lockdown on defense."
One key part to preparing for a game is studying film. BG is undefeated and has plenty of highlights on their film, however they also showed some weakness.
"We watch our their offense runs their plays, what their tendencies are, and who shoots the ball the most," McAlister said. " I think that if we play the way we have been playing recently I think that we can make it a close game."
After a crazy game against Bedford in the quarterfinals, the team afterwards talked about how the game never got out of hand.
"We knew that it was going to be a tough game," McAlister said. "Going into the first game I don't think that we were ready, however in the playoff game after we started to score I think we started to believe in ourselves."
At one point Bedford was sitting on a comfortable 9-5 lead, that was until senior captain Nate Andrews scored to start the final rally.
"I was nervous but once we scored our 6th and 7th goal, we all started to rally together," McAlister said.
The Lancers hadn't won a playoff game in five years until this year. There is no one player on the team that they have to rely on. However there are some standout players that the team has recognized are very important to there playoff run.
"Nate Andrews is one of the captains and one of our best players. He has a heck of a shot and knows where and what to do in any situation," McAlister said. "Corey Hicks is also one of the captains and he locks up on defense."
Their semifinal game is Tuesday 6/5, at 7:15 in Exeter.