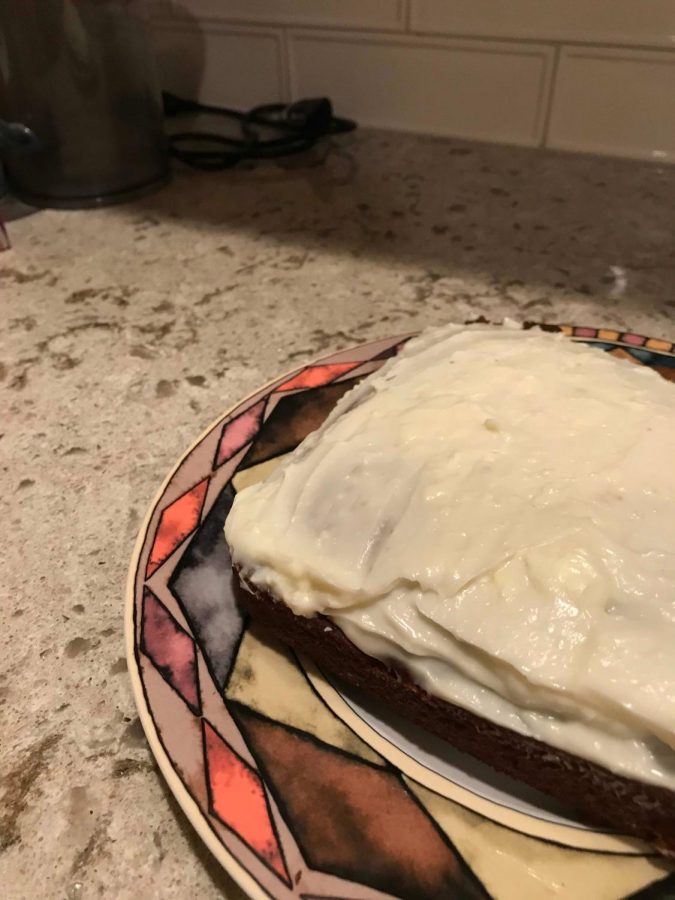 Fall is here and it's time for pumpkin spice everything, and I mean everything. During the fall, you could look up anything and most likely find it. Things like lattes, gum, Pop Tarts, Jello, pancakes, muffins, waffles, and Doritos®. After rooting through everything that exists that can be pumpkin spiced, I stumbled upon a classic; Pumpkin Spice Cake. It is good to share (but only if you want to) with your family and friends. This recipe will take a little time but, hopefully will satisfy your pumpkin spice cravings, for about 5 minutes.
INGREDIENTS
2 cups (250g) all-purpose flour (spoon & leveled)
2 teaspoons baking powder
1 teaspoon baking soda
1 teaspoon salt
1 and 1/2 teaspoons ground cinnamon
2 teaspoons pumpkin pie spice*
1 cup (240 ml) canola or vegetable oil*
4 large eggs
1 cup (200g) packed light or dark brown sugar
1/2 cup (100g) granulated sugar
1 (15 ounce) can pumpkin puree*
1 and 1/2 teaspoons pure vanilla extract
Cream Cheese Frosting
8 ounces (224g) full-fat block cream cheese, softened to room temperature
1/2 cup (115g) unsalted butter, softened to room temperature
3 cups (360g) confectioners' sugar, plus an extra 1/4 cup if needed
1 teaspoon pure vanilla extract
1/8 teaspoon salt
Directions:
Preheat the oven to 350°F (177°C) and grease a 9×13 inch baking pan.
Whisk the flour, baking powder, baking soda, salt, cinnamon, and pumpkin pie spice together in a large bowl. Set aside. Whisk the oil, eggs, brown sugar, granulated sugar, pumpkin, and vanilla extract together until combined. Pour the wet ingredients into the dry ingredients and use a mixer or whisk until completely combined. Batter will be thick.
Spread batter into the prepared pan. Bake for 30-36 minutes. Baking times vary, so keep an eye on it. The cake is done when a toothpick inserted in the center comes out clean. If you find the top or edges of the cake is/are browning too quickly in the oven, loosely cover it with aluminum foil.
Remove the cake from the oven and set the entire pan on a wire rack. Allow to cool completely. I usually place the cake in the refrigerator to speed things up.
Make the frosting: In a large bowl using a handheld or stand mixer fitted with a paddle or whisk attachment, beat the cream cheese and butter together on high speed until smooth and creamy. Add 3 confectioners' sugar, vanilla, and salt. Beat on low speed for 30 seconds, then switch to high speed and beat for 2 minutes. If you want the frosting a little thicker, add the extra 1/4 cup of confectioners sugar (I add it). Spread the frosting on the cooled cake. Refrigerate for 30 minutes before serving. This helps sets the frosting and makes cutting easier.
Cover leftover cake tightly and store in the refrigerator for 5 days.
Make ahead tip: Prepare cake through step four. Cover the cake tightly and refrigerate for up to two days or freeze up to three months. Bring to room temperature, make the frosting, frost, and serve. Frosted cake freezes well, so it will last up to three months. Thaw overnight in the refrigerator, bring to room temperature or serve cold.
https://www.averiecooks.com/easy-pumpkin-spice-cake-with-cream-cheese-frosting/