NFL weekly picks: Week Seven
Brian Boyle, Max DesRosiers, Nick Desrosiers, Thomas Fougere, Zach Malcolm, Blake Melnik
October 18, 2018
Hang on for a minute...we're trying to find some more stories you might like.
We are traveling back in time for our picks this week. Each team on our picks board is represented with their throwback logo. Before we get to the picks, here is how we stand heading into Week Seven:

And here are our picks: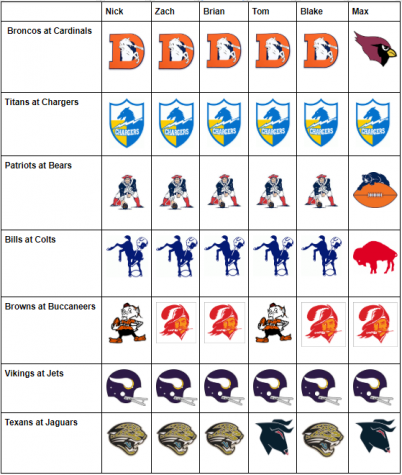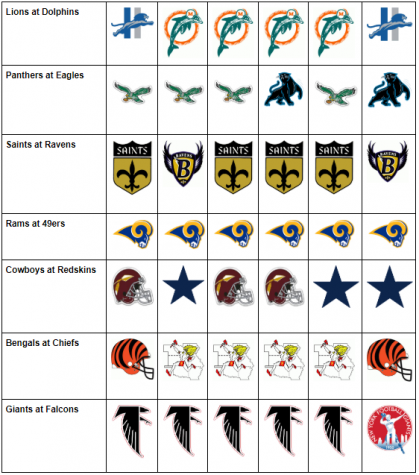 Game of the week: Our game of the week yet again involves the Kansas City Chiefs (5-1). The Cincinnati Bengals (4-2) travel to Arrowhead Stadium, one of the toughest places to get a win. The Chiefs have something to play for after their close loss to the Patriots. We believe that Patrick Mahomes will tear apart a weak Bengals defense who was recently exploited by the Steelers. We believe this game will be a shootout that the Chiefs will win because of all their weapons. Andy Dalton is going to have to throw the ball all day in order to hang on.
Player of the week: Kirk Cousins is our player of the week this week. Cousins and his favorite receiver Thielen have been playing out of their minds this season, with Cousins throwing for over 400 yards twice and Thielen having six straight 100 yard games. With the run game struggling lately, the Vikings should have another good day throwing against the Jets weaker secondary. Even if the Jets find a way to subdue Thielen, fellow receiver Stefon Diggs and Kyle Rudolph could easily find the ball from Cousins. Unless the Jets play out of their minds and keep Cousins off the field, he should have another big day.
Bust of the week: My bust of the week for Week Seven has to go to wide receiver Cole Beasley of the Dallas Cowboys. In Week Six, Beasley went off for 101 yards in nine receptions, along with two touchdowns. This week he will be matched up against a good Washington defense, and I just can't see him doing the same thing this week. I think last week was just an exceptional week for him, and this week he will go back to his usual three to four receptions for around 50 yards.
Sleeper of the week: Our sleeper of the week is Tyler Boyd. The elusive 6'2" slot receiver has been a reliable force for Cincinnati all season long. Last week he proved to be a threat in the end-zone for Andy Dalton, hauling in in seven passes for 62 yards and two touchdowns. He has solidified his status as a WR2 on any fantasy roster. The Chiefs have given up big games from similar receivers in recent weeks, carrying the 32nd ranked defense in the NFL.  AJ Green will most likely draw coverage from Kendall Fuller for the majority of the game, leaving the struggling Steven Nelson to try to match up with Boyd. With all this said, we expect Boyd to break out and have a huge game.