"151 Rum": J.I.D addresses crucial issues in society on new track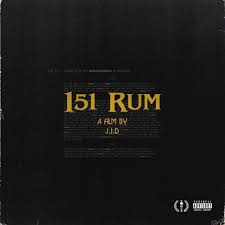 J.I.D, a new rapper in the game, is making waves with his unique style on his new track "151 Rum." A track from his upcoming second album, J.I.D showcases more skill with his flow and lyricism, delivering a hard-hitting beat, a flow anyone can get lost in, and storytelling that rivals rapper Joyner Lucas, well-known for his writing on "Ross Capicchioni" and "I'm Sorry."
Said beat, produced by Nic Resto (Wiz Khalifa, Ty Dolla $ign) and Christo (Bas, EARTHGANG), is heavy with bass, a powerful sarangi layover, and has a subtle hi-hat. Each of these components compliments J.I.D's voice, which bleeds with sorrow, anger, and happiness.
The chorus describes two current issues, police and gang violence. The first two lines bring remembrance to J.I.D's childhood friend, Ricky, with whom he used to play football. This incorporates having someone to run from the police with, and Ricky is also a reference to Boyz N Da Hood. The last five lines of the chorus describe how a mixture of marijuana, rum, and guns can create a killer.

Throughout J.I.D's first verse, he delivers lyrical bars in a rapidly changing eccentric flow while he describes his early life, resulting in beautiful imagery of gang violence, fake friends, and struggles in the home. He also brings attention to the fame he has gained using a Madden Football reference, "Cover my back, cover man, please, come with the blitz."
His early childhood involved having little food in his house, taking hand-me-downs from his brothers, and putting his soul into his bringing up. "I paid blood for this / Taking cheese from the government / Cereal boxes with the bugs in it / Hand me down then my brother, brother s***." His wordplay is simple yet complex, which is a skill many cannot achieve while switching flows.
Deeper into the track, he describes his friend, Lil Tay, being shot down and the grief that has plagued J.I.D as a result. In my opinion, a friend being killed right next to you in a drive-by is one of the worst things that could ever happen.
Later, J.I.D touches on how he is out to retaliate against anyone that harms his friends with an eye-for-an-eye philosophy. At this time his flows switch to a slower cadence, and voice distortion is added to emphasize the pain he feels from these experiences.
Finally, he touches upon how he loves the life he has now as a rapper, returning to his jittery signature flow, "Diabolical minds, I don't mind it, I like it, I like it, I love it."
Overall, this track is a masterpiece; "151 Rum" delivers an astounding verse that shows some of the most dire issues within east side Atlanta. In addition, the listener is able to become lost in the music due to his flow, so I give this track a 10 / 10.