NFL weekly picks: Week Ten
NFL weekly picks: Week Ten Brian Boyle, Max DesRosiers, Nick Desrosiers, Thomas Fougere, Zach Malcolm, Blake Melnik
November 8, 2018
Hang on for a minute...we're trying to find some more stories you might like.
Multiple stars, such as Golden Tate and Demaryius Thomas, were moved across the country during this weeks trade deadline. Here is how we stack up heading into Week Ten:

And here are our picks: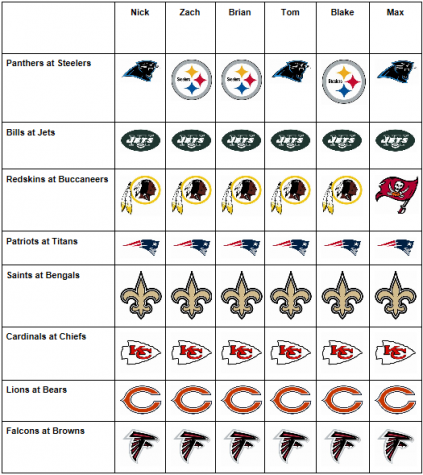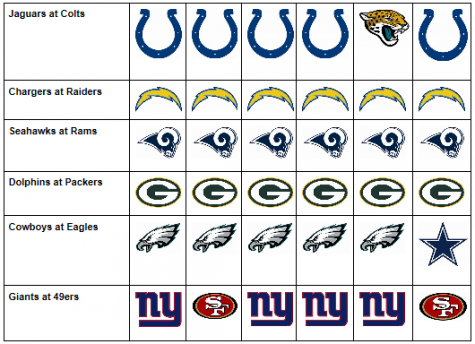 Game of the week: Our game of the week for Week Ten goes to the Panthers vs. Steelers matchup on Thursday night. These two team are very close at a competitive level, as Carolina sits at 6-2 and Pittsburgh at 5-2-1. Although the Steelers do not have the record advantage, they will have the home field advantage, as well as a 32.3% winning edge, according to ESPN's matchup predictor. In this matchup it will be very entertaining to see if Steelers RB James Conner can continue his pro-bowl season, as well as the QB matchup of Cam Newton vs. Ben Roethlisberger. I have to give the upper hand to the Steelers, as Roethlisberger and the Steeelers are at their best at home.

Player of the week: Josh Gordon is our player of the week. Gordon is our player of the week because he looks poised to have another great week this week on the road. Last week against the Packers, Gordon had his best showing of the year by putting up five catches for 130 yards and one touchdown. This great performance showed what Josh Gordon is truly capable of when in the right situation. The Titans defense is a subpar, and with that said, Gordon will have a field day this week by catching multiple balls for numerous yards and possibly a couple touchdowns. Josh Gordon's explosiveness and skills will prove why he is the player of the week against the Titans.
Bust of the week: Our bust of the week is Russell Wilson. Facing the high powered Rams defense, Wilson is going to have his hands full. Seattle's top two playmakers RB Chris Carson and WR Doug Baldwin are questionable with a hip and groin injury respectively. Coming off of a tough week where Seattle was held at the goal line, Wilson is going to want to redeem himself in a statement game. Against the Rams in Week Five, Wilson failed to throw for over 200 yards in a grueling loss. We expect a lot of the same in Week Ten.
Sleeper of the week: Aaron Jones is our sleeper of the week this week. After a strong showing against the Rams in week eight with 12 carries for 86 yards and a touchdown. The following week he put up 75 yards on 14 touches and caught two passes for ten yards. Ty Montgomery being traded away solidified Jones as the top back in Green Bay despite Mike McCarthy still giving touches to Jamaal Williams. This is the week that Jones' uptick in touches finally gives the production that the Packers need to make an end of the year playoff push.