"Uncommon Valor" gives the listener goosebumps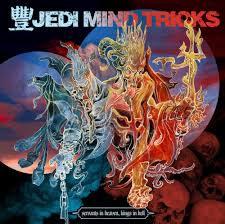 Although the Vietnam War is oftentimes not touched upon in hip-hop, it is something R.A. the Rugged Man and Jedi Mind Tricks are not afraid of vividly describing. Throughout this four-minute track, numerous viewpoints are shown: such as the young man loving the war, the soldier crying to leave in their foxhole, and a veteran crying over the lasting effects of the war. From slow flows to rapid-fire verbal bombardment, this track gives me goosebumps every time I listen to it.
In Vinnie Paz's verse, he describes the soldier crying to leave Vietnam. Contemplating why the American soldiers are fighting is the main point throughout this verse. Later on, Paz describes the dislike of President Nixon's reasoning for fighting the war, because he hasn't seen a single Chinese soldier in the jungles of Vietnam; even though Nixon said they are fighting Chinese expansion.
Finally, the most chilling part of the verse is when he says he did not sign up to kill innocent civilians, "I didn't sign up to kill women or any children / For every enemy soldier, we killin' six civilians / Yeah, and it ain't right to me." These three lines state a reality in its rawest form and deliver a staid message from Paz's perspective.
The interlude of the track brings a sense of realism in battle, perfectly captured by an officer yelling at a frozen soldier, convincing him to fight.
R.A.'s father, the center focus of his 44-lined verse, allows him to bring a new perspective. As R.A's father was directly affected by the war and Agent Orange, it allows for a perfect biography of a soldier in the war.
He starts his verse with the arrogant soldier who believes he is immune, or a "God" in Vietnam. Though some uncertainties are brought up, the verse more or less describes the enjoyment that R.A's father had at the beginning of the conflict in regards to guns, gambling, women and booze; all things many soldiers found amusing.
The second section of the verse is the transition to a sad realization that the war is brutal. R.A describes the Vietnamese and how he himself hadn't felt the pain of being hit but the pain of falling into his dreams. His dreams being about how every single human is similar in one way; being able to feel emotion and pain. Finally, his father wakes up as he escapes the war due to injury.
The final 5 lines are used wisely by R.A. while the effects of Agent Orange's are perfectly portrayed by showing how his own siblings were born with an intellectual disability, blindness, and have quadriplegia or cerebral palsy.
R.A.'s final lines of the song show how his father came to terms with the brutality of the effects through praying, "I escaped the war, came back / But ain't escape Agent Orange: two of my kids born handicapped / Spastic, quadriplegia, microcephalic / Cerebral palsy, cortical blindness — name it, they had it / My son died, he ain't live / But I still try to think positive, 'cause in life, God take, God give."
Simply put, "Uncommon Valor" is potentially one of the greatest tracks of all time, as it's daring discourse, varying viewpoints and phenomenal flows makes it beyond a rating on a scale of 10. Personally, I'd like to say thank you to all of our veterans or active troops for your service to America.