NFL weekly pick: Week Eleven
Brian Boyle, Nick Desrosiers, Thomas Fougere, Zach Malcolm, Blake Melnik
November 15, 2018
Hang on for a minute...we're trying to find some more stories you might like.
–Breaking News– Max DesRosiers has been eliminated from the NFL weekly picks series due to lack of competitive picks. This shouldn't come as a surprise after selecting the Bills and Browns as upsets on a regular basis. Now the five of us will battle it out for the weekly picks title. Here is how we stack up heading into Week Eleven.

Here are our picks: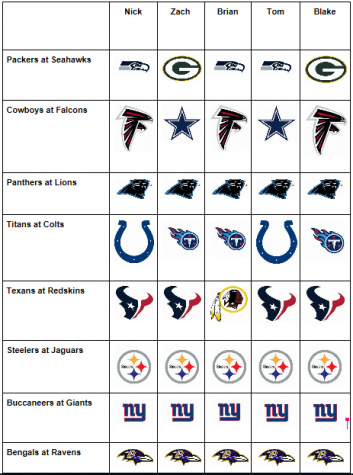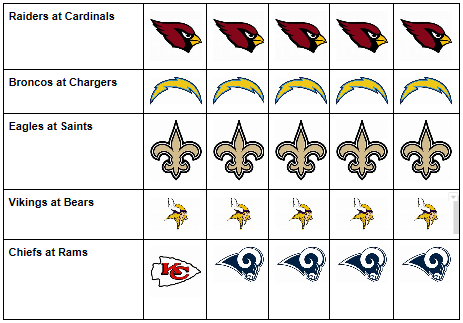 Game of the week: Our game of the week for Week Eleven without a doubt is going to be the matchup of the Los Angeles Rams against the Kansas City Chiefs. These two high powered offenses battling it out is going to be a must see. The edge in this game has now been shifted towards the Rams, as there game was supposed to be held in Mexico City. The field conditions as of now are very unsafe, and players on both teams made it clear that they would rather sit out than play in this game. With the game being moved to the LA Memorial Coliseum, ESPN has a given the Rams a 63.5% of winning over the Chiefs 36.6%. Since the Rams a potent offense and a better defense, we just can't see the Chiefs coming out on top this week over the Rams.
Player of the week: Ezekiel Elliott is our player of the week this week. The Falcons depleted defense is very susceptible to the rush. Last week, Nick Chubb ran for 176 yards and a touchdown along with 33 yards and another touchdown through the air. With stats like that against a less proven back, Zeke should be able to torch the Falcons weak defense coming off of another successful week against the Eagles.
Bust of the week: Our bust of the week is Mitchell Trubisky. Trubisky is our bust of the week because it will be very hard for him to take advantage of a stout Vikings defense. He has been playing great the past few weeks shredding multiple defenses. This week will be a challenging task for him. The top notch Vikings defense will do a good job in coverage, rushing Trubisky, and protecting against the run. This week will be one of the young quarterbacks toughest matchups so far in his career.
Sleeper of the week: Our sleeper of the week is Tyler Lockett. Lockett has been playing very well for the entire season. He has acted as Russell Wilson's number one target throughout the entire season because Doug Baldwin was injured for the first few weeks and is still not 100%. Lockett has been a big red zone threat even though he is on the smaller side. He excels at getting separation by using his lightning speed, and against a banged up Packers secondary he could see many looks go in his direction. We expect Lockett to continue his solid campaign against Green Bay.