Via Spotify
In the 2011 season of The X Factor UK, the women of Little Mix originally auditioned as solo artists. By the finale, however, the group was united as a girl group, while their chemistry earned them the win. After struggles with their record label and personal relationships, Little Mix was forced to grow closer than ever. Their hardships led to the creation of LM5, a personal and liberating album, which Little mix created to feel genuine and impactful.
Little Mix is no stranger to Latin-influenced tracks—and neither is the general public, at least not anymore. After 2017 saw the rise of Justin Beiber's remix of Luis Fonsi and Daddy Yankee's "Despacito" (which remained number one on the Billboard Hot 100 for sixteen weeks), the world of pop music shifted away from trap/EDM club songs to reggaeton. Artists from Dua Lipa to Cardi B are releasing Latin-influenced tracks, but the difference between Little Mix and these artists is that Little Mix has been perfecting this style since their sophomore album, Salute ("Move" and "Nothing Feels Like You").
Now on LM5, Little Mix has refined that sound. "Think About Us" is memorable; the whistle harmonies and hard-hitting piano stay with the listener, and the "oh-na-na-na-na"s are so catchy. "Love a Girl Right," which samples Sisqó's "Thong Song," has little electric guitar bits scattered throughout (which I love), and also poses a nice juxtaposition in the bridge between the girls and these deep male voices. "I'll be there for my girl always / She mean the whole world to me… If you do her wrong, best believe / She'll be livin' la vida loca," sings Leigh-Anne Pinnock; "Love a Girl Right" is one of many songs on LM5 with the prominent theme of sisterhood.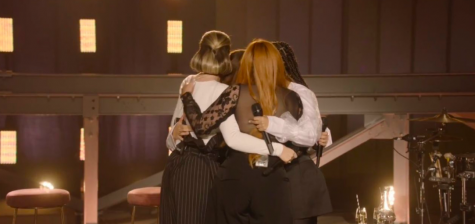 Halfway through the album is "Told You So," an acoustic track with minimal production, so the emotional delivery relies on the women and their vocals. As always, the talented ladies of Little Mix bring their best to the table. They sing, "Girl, just come round mine tonight / I've got wine and make-up wipes / I'll hold you… Talk 'bout how he's not the one / I told you / But I'm never gonna say I told you so," showing their strong, everlasting friendship.
Closing track, "The Cure," is another example of Little Mix's indestructible friendship. They sing, "I was a little bit left out, but I'm not anymore / 'Cause the tears fell down, but they don't anymore… It's alright now, baby, I've got the cure."
Nelson stated at their live event for Apple Music that she felt "The Cure" was special because the listener could interpret it anyway they'd like. When I first heard the song, I immediately connected it to Pinnock, who revealed in an interview with ASOS that she "felt invisible" during her first couple years in the band.
"I just couldn't seem to find my place," Pinnock said. "I didn't feel like I had as many fans as the other girls." Since then, Pinnock has begun to shine on their albums, especially on LM5's "Notice."
"Notice" is mature; the twinkling keys, sharp cycling percussion, silky vocals, and wavering bassline, is all very sensual, but Little Mix execute it in a sophisticated manner. On the other hand, "Joan of Arc," is far from sophisticated. While the slinky beat and cowbell sound great, the lyrics are childish and messy. Unfortunately, every Little Mix album has at least one of these songs ("You Gotta Not" and "Beep Beep" from Glory Days, for example), but "Joan of Arc" is much better than those.
The women also claim that they are "on that feminist tip," and the theme of feminism is prominent on LM5. "Woman's World" is a feminist anthem. In this powerful ballad, Little Mix sing, "If you never been told how you gotta be / What you gotta wear, how you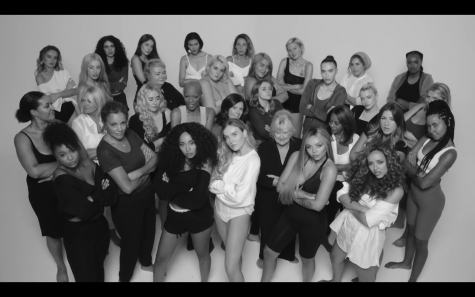 gotta speak / If you never shouted to be heard / You ain't lived in a woman's world." It's a sad truth, but as the women sing, "there will be a day / When everyone's treated the same."
In addition, the first fifteen seconds of "Strip" are acapella, and what follows is minimal production, only a heel-clicking beat and vocals. The women encourage the listeners to "love" and "rock" their bodies, as social media tries to "tear [them] apart." During the ASOS interview, Nelson admitted that she used to care about what people thought about her and how she looked. Little Mix feel passionate about the message they're sending because they "want people to know they're not alone."
This message means a lot to me. I have always struggled with the way I look; it's constantly been in the back of my mind since elementary school. To have role models as body positive and encouraging as Little Mix is important to me and their music has definitely been a way for me to like what I see in the mirror and feel more confident in everything I do.
Seven years down, five albums released, and Little Mix has only begun. LM5 is their greatest album to date, at an 8 / 10. I cannot wait to see what is in the future for Little Mix.