NFL weekly picks: Week Fourteen
Hang on for a minute...we're trying to find some more stories you might like.
With only a few weeks left in the regular season, here is where we fall heading into Week Fourteen:

And here are our picks: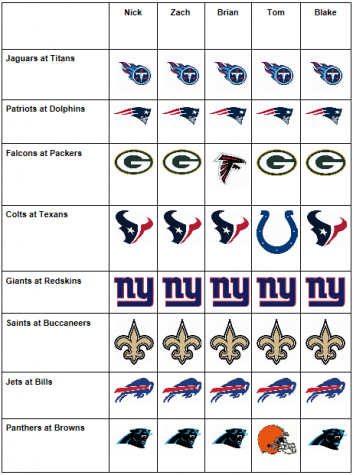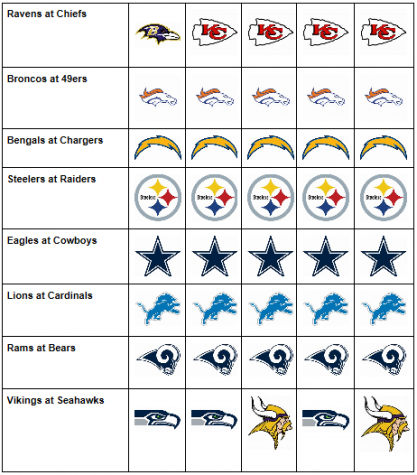 Game of the week: Our game of the week for Week 14 is going to be the Monday night football game of Vikings versus Seahawks. In this game expect to see a battle put up by both teams as each team tries to make their own consecutive playoff push. Looking into this game at face value, it is apparent that the Seahawks have the edge with a 7-5 record compared to the Vikings 6-5-1 standing. According to ESPN's matchup predictor, The Seahawks are also given the edge with a 65.5% winning chance over Minnesota's miniscule 34.2%. Although on paper it may look like the advantage is on Seattle's side, there are some noticeable statics that you may not know about Minnesota going into this game, that may surprise you. Minnesota's #6 ranked defense crushes Seattle's #19 ranked defense when it comes to total yards given up this season. Minnesota's #16 ranked offense also trumps Seattle's #19 ranked offense when it comes to total yards this season. In conclusion, going into this game, the Seattle Seahawks are going to have to prove that their better record actually means something against the Minnesota Vikings better statistics.
Player of the week: Our player of the week is Davante Adams. He has been playing at an elite level all season and I don't see that stopping against a sub par Falcons secondary. Adams has 11 touchdowns in 13 games and receives double-digit targets every week. As Aaron Rodgers number one target, Adams is projected to have another busy day.
Bust of the week: Deshaun Watson has been underwhelming in his sophomore campaign. He has played well enough for to have the Texans win nine straight games, but that's mostly due in part to contributions on the other side of the ball. JJ Watt's resurgence along with a weak schedule have gotten them to 9-3. However, this week will be different. The Colts boast a strong offensive line with stud rookie guard, Quenton Nelson. There is potential for this game to be high scoring and will be left up to the quarterbacks. Watson has only posted four games over 300 yards and hasn't done so since week 5. If the Colts can stifle Watson, the Texans streak will be over.
Sleeper of the week: Our sleeper of the week is 49ers RB Jeff Wilson Jr.. Wilson Jr. is filling in for Matt Breida who has been ruled out of next week's tilt with the Broncos. The Broncos defense allowed a big game on the ground last week to Joe Mixon, and I would expect Wilson Jr. to post similar numbers in Week Fourteen. After Brieda went down early against the Seahawks this past weekend, Wilson Jr. had 61 yards on 15 rushes and 73 yards on eight receptions. He is a must add in any fantasy league and a good RB2 start. I would expect him to draw over ten targets and be a sneaky threat in the end zone against the Broncos.