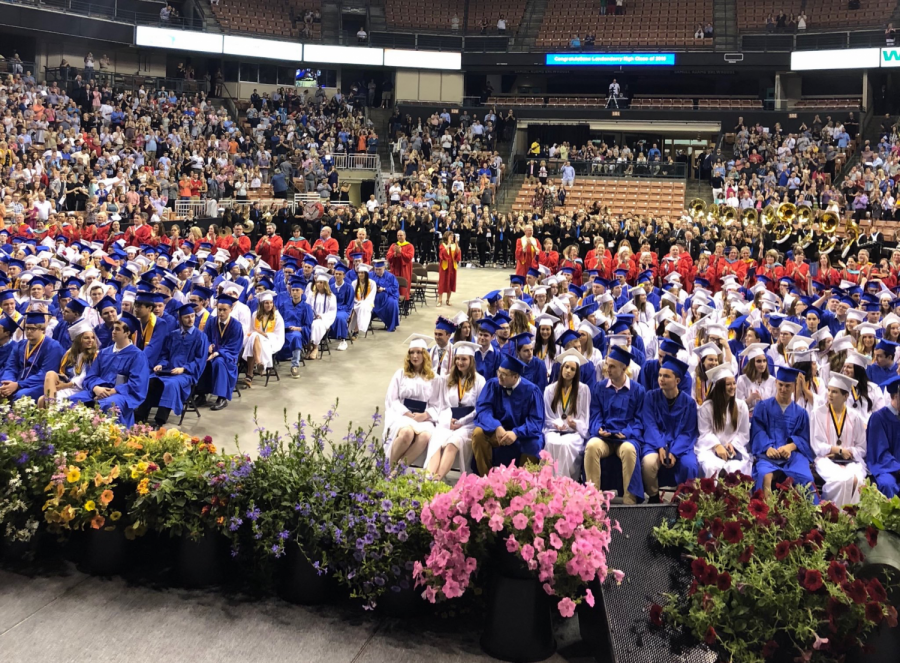 Lancer Spirit file photo
Going to college is expensive, but the College Board is on board to help.
Recently, the College Board launched a new program called the "College Board Opportunity Scholarship."  Starting with the Class of 2020, they've promised $5 million worth of scholarship opportunities to be given to qualified students over the next five years both nationally and locally.
There are a total of seven scholarships to be awarded. By completing each step, students become eligible for the scholarship associated with that step. Students who complete all six steps may also qualify for the seventh Complete Your Journey scholarship. The seven scholarships, named after the required steps, are listed below:
Build Your College List: Get started by exploring colleges of interest and build and save a college list on BigFuture™, located at this link, with at least six (6) schools. You must be logged in to BigFuture™ using your College Board account.
Practice for the SAT: Log in and practice for the SAT using Official SAT Practice on Khan Academy® at this link, for at least six (6) hours. Your College Board and Khan Academy accounts must be linked. To learn how to do this, follow this link.
Improve Your SAT Score: Improve your score on the SAT by 100 points or more after practicing on Official SAT Practice on Khan Academy® for at least twelve (12) hours. Score improvement of 100 points or more can be from the PSAT/NMSQT to an official SAT administration, or from one official SAT administration to another official SAT administration. You must have a minimum 100 point score improvement and practice 12 or more hours to qualify for this scholarship. Your College Board and Khan Academy® accounts must be linked, and you must be logged in while practicing.
Strengthen Your College List: Create or edit a college list on BigFuture™ so that it has a minimum of one (1) "safety," two (2) "fit," and three (3) "reach" colleges. You must be logged in to BigFuture™ using your College Board account and you must save your college list.
Complete the FAFSA: With your parent or legal guardian, fill out and submit the Free Application for Federal Student Aid (FAFSA) form, available at this link, to apply for financial aid. You will be required to provide your FAFSA confirmation number and Data Release Number (DRN) to verify that you submitted the FAFSA if you are selected for one of these scholarships. For students who do not have Social Security numbers and are thus unable to complete the FAFSA, to earn an entry, they must attest to such fact by following the instructions within the Site.
Apply to Colleges: Apply to at least two (2) colleges. You will be required to provide proof of your college applications if you are selected for one of these scholarships.
Complete your Journey: Complete all six (6) of the activities required to qualify for Scholarships 1-6, above.
The scholarship officially started in Dec. of 2018 for the class of 2020 and members of the class of 2021 are eligible beginning Dec.of 2019. For students in the class of 2020, the College Board suggests students start as soon as possible to give themselves a better chance to receive a scholarship. Students can opt in here.
To be considered, students are chosen based on a random drawing to win each scholarship type, including the twenty-five $40,000 Complete Your Journey scholarships. The College Board is also designating half of the total amount of scholarships for students whose families earn $60,000 or less.
The College Board defines "Lower Income Students" as students (a) eligible to receive a fee waiver from the College Board, and/or (b) attending school in a high-poverty school district (defined by the U.S. Department of Agriculture as a school district where 75% or more of students receive free or reduced price lunch), and/or (c) having a family Adjusted Gross Income of $60,000 or less, will have a chance to enter separate and additional drawings, as described below. Students to whom (c) applies will be required to provide verification of their family Adjusted Gross Income using the secure document system if they are selected for one of the separate and additional scholarships.
If you are a student who meets this description, you may qualify for more opportunities to win a scholarship and you may be asked to be provide the following proof of your financial status:
A letter from their school counselor; or
A photo or letter showing their free/reduced lunch status; or
A photo or other copy of a student aid report confirming income; or
A photo or other copy of a parent's or legal guardian's filed federal tax form.
Students should and can sign up for this opportunity now and get started with the first step of creating and building your college starter list. The scholarship does not require a specific GPA or essay—students are rewarded based on initiative and effort.
The selection of winners is chosen within five business days of the end of the qualifying month, Sponsor will select the name of potential winners of prizes in a random drawing from among all eligible entries received. The odds of winning are based on the number of eligible entries received. Potential winners must sign an affidavit of eligibility and any other applicable waivers to claim your prize.
Winners will be notified by email within five business days of the drawing.
For more information, follow this link to the College Board website. If you don't have an account already, don't worry! Creating an account is easy and is definitely worth it when you have an opportunity like this, especially with the help and service the College Board offers. The College Board plans to award 4,000 scholarships to students with more given to students who show hard work and determination.