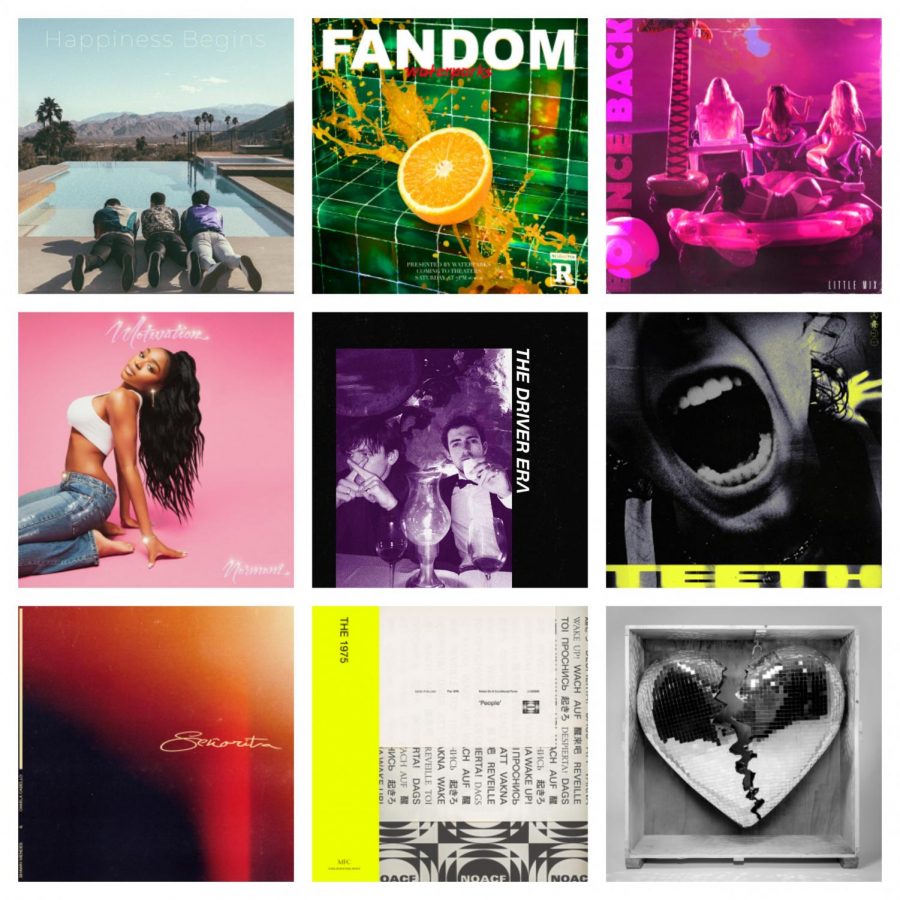 All images were obtained from the artists' Spotify.
Unfortunately, back-to-school season is upon us. However, I'd like to take a moment to look at some of the wonderful music of summer '19 that will keep me going as I cry over the copious amounts of homework I now have to do. I have separated this article into two parts, the first consisting of albums, and the second, songs. All music included in this two-part article was released from June 1, 2019, to Aug. 23, 2019.
SONGS
"Find U Again" – Mark Ronson and Camila Cabello
While "Find U Again" did come out prior to the time frame I mentioned earlier, it is included in Late Night Feelings, the Mark Ronson collaboration album that came out June 21, 2019, which is within the time guidelines. I also love this track too much to not include it. 
"Find U Again" makes me feel so nostalgic. The whirring bass gives a vintage feel to the track, alongside the vibrant keys, melancholic guitar, and striking synths. The true highlight, however, is not the instrumentals, but the gift that is Camila Cabello, the single vocalist of "Find U Again."
Cabello delivers as both the vocalist and a primary writer. According to Ronson, the melody for "Find U Again" had been in the works for years. Not only did Cabello have to write lyrics to a melody she didn't create, but she did a seriously good job of it, too. Cabello and Ronson took a break-up song and spun it on its head, changing the concept to losing a love so special that you know you'll never find someone who can compare. 
As a vocalist, Cabello provides a potent vocal performance. Her layered vocals are rich and make the song feel more atmospheric. She sings, "Have mercy on me please… This crush is kind of crushing me / I do therapy at least twice a week / There's a you-shaped space in my bed / Always you-shaped thoughts inside my head," which flows so nicely and is punctuated by guitar. 
However, "Find U Again," a 10 / 10 song, is not Cabello's only summer hit…

"Señorita" – Shawn Mendes and Camila Cabello
2019 brought forth the second collaboration between Shawn Mendes and Cabello.  The first, "I Know What You Did Last Summer" ("IKWYDLS"), was released almost four years ago in November of 2015. I have to say, though, "Señorita" beats "IKWYDLS" any day.
"Señorita" is so catchy, with its "oh-la-la"s and simple chorus. Speaking of, the "oh-la-la"s fit the tropical, summer romance vibe of "Señorita", whereas the "ah-ha hey"s in "IKWYDLS" felt unnecessary and distracting.  In "IKWYDLS," Mendes is practically shouting to be heard during the chorus; however, in "Señorita," Cabello and Mendes' voices meld together extremely well.
While I really enjoy "Señorita," with its snaps; lush, calm acoustic guitar; and lightly bumping bassline, I don't see myself coming back to this in the future, especially because I think the summery vibe wouldn't quite translate to the colder months ahead. Thus, I give Mendes and Cabello's second collaboration a 9 / 10.

"Bounce Back" – Little Mix
To be honest, I'm not really sure what Little Mix is doing anymore. They signed to RCA Records after six years of receiving little-to-no promotion from their old label, Syco. Little Mix then announced the release of "Bounce Back," but besides the week leading up to and following the release, Little Mix have all disappeared with no promo to be found. In fact, Little Mix even canceled the Australian tour leg for their most recent record, LM5, under the guise of doing more promotion for "Bounce Back." Yet, no promotion has been done, and it seems all the girls have taken a vacation to rest from the oh-so-stressful lack of work they have been doing.
Regardless, "Bounce Back," which samples Soul II Soul's "Back to Life (However Do You Want Me)," is an enjoyable song; so enjoyable that it could've been a summer hit. For the most part, the song is all vocals, which are incredible, as per usual from the Little Mix ladies, as well as percussion. Later, an instrumental bridge composed entirely of brass instruments continues to the chorus, which brings something fun to the table and joins in on the brass/horns trend of the past few years. Additionally, the song was co-written by Normani, a previous member of the now-disbanded Fifth Harmony. While I may not love "Bounce Back," Normani debuted with the next track on this list.
Overall, I give "Bounce Back" a 7 / 10. Though it doesn't necessarily have to do with the sound, I knocked off points for the lack of promotion. Besides that, I enjoy the song, but I don't love it. I do love, however, Normani's debut that I mentioned earlier… 

"Motivation" – Normani
For a debut, Normani truly knocked it out of the park. "Motivation" is fun and catchy. The drums are prominent, but not overbearing. Normani's vocals are smooth and just the right mature tone to fit with the flirty nature of the song. The baritone sax solo during the bridge compliments the horns throughout the track and adds flare.
"Motivation" was co-written by Ariana Grande, as well as Ilya (who also produced the track) and Max Martin. While I can definitely hear Grande's influence, Normani put her own spin on "Motivation." However, the greatest thing in this entire equation is the music video, which is absolutely fantastic. Not only does Normani pay homage to several icons, including Rihanna, J. Lo, and Beyoncé, but the outfits and multiple dance numbers are fantastic. Additionally, the music video begins with a younger version of Normani watching the video, and it ends with that same younger girl dancing and singing along. I think Normani can serve as an inspiration to little girls around the world, especially with the well-deserved success she's receiving.
The rollout and execution of "Motivation" was perfect, and considering this was only her debut and was a 10 / 10, I cannot wait to see what comes next for Normani.

"Watch What Happens Next" – Waterparks
Back in May, Waterparks released "Turbulent." Now, they're back with their second single, "Watch What Happens Next," off their upcoming third album, titled Fandom. While the track is a standard pop-punk song from Waterparks, the amazing lyricist that is Awsten Knight came in and made the track a 10 / 10. In fact, I'd say the typicality of the instrumentals intentionally draws more attention to the meaning of the song.
Knight speaks to how conforming and strict pop-punk culture is. For example, hip-hop and pop artists are enabled by their fans to explore different genres and ways of making music, whereas pop-punk bands are ridiculed for trying new sounds ("You wanna hear my art / But only on your terms.") Additionally, rappers are allowed to brag about their money and all the luxury items they own, but, as Knight sings, "You want a say in / How well I live… Do I get a car? / Hope it's not too nice… Can I pay rent? / Sure, but not much else."
"Watch What Happens Next" is sadly accurate. Every time Waterparks have experimented in the past, their fans angrily take to social media to trash the autotune and hip-hop influences. While I don't love those songs either (take, for example, "We Need to Talk" from Entertainment, which I explained my distaste for in my review), I want Waterparks to grow as artists. I don't want the same album over and over again, which "Watch What Happens Next" promises won't happen. So, I am absolutely looking forward to Fandom's release in October.

"Teeth" – 5 Seconds of Summer
Similar to Waterparks, 5 Seconds of Summer (5SOS) released a single ("Easier")  back in May, and now they're back with "Teeth," and I have to say, "Teeth" might just be the best single 5SOS have ever released.
The pre-chorus is led by escalating guitar and, as drummer Ashton Irwin put it, a "bangin' rock vocal," from Luke Hemmings, lead vocalist, both of which build anticipation. The chorus, with the snappy percussion, slick guitar, and bumbling bass, is intense and gets my head banging. "Teeth" discusses the highs and lows of a relationship, which Hemmings emphasizes in the chorus: "Fight so dirty, but your love so sweet / Talk so pretty, but your heart got teeth." 
Honestly, I don't think I can describe the power of this song in the way it deserves. Even thinking about hearing "Teeth" live sends a thrill up my spine, as this 10 / 10 track is meant to be moshed to. However, that doesn't mean I mosh; I'm 5'2", and I'll have to enjoy it from the back of the crowd! 

"People" – The 1975
I was absolutely not expecting "People." Though, in retrospect, it does make sense. "People" is the lead single from The 1975's upcoming fourth album, Notes on a Conditional Form, which Matty Healy, lead vocalist, has described as going back to their roots in Drive Like I Do. Drive Like I Do was the original band formed, which later became The 1975. Drive Like I Do covered many punk-rock songs and had more of an edge than The 1975 do, or did, considering the release of "People."
So, when I first heard Healy screaming at me to, "Wake up, wake up, wake up / It's Monday morning and we've only got a thousand of them left," I was a little shocked. But, to be honest, I love it. 
In the verses, as Healy screams, he urges the listener to take a stand on the world's problems, including climate change and conservatism. He yells, "The economy's a goner, republic's a banana, ignore it if you wanna," speaking about how people, specifically Americans, ignore the problems within their country. 
The chorus features subdued vocals from Healy, almost as if he's singing through an overhead speaker. Paired with the aggressive guitar and drums, I cannot wait to scream, "People like people / They want alive people / The young surprise people," at a show in the future. 
I may not have been expecting to hear this fervent, angsty, Marylin-Manson-inspired track from The 1975, but I couldn't be happier to support a band that speaks about real issues that matter and uses their platform to spread that message. "People" is an official 10 / 10 banger, and I'm psyched for what's to come with the album's release and rollout.
With all that said, I obviously didn't cover everything released during the summer but a few of my favorites. I hope you all enjoyed your summer, and good luck this school year!