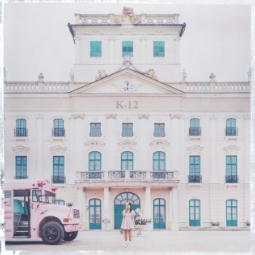 Via Melanie Martinez's Spotify
Given there was a span of four years between her debut and sophomore album, I'm a bit disappointed in Melanie Martinez's K-12. In 2015, Martinez debuted with Cry Baby, a concept record that told the story of Crybaby, a character based upon Martinez herself. K-12, released Sept. 6, 2019, is a continuation of Crybaby's life as she's sent away to a boarding school.
Because Cry Baby was a 10 / 10 debut, Martinez set the bar high for her next project. Unfortunately, while taking her shot, Martinez couldn't quite get her grip.
I want to preface this review by explaining how I give my ratings. When I review albums, I follow a specific process. First, I take notes on each of the songs and rate them on a scale of 1-10; following this, I employ three ratings, also using a 1-10 scale. The first, the "personal rating," is what I would rate the album, and the second, the "calculator rating," is the average of the ratings I gave the songs in my notes. Because the first and second numbers are normally similar, I tend to go with the rating I gave first, which is the third and final rating, which I call the "overall."
With K-12, however, that wasn't the case. For my personal rating, K-12 was a 6.5 / 10; the average, however, was exactly an 8 / 10. And, while that may not seem like a huge difference, it is.
So, what I'm trying to say is that K-12 is not a strong, cohesive album, but 13 tracks that are loosely connected by a weak storyline and, sonically, are extremely similar. Additionally, Cry Baby was released on its own. Music videos accompanying each song further explained the plot, but these music videos were released over a period of two years.
Martinez took a different approach with K-12, releasing the album and a film at the same time. So, I'm going to break K-12 down into the music and the film and explain why there is such a large difference in my personal rating, what the calculator said, and the final rating. First, the music.