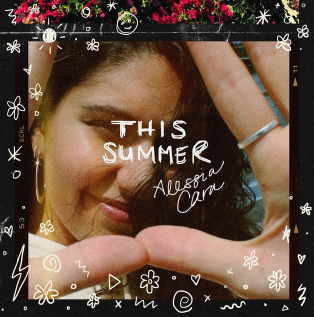 Via Spotify
Alessia Cara only just released her sophomore album, The Pains of Growing (TPOG), in late Nov. of 2018. Now, she's back and better than ever with This Summer, an EP, or extended play, released Sept. 6, 2019.
Cara dropped a bomb, announcing the EP in late July, with the release of the first track, "Ready." With my first listen of "Ready," I knew I was in for a wild ride that would blow my mind—and blow my mind, indeed Cara did.
The verses of "Ready" are light and airy, with short guitar chords, snaps, and direct percussion. The chorus, however, explodes with commanding waves of electric guitar and big percussion. Cara sings about how the person she's interested in is, "start[ing] fires just to see what they can do," and then pulling away from Cara, showing they're not emotionally ready for a relationship ("Oh, you're not ready for, ready for, ready for, ready for me… Go steady your, your heavy until you're free / Until you're ready for, ready for, ready for, ready for me.") 
This saga of a failing relationship, due to lack of communication and immaturity, continues throughout the EP, including my favorite from This Summer, "What's on Your Mind?" In this funky, lively track, Cara sings, "How am I supposed to know what's on your mind / I'm tired of cracking codes / If you want me, let me know." The dirty, pointed bass, in combination with the fun, tropical-sounding drums and soft and sweet piano, has me bopping along to Cara's angelic, multi-layered vocals.  
On "Rooting for You" and "Like You,"however,  Cara realizes she's worth more than wasting her time with someone who won't appreciate her. The former, "Rooting for You," starts off slow, with melodic acoustic guitar and sweet "oh"s in the background, but quickly descends to a funky, bass-led track with outspoken bursts of electric guitar and reverbating drums. In "Rooting For You," Cara mourns the relationship, but she recognizes she gave it her all, singing, "What a shame, we coulda had a good thing / You let go of a good thing… Why you gotta be so cold in the summertime… I was really rooting for ya."
The latter, "Like You," finds Cara recognizing her worth as a partner and a person, and she comes to understand the person she was interested in didn't appreciate her for how she deserved to be appreciated ("I'm not a second choice if I'm not the first / So don't hold your breath.") The intoxicating, dark acoustic guitar contrasts the striking percussion, bright vocals, and short horns segments. While "Like You" is alluring, the rolling beats can get annoying, and I have to admit, "Like You" is my least favorite track from This Summer.
On the other hand, "OKAY OKAY" is amongst my favorites. Cara's vocals are sweet but sly, and her "aah"s and "da-da-da"s in the background add to the fun tone of "OKAY OKAY." The blurts of bass command the track, alongside the clapping and distinct, clashing percussion. I feel empowered by "OKAY OKAY," a song about loving yourself and recognizing yourself for what you are: amazing ("I'm a million trick pony / The number one and only / On a scale of one to ten, I'm at eleven / Okay, okay.") Not only is this track a self-love anthem, but for Cara to go from TPOG, an album about the anxieties of growing up and finding oneself, to "OKAY OKAY," is growth; though "OKAY OKAY" is jokey and and not really meant to be taken seriously, it's still progress.
This Summer comes to a close with "October," an absolutely gorgeous track, both lyrically and sonically. Cara's layered vocals sound angelic, and the soft "ah"s  in the background add to the dreamy, romantic feel of "October." The subtle, whining electric guitar tugs at my heart, and the plucks of light, relaxed bass and poignant vocals have me swaying along to the guiding percussion. 
For the making of This Summer, Cara was the opener for the European and North American legs of Shawn Mendes's international tour, which concluded in October. Cara has said "October" speaks for the "healing" experience she had on that tour due to all her new friendships and experiences, thus Cara sings about not wanting the tour/that period of her life to end ("I'm gonna miss it when it's over / I hope we never see October… I'm gonna miss you when it's done.") This cathartic track is beautiful and serves as the perfect closer to the marvelous, 10 / 10 EP that is This Summer.