Lancers help fight cancer with the Jimmy Fund Walk
Video produced by Alyssa Treanor
Members of the Londonderry community came together at LHS for the Dana Farber walk on Sunday, Oct. 20. 
The event was headed by the Londondonderry Dana Farber Center as well as the LHS pep rally aides and aimed to raise money for cancer research and treatments.
"It was a very cheerful feeling," pep rally aide Amara Cote said. "Seeing everyone excited to come walk with their family and friends was a nice reminder of the care in this town."
This year was the fourth annual Jimmy Fund Walk at LHS, and it has been growing each year since it began. 
The event usually includes a DJ, a guest speaker, food and drinks, and a picture frame for people to take photos with the year's color scheme. 
"Every year I see pictures from the event and everyone is smiling, so I wanted to be a part of it this year," Cote said. 
Participants are motivated to come out and walk for different reasons, but they all have the same ultimate goal.
"My dad has cancer in his blood and although he hasn't had to do any treatment for it, my grandfather passed away from cancer four years ago and I struggle with it every day," Pep Rally aide Emily Powers said. "If I can help other people to not have to go through this loss just by walking, you bet your *ss I'm gonna be there."
Another motivating factor for some of the walkers was the speech given by the guest speaker who is a patient at the Londonderry Dana Farber center.
"The speaker we had was an honor to listen to," Cote said. "He is a true fighter and I found myself lucky to have the opportunity to hear his story."
The patient spoke about his battle with cancer, which resonated with Cote. 
"He helped put things in perspective," Cote said. " If he can get through what he had to endure, I can do that simple homework assignment I was stressing about earlier."
Although donations are appreciated by the Londonderry Dana Farber, their main focus is to get a lot of people to attend the event. 
"If you're standing there and you're helping, that really heartens them," pep rally adviser Steven Juster said. "They'd rather see a lot of bodies and know they've got support than worry about the money." 
This year's Jimmy Fund Walk had a large turnout, raising $9,300 in total. The pep rally aides as well as the Lonodnderry Dana Farber hope to see people attend the event again next year. 
"I would like to say thank you to everyone who came," Cote said. "You should join us next year if you couldn't this year because it's a great event."
Leave a Comment
About the Contributor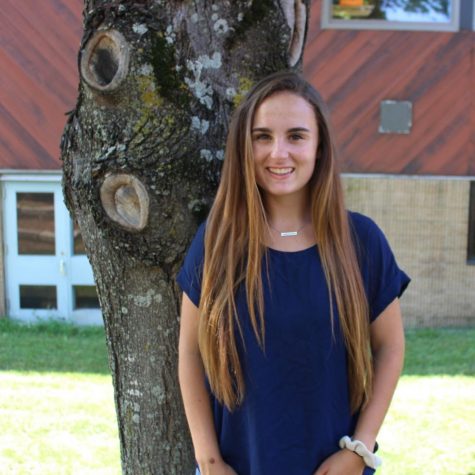 Kait Bedell, Editor-in-Chief
Kait loves to keep busy with her many hobbies of lacrosse, field hockey, drawing, guitar, and of course, writing. On the rare occasion her schedule is freed up, she is usually spending that time with family and friends or sprawled out on the couch watching her favorite shows.