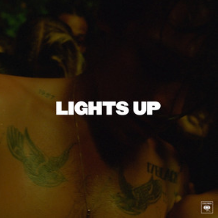 Via Spotify
Harry Styles, former member of One Direction turned rockstar, has made his return to music after the release of his self-titled debut album, Harry Styles, in 2017. In early October, Styles ominously tweeted one word, "Do." That was the entire tweet. But, that one-word tweet was just the beginning.
Four days later, posters with, "Do You Know Who You Are?" in bold print, began appearing across the world. Underneath the question, "TPWK," which stands for treat people with kindness, and the Columbia Records symbol also appeared. TPWK was Styles's big campaign with his previous album, and Styles is also signed under Columbia Records. The next day, "Lights Up," the lead single from Styles's upcoming album dropped, with the "Do You Know Who You Are?" posters referencing lyrics to the song.
What a whirlwind of a week, I'll tell ya'. And, "whirlwind" doesn't even come close to describing "Lights Up." The short and sweet swings of guitar; lukewarm bass; and flexible drums feel nostalgic to me, like a song I've heard before. Coupled with the refreshing bits of piano that are sprinkled throughout the chorus, I can't help but dance along. The chorus walks the line between dramatic and empowering, but Styles's gold-like vocals keep this sleek and funky tune from becoming overwhelming. 
Whether Styles is addressing his sexuality or his career as a solo artist when he sings, "Shine, step into the light… Shine, I'm not ever going back… Lights up and they know who you are… Do you know who you are?" I don't care. All I know is, I cannot wait to scream this at his concert the next time Styles is in Boston. Without a doubt, "Lights Up" is Styles's best work yet. I love everything about this track, I look forward to Styles's upcoming second album, and I give "Lights Up" a 10 / 10.
Hear "Lights Up" for yourself!