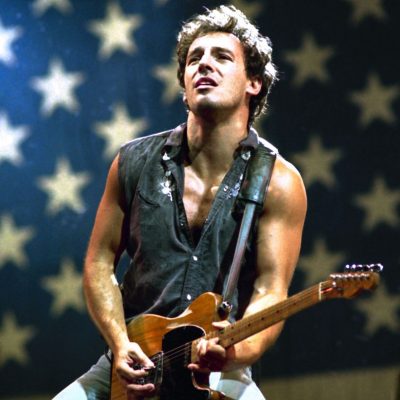 Fair Use Photo
His lyrics compared to those of his time were something beautifully out of place, like fireflies twinkling in graveyards.
His stories compared to those of his time were something beautifully trite, yet overwhelmingly complex like loving the ocean, but being afraid of its depth.
He's a writer, a singer, a poet, while simultaneously being an American man, a working man, and a common man.
He's "The Boss:" Bruce Springsteen.
Partnering up with his E-Street Band, Bruce Springsteen set off on a conquest of the music world.  He'd take down titans with simple verses, and would dethrone kings with the same instrumentation in just about every song.
Bruce Springsteen's prime was taking place through the seventies and eighties: a period of music dominated by grandiose production with sound carrying into a new compressed format.
During his run in the seventies, he was rivaled by countless giants in the music industry hailing from all different genres.  Ranging from the smooth sound of the Bee Gees to a hard-rocking Led Zeppelin and Pink Floyd to the stadium-rock AC/DC. These artists had established sounds that would dominate the decade.
Continuing his work into the eighties, Springsteen was pitted against the loud, domineering sound of hairbands, with the likes of Motley Crue and Bon Jovi, and the new MTV heavily produced sound heard in artists like Wham and Madonna.
This space between flair and hair left a distinct void that needed to be filled, and Springsteen jumped on the opportunity to find his niche.  A blue-collar, soft-rocking storyteller that could connect with the people. Nothing too flashy, nothing too synthetic. He was simple and real.
Springsteen's ability to make the mundane special and personalized is unparalleled.  The lyrics, rhyme schemes and concepts of his songs are borderline rudimentary, but the story being told, and its ability to be related to by anyone, is multitudinous.
Take a song like his 1975 breakout hit "Born to Run."  In four-and-a-half minutes Springsteen brings the listener through the journey of a town forgotten by the American Dream.  He speaks to the listener and asks them to run with him, away from the a place forgotten in the past. All of which he does with common words for the common man.
Springsteen's 1984 album Born in the USA has the same effect.  Highlighted by songs like "Dancing in the Dark," "Born in the USA," and "Glory Days," Springsteen again articulates a familiar story in such a beautiful and intricate way.
Later in his career Bruce did it again, rocking out to a basic sound and telling a moving story.  After the tragedy of September 11th, the whole world seemed to be silenced. And through the silence came a familiar, raspy voice that spoke to everyone through the only way it knew how.
In his song "Into the Fire," Springsteen again took mundane music and gave it meaning.  Filling a void left in millions' hearts with a truly touching work. Springsteen spoke the world with an ethereal tune, and spoke to himself letting him know even after 30 years, he still had it.
Springsteen has this incredible gift to write a poetic story about something ordinary, because he writes about the poetic stories in the ordinary: the stories of his listeners.  Whether it be those "born to run," the ones who "get up in the evening with nothing to say," or the ones who "can't stop thinking about glory days."
Springsteen knew "you can't start a fire without a spark."  So he found his spark: You and I. The perpetual fuel that keeps Springsteen's flame burning is the listeners.  His songs, regardless of who you are, are about you.
There's a reason his work is considered poetry.
He knew the cities within the common man.
The countries behind their ribs.
The islands they chewed between their teeth.
And spoke to us within meandering five-minute tracks all composed with the same damn sound.
Because that's Bruce Springsteen.