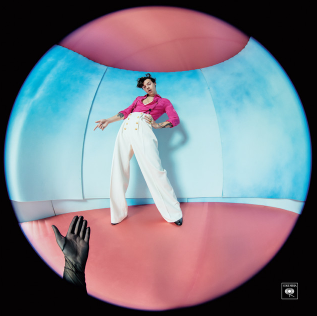 Via Spotify
One Direction (1D) formed in 2010, captured the hearts of millions of fans around the world and rode their wave of success until their hiatus in 2016. Though a hiatus sounds temporary, it seems the band's split is permanent, and I can't quite say I want 1D to come back.
Since 1D's hiatus, the solo efforts from each former 1D member have been mixed. Liam Payne's music is simply awful. ZAYN and Niall Horan are meh, and Louis Tomlinson has made some decent music. But, none of the other four have managed to create like Harry Styles.
Styles's first single as a solo artist was the six-minute, soft rock-inspired "Sign of the Times." His debut record, Harry Styles, established Styles's originality and passion, from the 70s rockstar moments ("Only Angel" and "Kiwi") to vulnerable acoustic tracks ("Sweet Creature" and "From the Dining Table"). Everything about Harry Styles had my name written all over it, and his debut showcased the enthusiasm I was missing from the other 1D boys' solo projects. 
It was safe to say I had high expectations for what Styles would do next; Fine Line, his recently-released sophomore album, completely exceeded them. The record's innovative and refined sound demonstrates a quality that has been lacking in the music industry for the past few years. It's obvious that every detail in each song was carefully considered, whether it's the quivering guitar on "To Be So Lonely" to the whistling and clapping on "Canyon Moon." There's no lazy or inadequate instrumentation found anywhere on Fine Line, and that's a success most artists will never achieve.
For example, the emotional closer to the record, "Fine Line," is audibly stunning. There is an impeccable slow burn of the verses—the soft acoustic guitar, sprinkled in electric guitar, snippets of piano and plucks of a bass—all of which build to an explosive climax. The melancholic horns and swelling drums honestly make me feel like I'm ascending to heaven. 
As a whole, Fine Line is an album perfect for putting your headphones in, closing your eyes and absorbing the music, because the music is nearly-perfect. However, Fine Line lacks in one specific area: its lyricism. 
"Golden" (the opener to the album) is pure gold (pun intended); the glimmering glockenspiel and crashing percussion take me on a journey down the Pacific Coast Highway as the sun is setting. But, the lyrics wander around aimlessly and don't have a purpose other than to fill a blank space. Styles sings, "You're so golden," nine times, and I feel like I'm going in circles. The sensual, grandiose "She" also sounds fantastic, but it's repetitive. Not to mention, the two-and-a-half-minute electric guitar solo is unnecessarily lengthy and adds no depth whatsoever.  
On the other hand, on-the-nose lyrics featured in certain tracks come off braggadocious and difficult to empathize with. The emotion of the bright guitar in "Cherry," which tugs at my heartstrings, is wiped away by the prideful, "Does he take you walking 'round his parents' gallery?" Sonically, "To Be So Lonely" is one of the strongest moments of the album; the fluttering guitar and sorrowful cello, coupled with bombastic drum claps, are enticing. Not enticing, however, is Styles's denial of his role at the end of a relationship; he sings, "You can't blame me, darling / Not even a little bit," and I roll my eyes.
That's not to say there aren't lyrically impactful songs on Fine Line. "Falling" is a ballad that packs a punch as Styles cries, "What am I now? / What if I'm someone I don't want around… What if I'm someone you won't talk about?" Additionally, the nostalgia-ridden chorus of "Canyon Moon" is too hard not to sing along to, and "Sunflower, Vol. 6" paints a perfect picture while Styles reminisces, "Your flowers just died, plant new seeds in the melody… I couldn't want you anymore / Kiss in the kitchen like its a dance floor." However, Harry Styles had little-to-no flaws in its lyrics, and Styles had always been one of the strongest contributors to 1D's songs (alongside Tomlinson), so I'm not sure why he couldn't replicate those skills on Fine Line. 
With all that said, the positives of Fine Line certainly overshadow the weaknesses. While Styles was critiqued for a derivative, unoriginal reprise of the 70s on tracks like "Treat People With Kindness" and "She," I admire him for taking a sound that's fallen out of grace and giving it new life to a new generation. It's cool to see an older style come back with a fresh face. Besides, "Treat People With Kindness" is one of the record's best songs; it's a feel-good track that's funky and weird, but I love it. Styles sings, "Maybe, we can / Find a place to feel good / And we can treat people with kindness," and I think we can all do that after hearing this 8 / 10, brilliant album. 
Give 'Fine Line' a listen yourself!