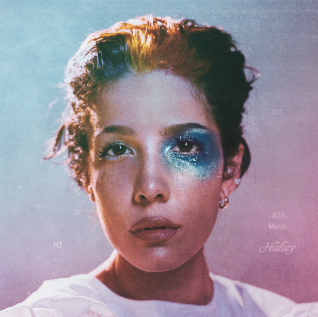 Via Spotify
Halsey carved a niche for herself in the world of pop music with her debut, Badlands, in 2015. Halsey, which is an anagram for Ashley, hid behind a stage name to separate her art from herself as a person; for some, this created a stronger bond to Halsey's music. 
For others, this was an ingenuine persona that was reflected in the fake-deep lyrics and lackluster sound that shone on Halsey's sophomore album, Hopeless Fountain Kingdom. Even prior to her sophomore album, Halsey lost fans and gained the attention of the general public with the release of the inescapable "Closer" with The Chainsmokers in 2016.
However, Halsey has now released her third album, a record written from Ashley's perspective; not a character, but a person. I couldn't be more in love with Manic. 
There are weak moments, of course. "Still Learning" is a skip, from the questionable cycling beats to the unoriginal theme. "Forever… (is a long time)" feels like fragmented lines of poetry, and "Ashley" lingers for three minutes too long. Additionally, maybe my angsty-rock expectations were too high for "I HATE EVERYBODY," but I was let down by flat feeling and boring strikes of piano. 
However, "3am" serves the early 2000s, Avril-Lavigne realness I was missing from "I HATE EVERYBODY," with its cutting electric guitar and straight-to-the-point vocals. "killing boys" is another standout. Its cheeky nature ("So we'll sneak in in the back, and then we'll kick in the door / Tell me, have you ever keyed a Ferrari before?") combines far too easily with the thumping drums and choppy guitar. 
Yet, the upbeat moments aren't the only stars of Manic. "clementine" features a ringing piano and airy percussion that feel like a warm hug. "You should be sad" is my favorite from this record. The electric guitar kicks in, and I can't help but sing along to this country-twinged, emotional track. "Finally // beautiful stranger" is Halsey's first love song, and is another country-inspired moment with tender acoustic guitar.
"More" is a different type of love song; motherly love. Halsey describes her want for a child—to be a mother—but her endometriosis has given her fertility problems, along with three miscarriages. Halsey sings, "Somehow, I just want you more / And when you decide it's your time to arrive / I've loved you for all of my life," which only makes the "I'm glad I never ever had a baby with you" line from "You should be sad" all the more heartbreaking. 
Manic closes with "929," an emotional moment that dives deep into Halsey's personal life. The track is genuine, just like the rest of the album. Overall, the shallow lyrics and uninspired instrumentation of her previous work are gone, replaced by heartbreakingly realistic moments and, although basic at times, a likable sound. 
This past week, I spent hours studying for mid-year exams. Manic, an 8 / 10, provided the soundtrack to geometric proofs and chemistry review packets. I couldn't have envisioned a better, calming album to enjoy as I crammed for my exams.