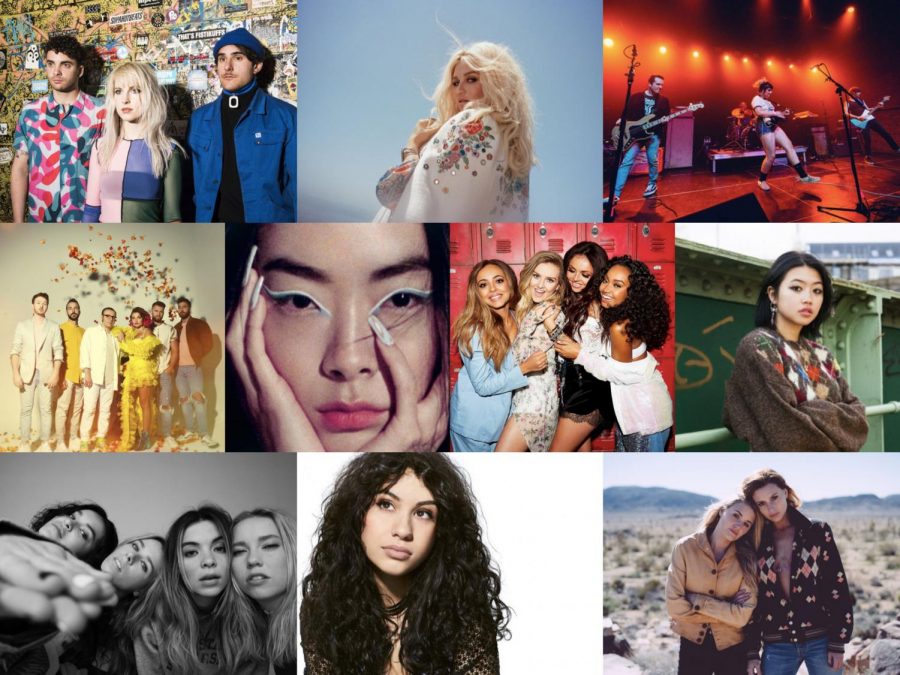 All images were obtained via the artists' Spotify.
Music, of course, serves different purposes for different people. The main streaming services, like Spotify or Apple Music, have a playlist for any mood you could imagine. In light of Women's History Month, these services have been attempting to provide empowerment playlists for women. 
Attempting, being the key word. 
These playlists are, honestly, pathetic. The women selected for the playlist are extremely popular, or the songs featured aren't empowering. Therefore, I took the responsibility upon myself to create a playlist (which you can listen to down below) with lesser-known artists and truly empowering tracks. I have separated this article into two parts, the first consisting of entirely female or female-fronted bands, and the second, female solo artists.
BANDS
#1) The Aces
The Aces have been conquering the world, one catchy hook at a time, since they were in high school. Composed of Cristal Ramirez (lead vocals, guitar), McKenna Petty (bass, vocals), Katie Henderson (lead guitar, vocals) and Alisa Ramirez (drums, vocals), the Aces consistently produce energetic, funky tracks that will keep you "daydream[ing] about [them]" (in light of their most recent single, "Daydream," which is just as impeccable as the remainder of their discography). Definitely keep an eye on the Utah-native, extremely talented Aces, as their second album is soon to grace the world with its presence (and I am bursting from excitement). 
#2) Aly & AJ
Sister duo Aly & AJ first made their mark in 2007 with "Potential Breakup Song," a witty, offbeat track that peaked at #17 on the Billboard Hot 100. Following a ten-year hiatus, the two returned with a new sound on "Take Me."  The crashing percussion and sugary, 80s synth-pop sound was a stark difference from the blunt tone and screeching guitar of their earlier work. However, this is a welcome change; Aly and AJ have perfected their craft.
#3) Little Mix
I'm going to say something a bit controversial: Little Mix is the greatest girl group of all time. Yes, of all time, and for multiple reasons. The versatility, prowess and, most importantly, raw chemistry the women of Little Mix possess set them at a higher level than any of their competitors, such as Destiny's Child or Fifth Harmony. Specifically concerning Women's History Month, Little Mix have perfected empowering anthems that strike down on society's expectations by encouraging women to embrace themselves and their voices. From their first album to the fifth, Little Mix consistently deliver fun yet meaningful tracks that never fail when I need a pick-me-up or a reminder that I should be a "fan of myself [and] stanning myself." 

#4) Misterwives
Misterwives, composed of drummer Ettiene Bowler, bassist William Hehir, guitarist Marc Campbell, multi-instrumentalist Dr. Blum and lead woman/keyboardist Mandy Lee, carry an aura of pure magic, mostly due to the close relationship and natural charisma the band members retain. Since their formation in 2012, Misterwives have continually tested their boundaries, from genre shifts to ingenious, rebel-akin lyrics that beg to be sung along to. For example, in "Not Your Way," Lee affirms, "No, it's not your way, not your way / Not going to obey, to obey / This is my body, body / And you don't have a say, have a say." Damn straight, girl! 
Misterwives was the first band I discovered on my own, and I've been with them on their journey since 2015. I've seen them twice, once in 2017 and once in 2019, and I absolutely will not be jumping ship anytime soon. 
#5) Sonder Bombs
What do you get when you mix ukulele and glittery guitar? Or vulnerable but confident lyrics about inequality, love and self-confidence? Well, that's how the Sonder Bombs's debut album, MODERN FEMALE ROCKSTAR (MFR), came to be. Lead singer Willow Hawks takes charge and is unafraid to speak her mind; for example, Hawks asserts, "I don't wanna be your merch girl / I wanna be your goddamn idol," calling attention to the lack of women in the pop-punk scene on "Title." Overall, MFR is an excellent debut, providing the perfect balance between heartbreaking honesty ("Pot & Kettle" and "Twinkle Lights") and ballsy moments ("Atom" and "Title"). 
Listen to these bands yourself!