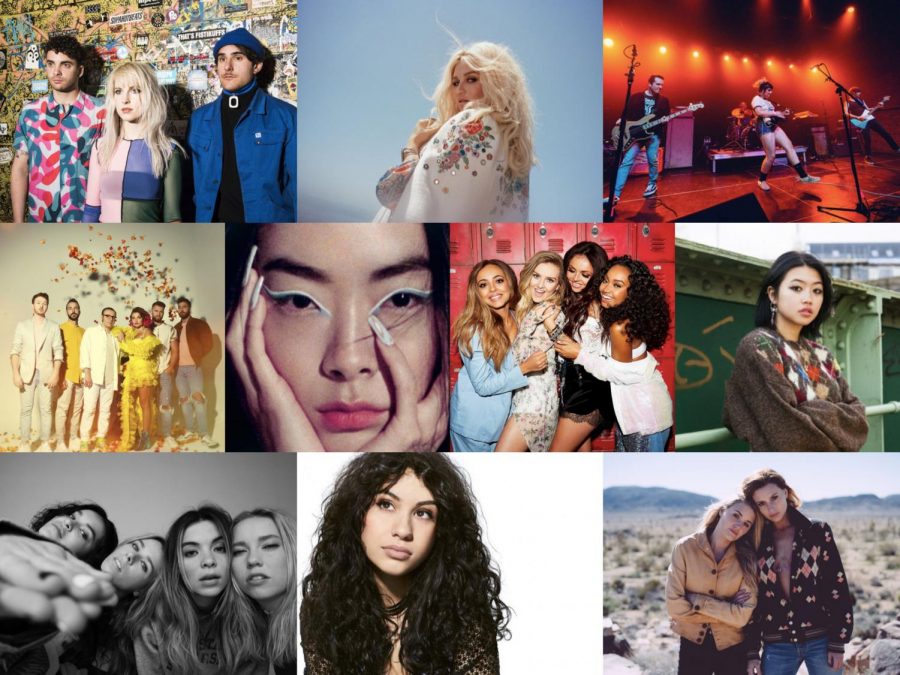 All images were obtained via the artists' Spotify.
The Lancer Spirit is celebrating the women of Londonderry during the month of March in honor of Women's History Month. For each day of the month, LSO will be highlighting an inspiring woman within the Londonderry community who has demonstrated strong leadership and influential behavior.
Today's "Women to Watch" are the influencial female artists you should be listening to this Women's History Month. 
Music, of course, serves different purposes for different people. The main streaming services, like Spotify or Apple Music, have a playlist for any mood you could imagine. In light of Women's History Month, these services have been attempting to provide empowerment playlists for women. 
Attempting, being the key word. 
These playlists are, honestly, pathetic. The women selected for the playlist are extremely popular, or the songs featured aren't empowering. Therefore, I took the responsibility upon myself to create a playlist (which you can listen to down below) with lesser-known artists and truly empowering tracks. I have separated this article into two parts, the first consisting of entirely female or female-fronted bands, and the second, female solo artists.
ARTISTS
#1) Alessia Cara
Alessia Cara was the Grammy's Best New Artist (BNA) of 2018. The awarding of the BNA to an artist who broke out in 2015 with "Here" (alongside a wave of other hits, such as "Wild Things" and "Scars to Your Beautiful") quickly resulted in backlash, especially because Cara was facing SZA (whose 2017 CTRL received critical acclaim for its profound messages and refined sound). While I do agree the timing was off, Cara certainly earned that award, and she has continued to prove exactly why she deserved it in the first place: her soulful voice, songwriting skills and ability to speak her message loud and clear. 
Cara's sophomore album, The Pains of Growing (TPOG), presents an intimate look into Cara's mind, exploring her confrontations with religion, relationships, body confidence, etc. Not only was Cara the sole writer and producer of multiple tracks, but her vulnerability and clear artistic direction reflect a particular message about growing up—a message that has made TPOG my most listened to album on Spotify. 
This Summer, released less than a year after TPOG, features one of my favorite confidence boosters, "OKAY OKAY." Sometimes, we all just need to be reminded, "I'm a million trick pony / The number one and only."
#2) Beabadoobee
Beabadoobee's music, to be honest, feels like a warm hug. The dreamy vocals, mild bass, shimmery keys, etc. create a nostalgia-ridden atmosphere perfect for studying or daydreaming. In fact, "Apple Cider" would totally be used as the transition music during the fall-to-winter montage of a rom-com, and there's nothing wrong with that. Beabadoobee's discography—her five, entirely whimsical EPs—are the perfect soundtrack to a calming shower or night of reading in bed.  
#3) Hayley Williams

Since Paramore's founding in 2004, Hayley Williams has been making space for women in the male-dominated pop-punk genre. Though Paramore has evolved and veered away from pop-punk, Williams's impact cannot be ignored, especially since Paramore was directly competing with bands like Panic! At the Disco and Fall Out Boy. In their most recent years, Paramore retired the angsty, shredding guitar and cutting drums for a synth-pop sound, but have retained their willingness to speak about difficult topics, like death, depression and relationships. 
Currently, Williams has been working on and promoting her solo project Petals for Armor (PFA), an album to be released May 8, 2020. Williams has assured fans that Paramore is not breaking up. In fact, fellow band members Taylor York (guitar) and Zac Farro (drums) have taken part in the creation of PFA; plus, York and Farro have their own solo projects, too. With that said, Paramore and Williams's solo music are both fantastic and empowering. If you have the chance, I'd totally recommend catching Williams's Boston stop on the PFA tour; Paramore is one of my favorite concerts I've ever attended, and I'm confident Hayley will carry the same charisma and energy from Paramore shows to her solo concerts. 
#4) Kesha

Kesha is, without a doubt, one of the most inspiring (and dedicated) women in the music industry. From her party girl days in 2010 to raw, soul-bearing albums in the past few years, Kesha's career has been extremely successful, albeit rocky too. In 2014, Kesha sued her former producer (who I will not name) for sexual assault and battery, sexual harassment, gender violence, emotional abuse and violation of California business laws. The legal battle marches on, as her former producer filed a countersuit. Most recently, Kesha faced a heartbreaking setback when the Manhattan Supreme Court ruled in favor of her former producer. I commend Kesha for her bravery and indomitable spirit, especially as she continues to release empowering, fun music to reclaim what her former producer wrongfully stole from her. Kesha is a "motherf****** woman," and no one will take that away from her. 
#5) Rina Sawyama
Genre-bending, creative and clever? 
Rina Sawayama has embodied all three qualities since her debut in 2013. In the years since, Sawayama independently released RINA (a mini-album) and signed to Dirty Hit. Sawayama's sophomore album, titled SAWAYAMA, will be released this April, and it is one of my most anticipated records of the year, especially because the singles prove extremely promising. "STFU!" delicately blends nu-metal, rock and pop while Sawayama angrily expresses her frustration about the racism and microaggressions she's experienced in her life. "XS" analyzes the effects of capitalism and overconsumption, and "Comme Des Garçons (Like the Boys)" explores toxic masculinity under the guise of an early-2000s-inspired disco track with an effervescent bassline. I'm fully confident SAWAYAMA will not suffer from a case of the sophomore slump, and I can't wait to hear the other songs.
Give a listen to these solo artists!