Afterimage: Former Lancers forge new pathways in rock music
The lights go out, and the low sound of Casey Daron's bass echoes in the dark.
A few cheers can be heard from the people who know what's coming, but there's anticipation from the rest. More notes spill from the bassist's fingers, introducing the audience to the intense bass solo of Afterimage's original song, titled "Blood Moon."
Daron, who spends more time with a bass in his hand than without, is part of the hard rock band Afterimage from Keene State College. The band consists of singer Griffen Romprey, guitarist Brandon Curcio, bass player Daron, keyboard player Jason Coburn and drummer Andy LeCuyer.
Daron and Coburn are now seniors in college, but they actually began playing music together at LHS.
"My first band, Power Serge, started in an attempt to play a Mighty Mighty Bosstones song live at Prism," Daron said. "We jokingly called ourselves a band despite the fact that we were only planning on playing one show. Our performance was very well-received, and I quickly learned we had something going for ourselves." 
Power Serge played locally, but at the end of the day, they were just another high school band. This did give valuable experience to the members, though, making the future a little easier.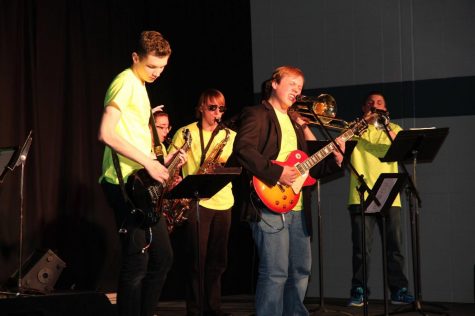 "It's hard for students to put a band together… You could tell they had some momentum," said Music Director and inspiration for the band's name, Serge Beulieu. 
In his first few weeks at college, Daron had already created his next band.
"I started Afterimage my freshman year at Keene State after seeing a poster for an on-campus battle of the bands," Daron said. "I asked some fellow music majors [to form a band and play the show], and they all agreed." 
Afterimage plays all around New Hampshire and Massachusetts, in everything from bars to larger venues, like the Worcester Palladium. Some of their other performances have been at The Middle East in Cambridge, Tupelo Music Hall, the Webster Theater and Northeast Delta Dental Stadium. All are very respectable places to play, no matter what genre.
"I'd classify ourselves as a hard rock band," Daron said. "Maybe alternative metal. Labels don't matter though. If you like the music, you like the music." 
In a world dominated by rap, it may seem like a struggle for a rock band to gain success. Often, rock and metal have a bad reputation, but Afterimage keeps working to put their music out.
"There is a connotation that all rock music is loud, angry and incomprehensible," Daron said. "This simply isn't the case."
For any musician though, no matter the genre, the goal is to stand out without being too over the top.
"Afterimage is different from the rest because we have raw emotion that I think a lot of bands at our level and below lack," Daron said. "Music seems to be very processed nowadays. That can be cool for sure, but there's something special about a band that presents everything they've got for you in a live setting without relying on technology to aid you."
Tones of Tool, Rush and Black Sabbath can be heard in Afterimage's work. All of the band members have been listening to bands like those their entire life, as seen through their music.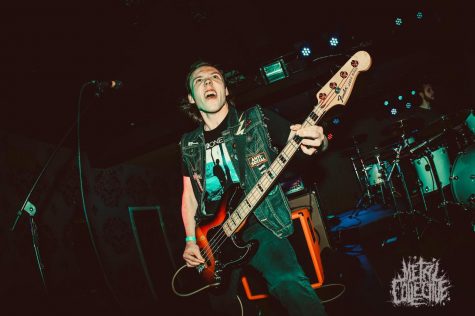 'My favorite bands include Rush and The Mighty Mighty Bosstones," Daron said. "I love Rush for their instrumentation. The Mighty Mighty Bosstones have a ton of energy and emotion in their music, and [they] put on an insane show." 
Afterimage practices regularly, trying to master the covers that they play and create new music. With all the time they spend together, it's important that there's chemistry and respect between the musicians.
"One of the most important things you can learn as a musician in a band is that none of it will work if you can't get along with others," Daron said. "You can be the most talented musician in the world, but if you're a jerk, nobody will want to play with you." 
Just recently the band dropped two singles, "Locust" and "Six Seconds," to go along with their two EPs. Their work can be listened to on Apple Music, Youtube, Spotify, Soundcloud, Tidal, Deezer and even TikTok.
"With Afterimage, I want to bring forth a new energy to the rock genre," Daron said. "I want to bring back raw emotion and power to the music." 
It's not just music that they drop. Check out their Youtube channel, where they upload funny videos of the band, showing the bond and the fun they have with each other.
"Some people feel like music needs to be very strict and proper," Daron said. "It doesn't. Music is a form of entertainment, and it's supposed to be fun. The moment you start to feel alienated or looked down upon by your peers, you've got to understand that they've lost the passion."
Daron knows he won't lose that passion.
Leave a Comment
About the Contributor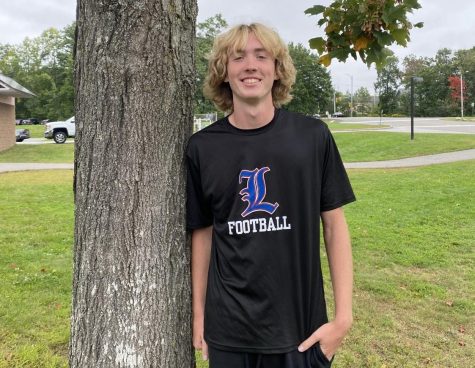 Grady Daron, Sports Multimedia Editor
Grady has been on staff since 2019, and has been a sports editor since 2020. He plays football, basketball, and baseball for the school, as well as being the class secretary for the Class of 2022. He likes sports and doesn't care who knows.