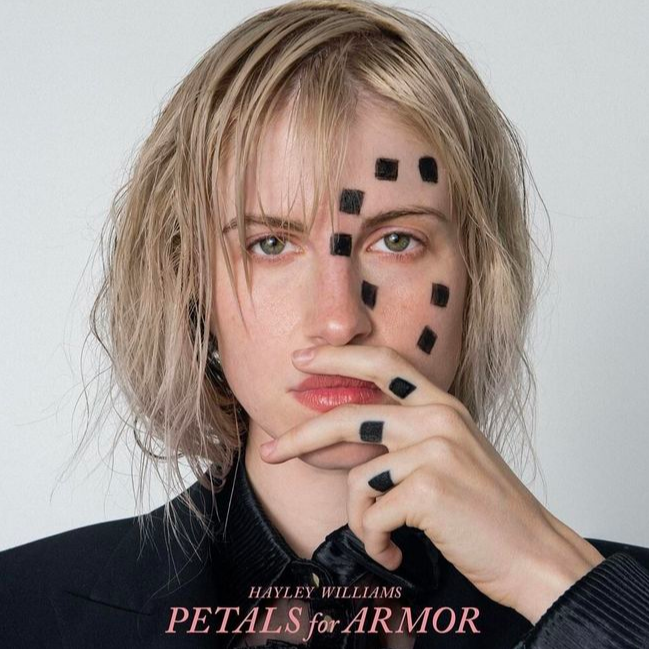 Via Spotify
Career-wise, Hayley Williams has been nothing but successful. At only 16-years-old, Williams formed the band Paramore with bassist Jeremy Davis, guitarist Josh Farro, and drummer Zac Farro. From their pop-punk roots on Riot! to the electropop of After Laughter, Paramore has been mighty successful, embarking on four international tours, winning a Grammy for "Ain't It Fun," and most recently, scoring number six on the Billboard Hot 200 with After Laughter. 
However, Williams's personal life, in conjunction with what was going on behind the scenes in Paramore, is another story. From her rocky relationship with Chad Gilbert of New Found Glory, to a major falling out with former band members, to her struggles with depression and anxiety—Williams has been through it all. And on her debut album as a solo artist, Petals For Armor (PFA), Williams fully embraces all of these topics. The listener embarks with Williams on her journey to mend her relationships, not just with herself, but with others, too. 
The first step to solving a problem is to recognize that there is a problem, and "Why We Ever" is that moment for Williams. Beginning with melodic guitar and stretchy bass, it all quickly fades away to leave a quiet, piano-laden track full of heartbreaking regret. It's brilliant, really. "Why We Ever" starts out loud and full of life, but it all dims away, leaving Williams alone to reflect on where everything went wrong; it's a musical representation of what inspired Williams to make change, and it's done so well. 
To mend her relationship with herself, Williams first had to start with the root of her problem: love. As a brief background, Williams and Gilbert began dating in 2008, when Williams was 20-years-old and Gilbert, 27. Gilbert was married but having an affair with Williams. The two became engaged in 2014, postponed the engagement after Gilbert cheated on Williams in 2015, got married in 2016, and the two divorced in July of 2017. As she explains, Williams realizes how unhealthy her relationship was with Gilbert, which she makes clear in "Pure Love." 
Before this realization, however, Williams experienced anger, which she specifically expresses on two tracks. The dark tone of the first, titled "Simmer," feels like a breath of fresh air, from the full drums and steady bass to Williams's assurance, "If my child needed protection / From a f***er like that man / I'd sooner gut him." The second, "Dead Horse," hides its meaning behind the fun instrumental, over which Williams confesses, "Every morning I wake up / From a dream of you, holding me / Underwater (Is that a dream or a memory?)," implying how her relationship with Gilbert still haunts her. But as she proclaims in "Pure Love," Williams is recovering, and she begins to open herself up to love while embarking on another path of growth, one to fix her relationships with others. 
The grand waves of keyboard and motivational, "It's the right time / To come alive / Baby, if you wanna try / To get out of your head, yes / Break a sweat / Baby, tell yourself it ain't over yet" ensure "Over Yet" a spot in an 80s workout video—scrunchies, leg warmers and all. Immediately following "Over Yet" comes the relaxed "Roses / Lotus / Violet / Iris," and albeit a jarring transition, the crisp, strong bass and soft guitar and mid-tempo drums set the perfect atmosphere for Williams's use of flowers to empower the listener to not compare themself to others. These two moments show Williams's strength and determination to change, and change she does, as PFA even sees Williams enter a relationship. 
Even though it sounds like elevator music, "Taken" is a sweet and light moment where Williams proudly declares, "If anybody asks, yeah / I'm taken." By who? Well, the main suspect is Taylor York, the current guitarist for Paramore and sole producer of PFA. Not only does he make Williams happy, but he makes a pretty good album, too. From the funky, 80s-inspired "Sugar on the Rim" to the ambient, experimental "Leave It Alone," I am completely in love with PFA. 
Does it borrow too much from its influences sometimes? Yes. Is it repetitive in places? Yes. But, the writing is incredible, the album is cohesive, and it truly does follow a story—a beautiful one, at that. 
10 / 10 
Listen to 'Petals For Armor' below!