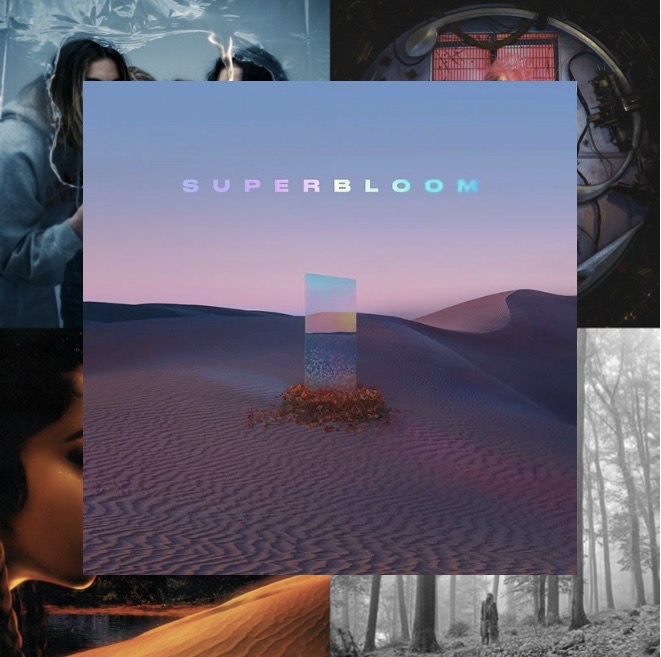 All images were obtained via the artists' Spotify.
2020 may be a terrible year, but the same simply cannot be said about the music that's been released so far. New music is a great distraction from the COVID craziness that has consumed 2020, so over the course of the next five days, I will be reviewing my top five favorite albums from this summer in a countdown from number five (the "worst" of the group) to number one (the album of the summer). All of the music included in this five-part series was released from May 29, 2020, to Aug. 28, 2020, and this is the final part.
#1) SUPERBLOOM – Misterwives
Misterwives first caught my attention with their debut, Our Own House, all the way back in 2015, when I would ride my skateboard up and down my driveway, listening to the album at full volume. Connect the Dots suffered from the sophomore slump, but Misterwives returned better than ever last year, with the mini bloom EP.
Now, mini bloom has expanded to SUPERBLOOM, Misterwives's recently-released third album. When Misterwives said SUPERBLOOM, they really meant it—this record contains nineteen tracks that, combined, are over an hour long.
But, every minute is worth the listen, as we follow Mandy Lee (lead woman and keyboardist) through the five stages of grief—denial, anger, bargaining, depression, and acceptance—after a devastating breakup. For some context, Lee and drummer Etienne Bowler started dating around the time of the band's formation in 2012, got engaged in 2017, married in 2018, and suffered a very difficult split in 2019, which SUPERBLOOM details in the most poignant and heartbreaking way.
From "If I can't have you completely / I'll have you in between" to "I try to stay in love and do it without your help," I cried five times, at least, during my initial listen to this record. Even under fast-paced, fervent guitars or synth-heavy choruses, the pain Lee was feeling always manages to shine through. For the first five songs, Lee denies that her husband is slowly slipping away from her, but it all comes to a head on "valentine's day," which can only be described as a blanket of sadness, with the soft piano and distressed vocals, as Lee reveals that she and Bowler split on Valentine's Day. 
Rage then overcomes Lee on "over the rainbow," a dark, angsty track about wanting to stay emotionless to avoid confronting pain. I won't lie, a side effect of immediately jumping from the soft, albeit sad, "valentine's day" to aggressively loud "over the rainbow" is a feeling of whiplash, but it's also an ingenious way to demonstrate the flurry of emotions that one might feel after ending a relationship of eight years. 
But, after all the anger melts away, Lee is left "trying to get [her] head on right" on "find my way home," a personal favorite of mine. The chorus of "find my way home" lives in my head rent-free; the groovy bass and steady drums reel you in, and it's all multiplied by one hundred on the chorus. And, once the trumpet flares up? It's physically impossible to not boogie along.
Also danceable is the 80s-inspired "rock bottom," in which Lee takes a step back to reflect on the emotions she had been feeling post-breakup. She realizes why their relationship failed to work on "oxygen," which is one of the most unique and refreshing tracks I've heard in a long time. When the loud, assertive electric guitar comes screeching in on the chorus, it's a sonic representation of that lightbulb moment when Lee realizes, "Thought you were my oxygen / But you were just the opposite."
Piano-led, powerful, and cathartic is "running in place," a song about finding the courage to grow and move on, which Lee does find on "decide to be happy." The vintage-tinged piano, inorganic percussion, and peaking guitar guide Lee as she passionately sings, "Flowers don't grow without the rain / Goodness don't grow without the pain / I've been down on my knees / Prayin' things I don't believe / Hopin' that it'll save me / So I decide to be happy."
"3 small words" shows that Lee really does decide to be happy, confessing that, "I'm beginning again / I'm believing again / Wanna dive back in / And relearn to swim / 'Cause three small words are so big when they're for / You." Not only is it heartwarming to see Lee so happy, but "3 small words" is creative, funky, and absolutely electrifying.
The same goes for "muse," a colorful love song about being infatuated with your significant other. The chorus is an explosion of fun, practically bursting at its seams with those groovy guitar riffs, cowbell, and shout-y vocals that I can't wait to scream along to at a concert (though that, unfortunately, probably won't be happening anytime soon). 
SUPERBLOOM comes to a close with the title track, a funky and infectious little number about self-love: "I deserve congratulations / 'Cause I came out the other side… I'd never thought that I'd survive / If you tell me I won't make it / That's when I… Superbloom." 
Alas, the story comes to an end. Despite the breakup between Lee and Bowler, Misterwives have promised that, "the band will remain together as it always has, doing what we love," and that they truly do believe and follow their lyrics: "All good things come to an end / To make room for new beginnings."
10 / 10
Listen to SUPERBLOOM below!