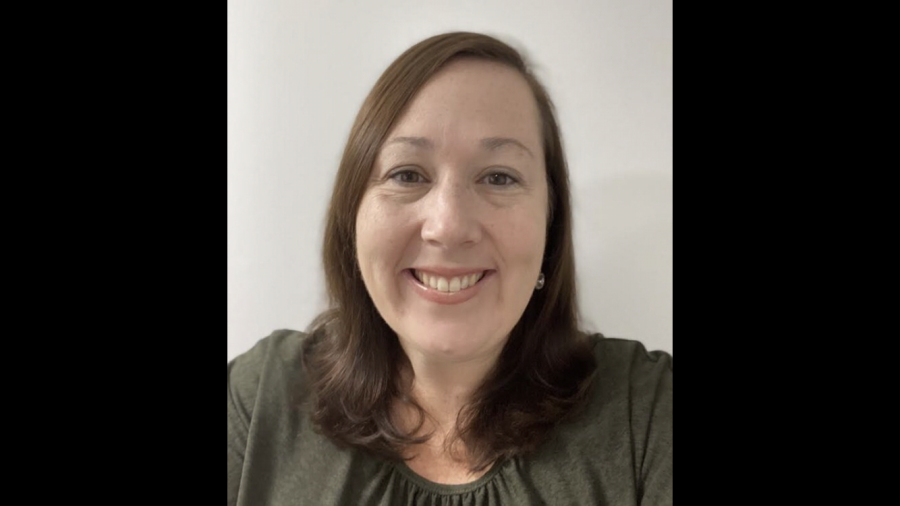 Photo by Mrs. Morse
It seems that 2020 has brought a lot of surprises to the school year, but one of the happy surprises seems to be the new foreign language teacher, Mrs. Carolyn Morse, who has salsa danced into our lives. 
With all of the stress of starting this new hybrid model, being a new teacher to the district definitely wouldn't help. Even so, Mrs. Morse has been able to take on both challenges in stride. 
"I had to use a model very similar at Windham so it hasn't been that bad to get used to," Morse said. "I feel like I have the hang of it now that we've been here for a month."
Starting after college at Timberlane High school, Morse realized her passion for teaching. She wants her love for Spanish culture will rub off on the rest of her students and staff members as well.
"I hope to bring an appreciation and love for Spanish but also an overall appreciation to learning in general," Morse said. "I also hope to somehow incorporate native Spanish speakers during class or have some kind of cultural night where students can share food, games, dance, etc. while using the Spanish language."
Even with the challenges that pose with a new school to learn about, she is ready to dive head first into the Lancer Nation community. Even though she is new to our school she says, "I have always coached, mentored, been an advisor or just volunteered in some capacity so I would really like to do that for Lancer Nation."
Other than extracurriculars, Morse is looking forward to changing the game in the classroom as well.  After receiving her master's degree from Lesley University in 'Integrating the arts in the Curriculum'. The degree was earned through finding new and creative ways to make learning fun.
"Whether we are doing art, song, games, drama, or movement activities, I try to make it so everyone in class is enjoying themselves while they are learning," Morse said.
Morse's creative ways of teaching stems not just from her new degree, but her home life and hobbies as well. Enjoying the outdoors and physical activities seem to be her favorite. Especially if it's shared time with her Husband and two kids. 
"My husband, Steve and two kids, Caden (eleven) and Grace (nine) also love to do most of those things, so we spend a lot of time together," Morse said. "We actually get to camp with Señora Bouchard and her family, which is really fun. If we are not camping or at the beach, we are at the pool hanging out."
Other than Señora Bouchard, Morse has expressed how warm and welcoming the Lancer Nation has been for her. 
"The overall community here is incomparable to anywhere else I have worked," Morse said. "I have never worked with nicer students and staff. Everyone genuinely cares about one another and I love being a part of that."
The faculties kindness has also been paired with the students politeness towards her as well. 
"This is a beautiful campus filled with respectful students and supportive staff," Morse said. "I absolutely love it."
Even though it's undoubtedly going to be a tough year, Morse believes that the students of LHS can conquer 2020. 
"We had no idea in March that we would still have the lingering effects we have today but that isn't stopping them," Morse said. "They are overcoming any challenges or obstacles with stride. This will make them into amazing adults one day because it truly shows the ability to be flexible and have a growth mindset." 
Morse is grateful to be working in Lancer Nation, with all the positivity that has been thrown her way. The craziness of 2020 has seemed to have been outweighed by Lancer nations sense of close community that hasn't gone unrecognized. 
"Lancer nation has been great; I am very grateful to be here," Morse said.