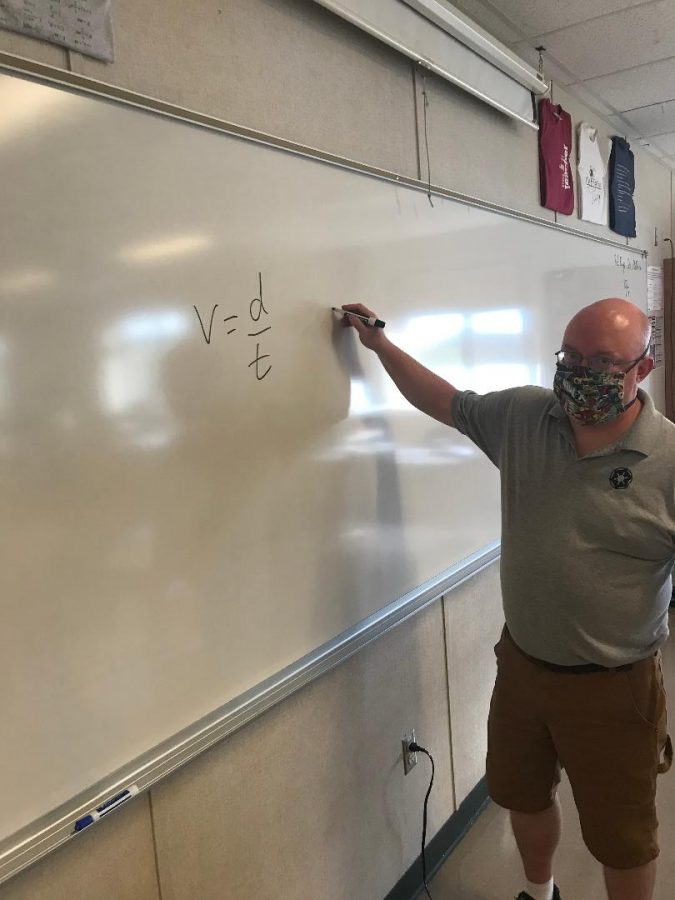 Mr. Miller
Flying in all the way from Dayton, Ohio, new physics teacher Mr. Miller lands in LHS's classrooms after a year outside of the classroom.
Though Mr. Miller is new to LHS, this is not his first year teaching. He originally taught for 13 years at Dayton Early College Academy (DECA) in his home state of Ohio. His move to New Hampshire was just over a year ago when his wife landed a job at UMass Lowell.
Though he was living in New Hampshire, Mr. Miller spent the last year doing data administration and various admin work for DECA from his new home. He had been itching to be back in the classroom and his young LHS neighbors suggested the school to him.
"I'm excited to get back into the classroom since I didn't teach last year and am getting to teach again," Miller said.
Miller is back teaching with a twist due to the state of the current society, though he is willing to do the best he can to help others and himself succeed. He is currently teaching two physics A classes, two physics B classes and one remote class.
"I hope to make the hybrid classrooms work," Miller said. "It's going to be hard on all of us to make it work so that we can be productive and learn what we need to as we go through the school year."
Aside from his teaching, Miller is an avid reader and gamer. He mostly focuses on computer strategy games to keep him mind active while also finding shared interest in other games that he can enjoy with his whole family.
Miller is finding lots of support from colleagues to make the transition as easy as possible which can then benefit the experience he can provide for his students. 
"The kids are wonderful and my fellow staff members are very helpful with getting used to everything," Miller said. "They're always willing to answer the many questions I have because I need to sort things out. Everyone has just been great and extremely helpful."
Back in the classroom of a new state, Miller is finding his way around the new form of education and its pliability, but is eager to learn alongside his students and colleagues.
"We are all learning this, it's new for everyone so we just need to figure it out together," Miller said.