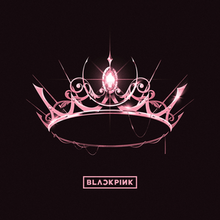 BLACKPINK (BP)—composed of Jisoo, Jennie, Rosé and Lisa—is the biggest girl group in the world right now. They hold five Guinness World Records, were the first Korean-Pop (or K-pop) group to play Coachella, and have millions of infatuated fans around the world—seriously, they have 28 million monthly listeners on just Spotify. 
Although BP's fame had swept the globe, the group only had 14 songs for their fans to enjoy. Until now, as their debut album, titled The Album, was just released. Unfortunately, like everything else in 2020, The Album is disappointing, frustrating and saddening. It all started with the drop of the first pre-release single, "How You Like That" ("HYLT"), back in June.
For some background, BP debuted in 2016 with "Boombayah" and "Whistle." Though these tracks were successful in South Korea, BP didn't break through the international market until 2018, with the release of "DDU-DU DDU-DU" ("D4"). "D4" cemented the quintessential BLACKPINK sound and style: sassy lyrics, iconic choreography, and a memorable beat drop. This ushered in the era of beat drops and too-cool-for-you concepts in K-pop, which BP has continued to clutch to for all of their future comebacks, including "HYLT."
Since its release, "HYLT" has grown on me immensely, but it's not because of the song itself. Half of the lyrics are nonsense phrases that are repeated over and over again, and the synths sound like autotuned farts. The styling and the choreography, on the other hand, were excellent, so the live performances of "HYLT" softened my dislike for this pre-release.  
The Album had one other pre-release: "Ice Cream (with Selena Gomez)," which didn't do this record any favors either. The lyrics make no sense; the Pinks and Gomez sing, "I'm nice with the cream / If you know what I mean," and, umm, no, I don't know what you mean. Plus, with just one listen, it's apparent that the music could've been so much better. The faintest sample of the actual ice cream truck's tune in used the chorus, but why not utilize the sample more? I mean, random fans on the internet managed to create a better song after rearranging the instrumental and rewriting the lyrics, even with absolutely zero production or writing experience. 
"HYLT" and "Ice Cream" aren't the only songs on The Album that suffer from nonsense writing and poorly-arranged instrumentals. "You Never Know" is an oversaturated ballad that lacks authenticity. While the writing and vocals are forgivable, the bright, aggravating piano is inexcusable, and it makes the song feel like it's trying too hard to be uplifting and powerful. I just wish that the instrumental of "You Never Know" was more stripped back; let's ditch the piano and open our arms to the acoustic guitar. 
Another disappointment is "Bet You Wanna," whose lyrics are extremely immature. BP revitalized the girl crush concept in K-pop, they've been breaking boundaries left and right, and Cardi B—who is known for her vulgarity—is featured on this song, so tell me why there are lines like, "Give me an all night hug, I bet you wanna" on here? It sounds so awkward, and it's a complete waste of a Cardi B feature. Not to mention, "Bet You Wanna" sounds like it came straight from 2014, with the cheerful piano, clap-happy percussion, and oddly-modulated vocals.
Also nostalgic-sounding is "Lovesick Girls." Unlike "Bet You Wanna," however, this track isn't outdated. In fact, "Lovesick Girls" is easily the best song on The Album and BP's best title track. The instrumental is richly-layered and well-composed, from the vibrant synths and booming bass of the chorus to the guitar-driven verses and transitional drums. The anthemic chorus is impossible to get out of your head, and all of the girls shine on this track. Jennie and Lisa's raps are fantastic, and the emotional vocals from Rosé and Jisoo on the bridge are simply exquisite.
Speaking of perfection, I will never get tired of listening to "Crazy Over You." The squeaky violin, sharp flute and dark drums merge with these ticking synths, creating a beautifully intense atmosphere that complements the group vocals and playful raps from Lisa so, so well. "Love to Hate Me" is another incredible track. It's easily the most "western" song on here, as in it feels like an Ariana Grande song. Tommy Brown, one of Grande's producers, had a hand in some of the other tracks on The Album, and I was surprised when I found out that he didn't have any influence on this track. There's some typical Ariana calling cards on "Love to Hate Me," such as the witty background vocals and chill instrumental, but it's still undeniably a BP track. Considering all of the undeserved animosity and hatred BP have faced simply for being successful women, "Love to Hate Me" is definitely personal for the girls, as they decide, "See me making waves, and you don't like that… You ain't worth my love if you only love to hate me."
Also,  a message to their critics is "Pretty Savage," which literally made my jaw drop open the first time I gave it a listen. The bold piano and screechy synths are just a baseline for the, as the title implied, savage lyrics. The "Yeah, we some b****es you can't manage"? Lisa's post-chorus and shutdown of the body shaming she's received? Jisoo finally getting to say BP's iconic tagline, "BLACKPINK in your area!"? Jennie's cutthroat raps and Rosé's bratty bridge? All of that… it's legendary. "Pretty Savage" is legendary, and it deserved to be the pre-release single instead of "HYLT."
So, yeah, there's some great and not-so-great moments on The Album, but, when I said this record was disappointing, frustrating and saddening earlier, I wasn't just talking about the music. I was talking about the fact that we waited FOUR years for a 24-minute-long album that's, overall, pretty mediocre. 
What makes me want to scream about all of this is that BP's Netflix documentary clearly shows how passionate and dedicated these four girls are to making music and to the K-pop industry. Yet, they only have 22 songs, make a comeback once a year, and their contract expires in 2023, indicating to me that there won't be another album before then. It's a shame that BP may go down in history for having only one album that was half-extraordinary and half-atrocious.
5.5 / 10
Listen to 'The Album' below!