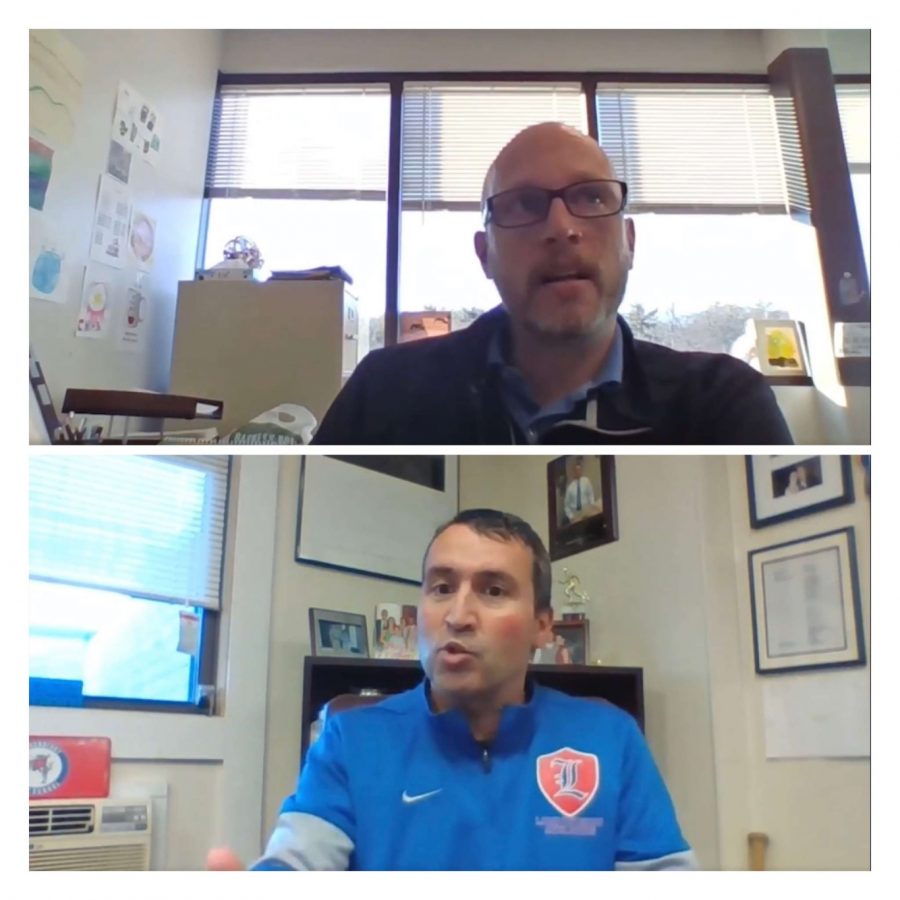 Photo by Laura Haas
As the holiday season has come to an end and everyone has been settling down from travels and gatherings, the Londonderry School District  has decided to end remote learning. 
"Obviously it's a very complex decision," Superintendent Scott Laliberte said, "and one we have struggled with on an ongoing basis. I feel we have the capacity to bring students back safely while reacting to individual cases. In other words, we have the ability to have smaller numbers of students learning remotely while the larger District remains safely in person." 
The original decision to move the schools to remote learning from Thanksgiving to January 19 was a precautionary measure. The school district administrators anticipated more community members would be traveling and having family gatherings between Thanksgiving and the New Year, which might cause a spike in COVID-19 cases. Therefore, they decided the safest action would be for students to learn in a remote model during that time period.
"Technically, Londonderry High School could have been in hybrid, in-person, the whole stretch that we were actually out," Assistant Superintendent Dan Black said. "But we didn't think it was a good idea knowing there was going to be this big spike."
Just like in the fall, admin has been able to track cases and trends of COVID-19 throughout remote learning. Admin has been monitoring data and other promising factors in the news to make sure the school's return to hybrid on January 19 will be safe.
"In the general sense, we anticipate a continuation for the overall downward trend in cases that has emerged of late," Laliberte said. "We also anticipate that the distribution of the vaccine will have a positive impact on our ability to remain in person as the winter and spring pass."
Though cases are in a "overall downward trend", the safety measures to prevent the spread of COVID-19 present in the fall will still be in place when students return to school. These procedures include a mask mandate, hand sanitizer dispensers around the building, as well as the hybrid model itself.
"[The spread of COVID-19 through asymptomatic cases] is among the primary concerns for the School District," Laliberte said, "both in the interest of the health and safety of our staff and that of the families in town who may have people in their homes with compromised health conditions. As I've said, the best measure to prevent asymptomatic spread is social distancing, masks, hand washing, and a combination of all of the other safety measures we've put in place. Our students and staff have been amazing in their willingness to protect one another, and I have great confidence that will continue when we return."  
While students were in remote learning, a significant safety tool has been added: air purifiers. These air purifiers, obtained through the latest round of CARES Act funding in December. are in every classroom and are able to capture many particles, including COVID-19. And because COVID-19 travels and lingers through the air, an air purifier is a very effective way of preventing the spread of the virus when combined with other measures like wearing a mask and sanitizing frequently.
"We all know that there is no perfect protection, but in our all following these precautions we minimize the risk as much as possible," Laliberte said. "Again, they are not the total solution, but add another layer of safety."
Though there are many safety precautions taken, during a pandemic the school must look for every risk possible in order to prevent the spread of COVID-19. As the CDC states, children under 18 are more likely to be asymptomatic or have less symptoms in general. Because of this, the CDC recommends every school to have any student with symptoms remain home, which is something the admin will be focusing on when returning back because online resources are available and students can "keep up with their work through Google Classroom," Black said.
"There is going to be a lot more contact with families from us to make sure they know we understand what is going on with positive cases," Black said. "The second thing going on too is we are going to message a lot more that if you have any symptoms at all, stay home. I know it's not ideal, but if there are any symptoms at all, there's no reason to take a risk. Talk to your doctor and get tested."
Taking all safety measures necessary is why the admin feels confident in the return to school. But the reason for wanting students to come back to a hybrid model is mostly due to wanting students to have as much hands-on learning as possible and feel connected to the school again.
"I think in the short-term," Principal Jason Parent said, "the best thing we can do is to try to bring people back together. Even if it is remotely, how do we reconnect kids? We really emphasize the importance of connectivity even through co-curriculars. We're very concerned about that and kids need to feel connected to school."
Some students, however, are still worried that returning to school could bring more COVID-19 cases to LHS. 
"I am concerned that with increasing cases, more students will have to quarantine because they are sick or are in close contact," junior Paige Boyon saidWith sports and other extracurriculars back in session, there will be more of an opportunity for the virus to spread." 
However, if the school sees an increase in COVID-19 cases and clusters, they are prepared to return to full remote since they "monitor cases and testing positivity rates daily, and react accordingly," Laliberte said.
"Should we come back in person and experience cases or a cluster," Laliberte said, "we are prepared to change to remote learning again, either for one specific class, grade level, or school. Should the need arise to have the District return to Remote Learning, we are prepared to do so as well, though we hope to avoid that. We have all heard from State officials the importance of giving communities the ability to respond to their local rates of infection – this has been a good example of that in action."
Though admin is prepared to take any action necessary if faced with a large amount of COVID-19 cases, some families still have concerns. 
And with these concerns, according to Superintendent Scott Laliberte, the admin understands that during this time hybrid is not ideal, but is what they think will be best for students during the pandemic everyone is facing. Of course, admin would like to proceed with a regular model and hybrid is something they would not want to "continue to offer once we are able to return to some form of 'normal life,'" Laliberte said. But due to the circumstances right now, admin believes hybrid is the best model.
"Part of the reason that we gave families the option to choose to learn remotely was because we knew that it was important to accommodate students who may, for a variety of reasons, need to learn that way. The best model for us is our traditional model, and like many people, I can't wait for the day when we can return to it. Let's all agree to stay hopeful and keep our masks on."