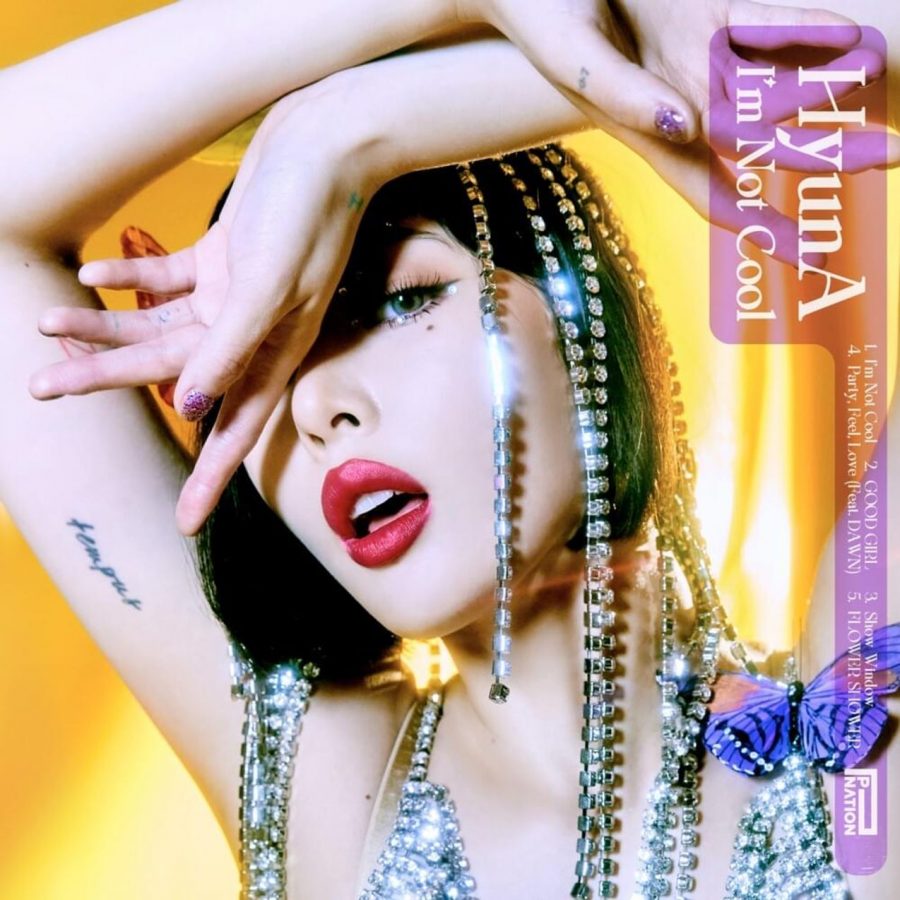 Via Spotify
H
yunA was born to be a performer. 
Having been in the K-pop industry since she was just 13-years-old, HyunA has certainly learned how to put on a show. Add in her distinct sound and style, and there's truly no one that can compare, even 15 years later, as HyunA shines like the star she is on "I'm Not Cool." 
With an ethno-thrash, oriental-inspired drop that countries in the Eurovision Song Contest would be jealous of, "I'm Not Cool" is, like the woman herself, bold and confident. HyunA proudly sings, "Who's pretty to you? / To me, I'm pretty / I adore myself / And you should adore yourself, too," but it doesn't come off braggadocios or seem like a faux persona—really, it just feels like her true, authentic self, especially considering everything she's endured throughout her many years in the industry. 
As a result of multiple scandals that involved HyunA's personal life, she'd truly been through the ringer, from public shaming to being exiled from her former entertainment company. Thus, in the present day, it's heartwarming to see HyunA come out on top and still be the charismatic, effortlessly cool (pun-intended) girl that she was when she started.
Even if "I'm Not Cool" is a little too out-there for my personal taste, I'm a big fan of the self-love concept, and the aesthetic is, as always, incredibly unique and well-concocted. The playful choreography and campy styling make for fabulous performances that you just can't look away from, as HyunA commands the stage. 
The mini-album, also titled I'm Not Cool, is just as exceptional as HyunA's performance skills. However, I'll keep my thoughts short and sweet, just like the EP itself. "GOOD GIRL" instantly brought me back to Salute-era Little Mix, with its military-esque percussion, revving synth and stuttered electric guitar that would fit right in with Salute's "A Different Beat" and "Stand Down." "FLOWER SHOWER," originally released in Nov. of 2019, still holds up as a funky-yet-catchy bop, but "Show Window" and "Party, Feel, Love (Feat. DAWN)" bring out my favorite side of HyunA: the sad and sensual R&B. The latter, in particular, is easily the best song on I'm Not Cool; I was hooked from the first strum of the quivering, reggae guitar, and there's something to the tastefully autotuned, breathy vocals and hedonistic atmosphere that's impossible to forget. 
Though I'm pleased with the quality of all five tracks I'm Not Cool, the quantity is disappointing. This is HyunA's first comeback in over a year, so I was really hoping for a little something more, perhaps a full album? I'm Not Cool feels like a delicious appetizer that I ordered to tide me over until the entrée that'll fully sate my famine, but I'm not quite sure when the entrée is coming.
Regardless, for what it is, I'm very pleased with I'm Not Cool, and hopefully, that entrée will be coming before 2022.
6.5 / 10