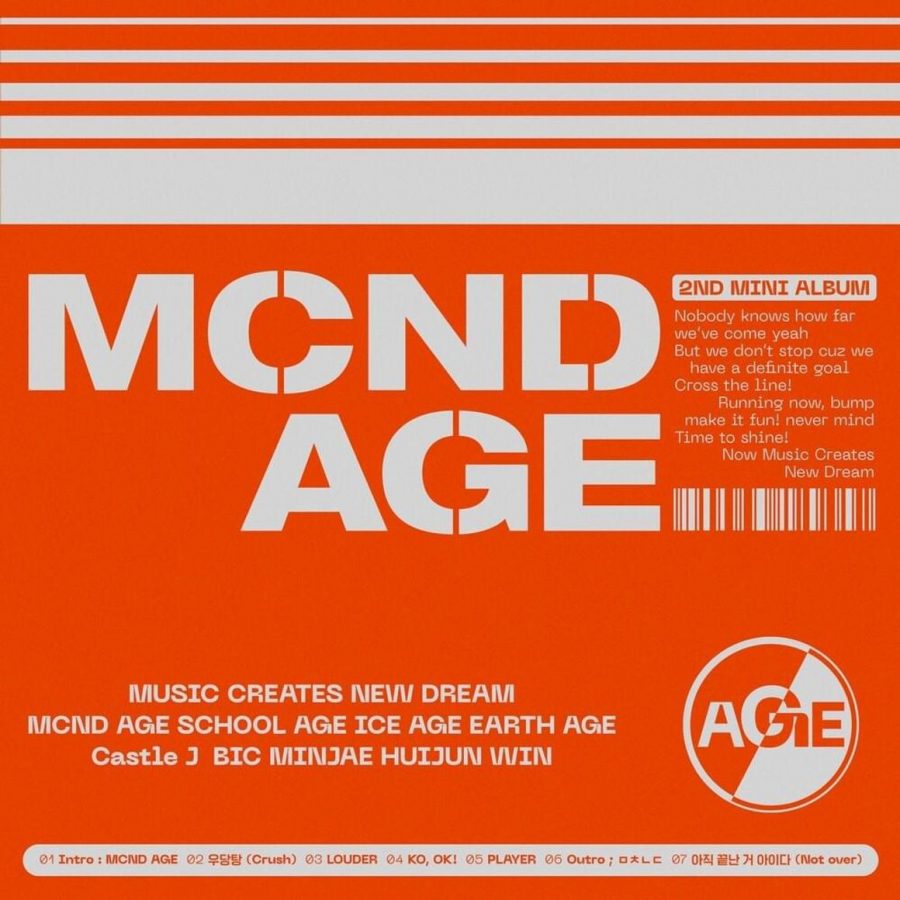 Via Spotify
M
CND are truly a group of all-rounders, with each of the five members—Castle J, BIC, Minjae, Huijin and Win—excelling in singing, rapping and dancing. Considering how young the group is, with an average age of 18 (and the fact that I, a 17-year-old, am older than three of the five members), the swagger and charisma they possess, both in the studio and on stage, is incredible, as they continue to show with their recent comeback, "Crush."
"Crush," in classic MCND style, still maintains a sense of fun, but it's much more sly and groovy than the rowdy "ICE AGE" or high octane "nanana." Spearheaded by a catchy guitar riff and crisp percussion, "Crush" is cautiously energetic; it displays a certain restraint by choosing when to apply energy and when to let the music speak for itself, which is a difficult balance to find and successfully carry out, but MCND pull it off flawlessly. For example, it almost sounds like Castle J has a smirk on his face while he exclaims, "Let's get it! Let's party! / Everyone chillin', oh my god / Dance like you're crushing it." 
The boyish excitement and confidence that filters through the boys' vocals exudes this personality and uniqueness that's impossible to recreate with instrumentation, a trend that continues throughout the rest of MCND AGE, especially as they dip back into their typical, more aggressive style. 
As the perfect combination of agile percussion, coercive shouts and buzzer sounds, "KO, OK!" sounds less like a K-pop track and more like it was designed to play during the opening scene of a boxing movie. The writing emanates this unwavering courage that I would've loved to see on stage if "Crush" hadn't been the title track, with bold statements like, "I'm the champion, do you know?" and "Pretending to be strong is just pretending… you chose the wrong person / I'm dangerous." 
"PLAYER" and "Outro," however, take the fight from the boxing ring to the streets. The pair, both of which were written solely by Castle J, are hostile and in-your-face with their delivery, though their lyrics are more sentimental than you'd expect. Underneath the loud gang vocals, grungy bass and general demon-summoning vibe, the boys speak on their determination to succeed and passion for music and their group, which is really sweet. 
"LOUDER" is also sweet, but is much more of a low-key, tame affair compared to the rest of MCND AGE. Despite its name, "LOUDER" is actually quite laid-back and summer-y, though the remorseful lyrics tell a different story, encouraging the listener to take advantage of the moment and live life to its fullest potential. 
With that said, "Not Over" is easily the best song on this mini-album. By skillfully blending elements from the hype-y, belligerent tracks (mischievous bassline and fierce raps) and easygoing, groovy ones (whistling flute and bright piano), MCND clearly demonstrate on "Not Over" the impressive versatility, dedication and vision that has brought them their success and will continue to bring them to new heights—they really have nowhere to go but up. 
7.5 / 10