Freshman Michaela Horan uses the arts to express her emotions
Freshman Michaela Horan's once peaceful slumber is disrupted by her own thoughts. Her eyes snap open, and she sits up, suddenly wide awake with her fingers itching to write down her sudden inspiration. 
Her bedroom is pitch black as the only light comes from her phone, which she brings over to her desk, along with a piece of paper and a pencil. 
Once settled, Horan begins to write. 
She forms together sentences displaying the deepest part of whatever it is she feels, and doesn't stop until she's satisfied. 
Then, Horan makes her way over to her keyboard, where she begins to express those sentences in the only way that seems fit: through song. Pressing record on her phone, Horan plays in the darkness, while singing softly to the piano. 
When the song is finished, and the revelation followed through with, she allows herself to rest. 
The next day, Horan listens to the recording on her phone that she created at 3 a.m. Before pressing play, she laughs quietly to herself and ponders, "What was I thinking?"
This process of needing to put her thoughts down to create music, of "waiting for inspiration to strike," is something Horan has been doing for years. 
"I'm definitely a person that will just write a song in the heat of the moment," Horan said. "I'll rarely ever sit down with the intention of writing. Unfortunately for my sleep schedule though, that does mean that sometimes I will wake up randomly at 3 a.m. and just feel like I need to write a song."
Horan has been singing since "basically, the time [she] was born," but didn't attend  voice lessons until sixth grade. Starting so young has made music a big part of Horan's life, something she is definitely thankful for.
"No matter what I'm feeling I can always count on my music to express it better than any actual words I could say," Horan said. 
Horan stated that she uses music as "the most pure way of expressing" her emotions. When she experiences a strong feeling or emotion, the only way she feels she can express herself is by writing a song.
Horan feels a deep connection to the music she writes, and though she's tried, she can't decide what her favorite song of her's is. But she does have a few.
 "Some of my favorites include 'Dear Love,' 'I Would Do Anything,' and a song that remains unnamed for now but deals with sadness and the feeling of being lost," Horan said. "I think these are my favorites because they just feel like such a deep expression of me. They're all sad, but mostly just in an emotional kind of way. They're the deepest parts of me that you can't really describe to somebody in words."
Jennifer Brown, Horan's former Music Director for Matthew Thornton Drama Club, said music can be a way to "express a message of feelings in a very personal way and tell a story." For Horan, this has proven to be true.
Back in Horan's elementary school days, she worked with Brown, as well as Jennifer's daughter senior Betsy Brown, in several different school productions, including The Lion King and The Wizard of Oz, and always had a presence on stage. 
"Even when she was a fourth grader, she could put emotion into her voice," Jennifer said.
During elementary school performances, Betsy also worked with Horan musically. Betsy performed with her in several Ovation Theater Company plays and worked with Horan during a summer ovation camp in 2019 and 2020. Since then, she has "seen Horan's musical growth first hand over the years."
"[Horan] is an amazing songwriter," Betsy said. "She pours herself into her writing. In every song, there's a piece of her in it and I can definitely hear that come through when I listen."
Because Horan has discovered how much music means to her, she claims that she definitely wants music to be a big part of her life later on. 
"When I think about my future, it seems ginormous in my head," said Horan. "Because of all the different arts that I pursue, I can't see it without any of them. Does this mean that I am actually going to become a musician-author-actress when I'm older? I honestly can't really say. But I think the great thing is that I've already figured out what I want to do with my life, and music is definitely a big part of that."
Not only does Horan write music, but she expanded on that skill and is now working on getting her own novel published. Titled Rolling Hills and the Lost Key of Peachtree Palace, Horan's fantasy novel is the first book of what will "hopefully" become a five-book series, created out of Horan's love to write. 
Being exposed to literature at a young age has inspired Horan to create her own world in the form of words. 
"I've written stories ever since I was a little kid, with one of my parents writing down everything that I said," Horan said.  "When I was in early elementary school, I used to go to writing workshops with a bunch of adults, and I was the only kid there."
Horan said that she has always had "lots of really big dreams," and being an author had always been the one that stuck with her.
"The weird thing is that I actually came up with the idea for Rolling Hills when I was in fourth grade," Horan said. "Or at least the kingdom has existed in my brain since then."
Being busy with school work, extracurricular activities and still making time to write a book clearly isn't easy, and Horan, who started writing her novel at 13, has dedicated much of her time to reach her goal of publishing a book. 
"I haven't really been in the swing of writing things lately, because I've been only focused on the editing process," Horan started. "But I used to sit down and try to finish one chapter at a time, which I always wanted to be at least 1000 words, on a good day 2000. [Writing the book] took me about 5 months of actual get-down-to-work writing time."
Writing a book is one thing, but finding a good editor is another, as it can cost anywhere between $5 and $15 a page. However, Horan said that she's really lucky because she didn't have a hard time finding an editor. 
"My editor is Susan Arnold, and I'm really lucky because she's my childhood best friends' grandmother, and basically my grandmother too, and she was a professional editor," Horan said.
Horan is so thankful for her editor, and said that her novel "would not be as it is now without Susan Arnold."
Horan is planning on using a self publishing website called Ingramspark.
"A lot of people view self-publishing as weird and different to the traditional publishing stages," Horan said. "But after a lot of research, I decided that it would be the best for my book."
Self-publishing, while it may seem simple enough, Horan said that it's far more complicated than some might believe. 
"You have to do all the marketing yourself, which means you have to build a platform of people who will buy your book, especially if you want it to make the charts," Horan said. "But for me, it's worth it, because it means that my dream of being a published author is going to come true."
Horan, only a freshman in high school, has accomplished so much already, from writing her own songs, composing her own pieces, to working on publishing her very own novel. And instead of flaunting her skills, Horan chooses to be grateful. 
"I'm really lucky that I have an outlet like this to count on with any sort of emotions," Horan said. 
View Comments (6)
About the Contributor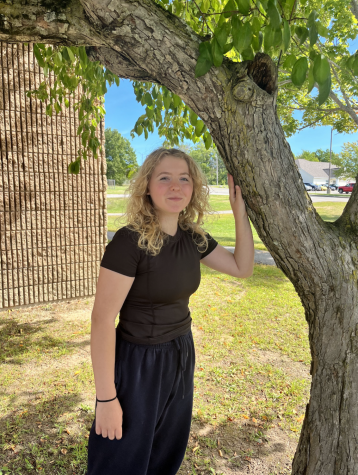 Catie Brown, Copy Chief
Catie is a senior, and has been part of the Lancer Spirit Staff for three years. Her interests in writing and photography are what drove her to begin. She also plays volleyball, tennis, and rock climbs in her spare time.