Governor mandates full return for all N.H. schools
*To ensure all information stays up to date, the Lancer Spirit will continue to update this article as new information is released*
 As the COVID-19 vaccines became more accessible, the Londonderry School District started to discuss the possibility of reopening all schools. However, N.H. Governor Christopher Sununu's mandate that all schools open on April 19 put a wrench in that plan.
According to Principal Jason Parent, administrators felt comfortable making a plan to end the current hybrid system of learning since LHS teachers have received their first dose of vaccines and will receive their second on Saturday, April 17.
The original plan to reopen the high school consisted of a staggered return according to graduation class: starting with the seniors, then juniors, and then possibly underclassmen.
"Our initial idea was a phased approach," Parent said, "taking a look at the senior class and making sure to capture all the students' concerns like if they would be able to graduate. And everyone has had a difficult year, but particularly the seniors with the loss of a classmate, we just felt like they would be the target group to look at, and then bring in juniors, and then try to bring in underclassmen."
But, after Sununu's press conference on Thursday, April 1, school leaders were caught off-guard.
Sununu chose April 19, the week before spring break, as he believes it will allow school administrators to analyze the first week back and see if there was an increase in cases.
However, all of LHS returning to school on April 19 concerns Londonderry administrators.
Since the faculty will  receive their second dose on April 17, this means their vaccines will not be fully effective for the reopening on the following Monday, as the second vaccine dose takes about two weeks to build immunity against COVID-19.
Not only is this a concern for administrators, the staff believes a one week analysis during spring break is too little time to see any effects. 
"I talked to the Bedford Principal, their school is similar to ours, and on March 29 everyone was back," Principal Jason Parent said. "Not all their teachers were vaccinated, they don't have two or three cafeterias like Pinkerton, they're like our school. So, I'm saying how did it go initially? Great. Why is it going great? Because the first day of school, and the first couple of days, you're not going to see anything negative. The kids are back, they're happy, and everything else. You have to wait two weeks to see if this is working or not working."
Not only does the school need more time to assess how being fully reopened impacts the students and teachers, but the school also needs more time to prepare. 
With less than two weeks until the mandate is put into action, the school is starting to implement the requirements needed to reopen. 
Currently, the school is needing to take the desks that were put in storage back in each classroom. A class typically can fit 20-30 students, but with hybrid, only half the classroom can fit to keep a six foot distance.
Putting all the desks back and reorganizing each classroom to have a three foot distance between each desk is estimated to take at least a week. But this isn't the only task administrators have to work on.
The school is also taking time to address the issue with lunches since it will be unsafe to put about 300 students, without masks, in the cafeteria. Right now the plan for lunch is to divide the group in half, keeping half of them in the gym and the other in the cafeteria. Each group will have around 20 minutes each to eat their lunch, and the other half of the period will be spent in the gym.
Administrators are also concerned that being forced to rush a plan could lead to a large outbreak in the school. This could result in the school shutting down, and since spring is near, reopening can put senior events like Prom and graduation at risk too.
"If we were to have an outbreak, we may go every day in school to fully remote if it got really bad," Parent said. "We think we're taking one step forward, but we're actually two steps back. So do I want to go back to normalcy and have our students back in as quickly as we can? Absolutely. Do I want to do it responsibly, logically, and do what works best for us, because I think we've done it well? Yes." 
Though the school leaders are hoping for a safe return, they still fear that rushing the return will not be sustainable for the next couple of months until summer break.
Although there is a mandate to be in-person, if there were to be an outbreak at LHS, Parent believes that because it is a health risk, the school can and will shut down. 
To avoid being fully remote again, a board was put together with school administrators to find the best plan for Londonderry. 
In the coming weeks, a school board meeting, as well as separate meetings, will be held, bringing updates for the community. Around a week before April 19, Mr. Parent and the school district will release the official plan for the reopening. The letter will address any questions families may have, including news on COVID-19 cases and close contacts.
With the school reaching full capacity again, administrators are expecting a rise in close contact cases. But it should be mentioned that if you are fully vaccinated and can show proof, you are allowed to be excused from quarantining due to a close contact.
From measuring the space between desks to purchasing new equipment, the Londonderry School District is taking the plans for a full return seriously. However, they are still concerned about the timing and what they can't control due to the Governor's mandate.
"What [the mandate] does is significantly speed up the process," Parent said, "and when you do that you hurry, and you make mistakes. So, [the plan is] not as well thought out and not as well as it could be if we just had more time."
Leave a Comment
About the Writer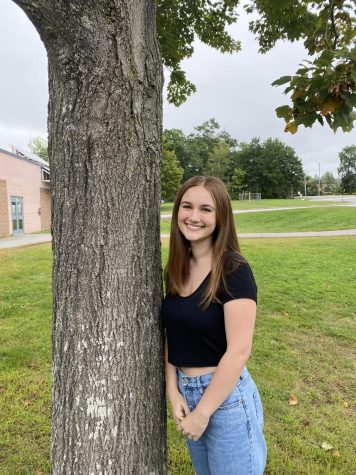 Courtney Clark, Editor-in-Chief
Senior Courtney Clark has been on staff for 4 years. Starting as a reporter in her freshman year, she then worked her way up to an Opinions Editor, then Assistant Editor-in-Chief, and now Editor-in-Chief. Next year she plans on being an Elementary Education Major at Keene State College.