LHS teacher Mrs. Morse reinvents her classroom to help students learn
Going to class and having to sit down, write notes, and listen to the teacher talk the whole class is very difficult for some students to learn the material that is being taught. LHS newest Spanish teacher Señora Carolyn Morse has brought a new teaching style to students education.
Morse makes the learning environment a fun and safe place for students to learn. 
"I plan by the week what I will do and it usually changes a little bit each day, but I have an overall understanding and 'skeleton' of what I'm doing," Morse said. 
Each day Morse creates a different lesson plan that can include games, videos, and songs.
"I try to come up with games that I would want to play," Morse said. "Sitting in class is so boring so I try to do fun things."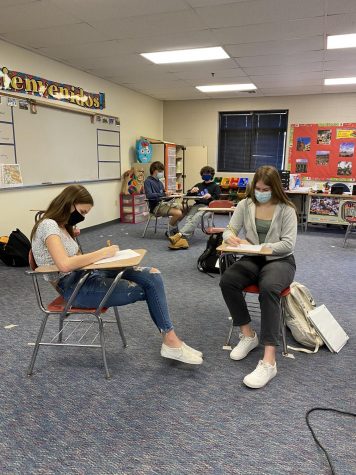 Kelly Egan (left), Olivia DeFazio (right), Boden Belanger (back left) and Vincent Dispenza (back right) work in pairs while playing the "Run-up Game." The run up game is a team bonding and fast paced game where you have to translate the English sentences on the paper to Spanish. Once you have gotten it right, you run up to the board and draw what was on the paper for that sentence. 
"For the run up games, students are learning to translate and work together," Morse said. "It lets me know which students are struggling and which are grasping the material."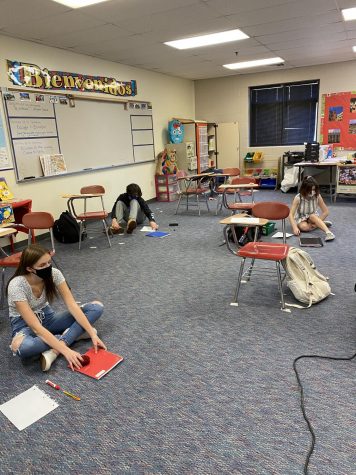 Kelly Egan (left), Vincent Dispenza (back left) and Natalie Howard (back right) play the "Placement Game." The placement game is when students have multiple items on the floor, listen to Morse, and put the items where she tells you to.
"I think the more students hear things the better they will remember," Morse said. "Come fourth quarter, we really need to have to go to 75% in Spanish classroom so that that you'll be more prepared for next year."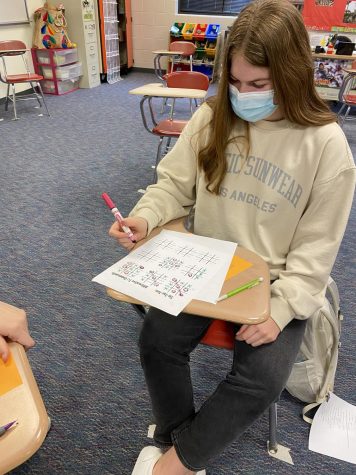 Olivia DeFazio (right) are playing tic tac toe. To be able to put either an X or an O on the paper you have to answer the question right beforehand. This game makes translating questions fun and competitive.
"Different games focus on different skills sometimes competitive and sometimes self paced," Morse said. "When students are having fun they forget they are actually learning."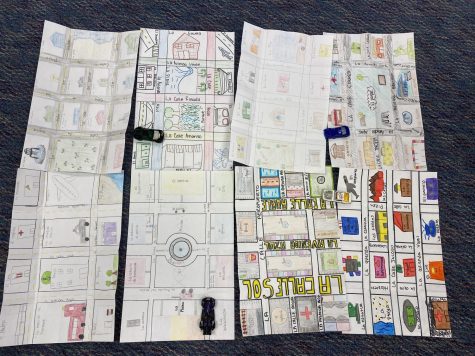 Students can be assigned projects at home, like making a map. The map had to include streets, buildings, and blocks. Students then had to bring their maps into class to make one big map. Morse then told her students to get a car and to give each other directions on where to go on the map. This helped students with speaking and listening to one another.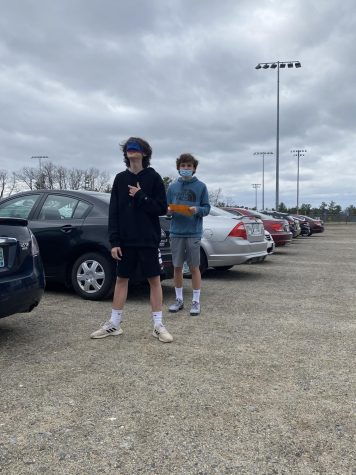 Vincent Dispenza (front) and Boden Belanger (back) are outside in the dirt lot giving each other directions in Spanish. Dispenza is blindfolded and has to trust Belanger with his directions, but also has to listen and know himself which way to go.
"We can still do our translations, conjugations and vocab practice and then do it in a more fun interactive way," Morse said.