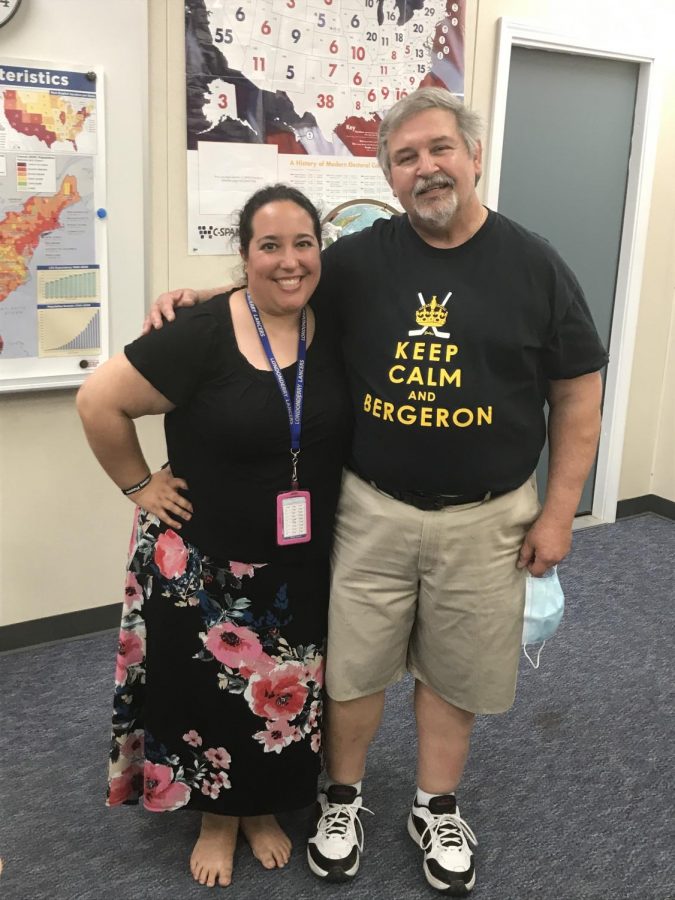 Steven Tallo
After 34 years of teaching at LHS, Lancer nation will be saying a bittersweet goodbye to beloved math teacher, Mr. Tallo. 
"By working with kids you never have to grow up," Mr. Tallo said, "I never grew up and I'm 63 years old."  
Mr. Tallo has been a teacher since 1979 and teaching at LHS since 1986. Students and staff members have grown to love Mr. Tallo for all of his jokes and great dedication he has to connecting with his students.
"I've never had a teacher care so much about my life outside of school," sophomore Andrew Soucy said.
Tallo has formed connections with all the students and staff, from riddles to daily check-ins, he became someone everyone can go to.
"Students and teachers kind of all see him as their dad, he's known for his dad jokes obviously," Mrs. Jarzabek, social studies teacher at LHS and Mr. Tallo's daughter, said. 
Mrs. Jarzabek has been a teacher at LHS since 2010. She grew up with both her parents as teachers and recalled Mr. Tallo bringing her to visit LHS when she was a kid. Seeing  her grow up and follow in the footsteps of Mr. Tallo was a proud moment for him as a father.
"One of my most memorable moments was definitely when Londonderry High School hired my own daughter." Mr. Tallo said.
In 2016 Mr. Tallo was inducted into the LHS Hall of Fame, as well as named teacher of the year due to his dedication as a teacher. Mr. Tallo was honored by these awards, describing the experience as "tremendous."
This year has certainly been a challenging year and a memorable one for Mr. Tallo to end his teaching career with. 
"This year has been tough," Mr. Tallo said. "Not a day goes by that I don't want to hug somebody."
Mr. Tallo enters retirement with no set in stone plans but a "smorgasbord of stuff to do," as Mrs. Jarzebek describes.
As he leaves LHS, Mr. Tallo looks back on all the people throughout his career that allowed him to become as successful as he was as a teacher.
"There's a whole lot of people I want to thank for taking a chance on me and letting me grow and do my own thing," Mr. Tallo said. "I'm forever grateful." 
Lancer Nation will always remember Mr. Tallo for the love he showed LHS and his dedication to educating his students.
"You can just tell he's very passionate about what he does and he enjoys teaching," Mrs. Jarzebek said. "I think a lot of people like myself always went to him and asked him for advice. It will be very weird for me next year when it's going to be my first year without him here, but I think that's the legacy he's going to leave, just being there to offer advice and a laugh."