Beloved LHS teacher battles cancer with support of the community
Ms. Murphy, more commonly known as "Murph" around the halls of LHS, has been battling a rare "1 in a million" cancer called Synovial Sarcoma. Murphy has been unable to attend school in-person this year and has been teaching remotely. 
Teaching and being an active member of the LHS community has always been an important part of Murphy's life, being away from her "second home" has been a difficult hurdle to surpass.
"Being away from LHS feels like a piece of my heart is missing," Murphy said. "I was born to teach and thankful that every day for the last 20 years I was able to do just that.  Collaborating with coworkers, sharing memories with students, hopefully making a difference in all of their lives as much as they have made in mine… Being away from LHS, 614, Student Activities, sports…. You name it. It was my second family – my second home."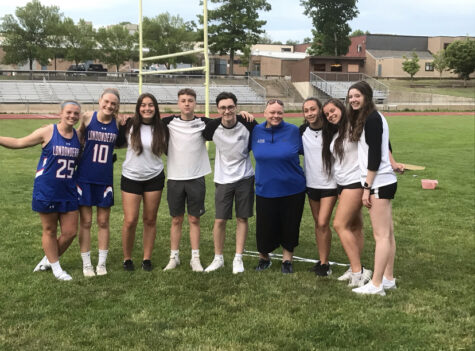 Along with advising a club and teaching Murphy also coached softball and spent her time cheering on her students whenever she had the chance.
"I have always said that coaching sports and advising were an extension of my classroom. It was a way for me to bring people together of all kinds and all  of them to make memories and be kids," Murphy said. 
After receiving her diagnosis Murphy became determined to fight for herself and her daughter, Maya. Murphy's doctor was concerned about the state of her condition during the fall and winter of this year. That didn't stop Murphy, she continues to fight everyday.
"My doctor was concerned.  I said, 'You don't know Murphy's, Doc'. Yesterday morning he said if I could have spoken to the woman I first met, knowing what I know today, it would have been a very different conversation," Murphy said. " I will tell you, I will never give up.  Especially when it comes to Maya.  Stay strong, laugh, and remember, 'Hope is the only thing stronger than fear.' I believe in hope."
Murphy's daughter, Maya received a diagnosis of a rare genetic disorder called Dup15. At the time of Maya's birth she was a preemie born three months early, Murphy was told that her daughter would never walk or talk. Maya has autism, cortical visual impairment, global developmental delay, hypotonia, sensory processing disorder, seizure disorder and more as a result of her disorder. Though like her mom, strength and overcoming challenges runs in the family. 
"
My strength: Maya. She keeps me going like the mama bear I am. Advocating and fighting for her physical, social, and emotional needs. Whether that is in court, the state, the school, or fighting for energy to take care of her. She is my everything,"
— Murphy
"Today, she's (Maya) walking, scootering, jumping on the trampoline, learning how to ride bikes and participating in the Special Olympics.  Never mind the fact that she is reading and doing math at a kindergarten level (she's in 1st), and speaking in full sentences with vocabulary and proper structure continuing to grow," Murphy said. "She has books and songs memorized and is constantly singing.  She is now making up her own songs, much like her mother.  She was recently just selected to have her picture hung in the Tufts NICU to be able to share her story. Maya is an angel that was sent here on earth for all, but she surely has made me a better person.  I have grown as an individual, a teacher, and a friend because of Maya."
Maya brings out the best in her mom and has created connections with the community at a young age.
"When you see students working with her, and alumni babysitting, and coworkers becoming aunts and uncles to her… her defying the odds is because of every single person in our village," Murphy said. "The acceptance. The love. The support. That has always been my philosophy. Accept all. Be kind. Never say never.  Go make memories. Believe in hope. That's how I approach Maya – I believe in her ability, not her disability. Much like how I see my students."
"
Teachers don't live for paychecks. We live for people. We engage, find joy in growth, progress, laughter. We help where we are needed, and hope that we can make a difference in someone's life. Many more, make a difference in ours, "
— Murphy
Murphy is a beloved teacher not only at LHS, but in the community as a whole. Murphy was showered in love and support over the past year. Murphy's close friends created a GoFundMe for her and Maya which has raised over $30,000. 
"I will say, without my 'village', I wouldn't be able to be where I am today," Murphy said. "Between visits, calls, texts, cards, video chats, laughter – those all keep me going. Never mind the GoFundMe account. The thing about this village is they not only support me, but they love Maya."
Murphy was going through a particularly hard time during the holidays and was struggling to go above and beyond with festivities as she usually did. The people who love Murphy and her daughter wanted to make sure that the holiday season was filled with as much joy as possible.
"I wasn't able to do any Christmas shopping for Maya. My primary goal was attempting to find lawyers to fight for my daughter and fighting the cancer obviously," Murphy said. "I came home to a MOUND of gifts for Maya for Christmas. My remote rockstar coworkers, alumni came down to have a nontraditional "Holiday Homecoming" which I usually host every year, gifts from people I went to high school with… It has been so overwhelming. And I don't know how to repay the kindness. Needless to say, Christmas, Easter, and her Birthday were all taken care of."
"
The Go Fund me account was amazing. I can't even explain. I had to hire a team of lawyers to help ensure that Maya had a safe future where she would be able to progress her learning and be emotionally taken care of, comfortable, and safe. Although that has run dry with the lawyers already, it was a huge help to get us jump started. I wish I could thank everyone personally. But students, staff, alumni, PTSO, LEA, admin, friends, family, and more…. There are no words. Yet again, they are helping to protect Maya and her future in this situation just as much. For that I am forever grateful,"
— Murphy
Murphy runs the beloved club Student Activities, which provides a fun and accepting environment for students to bond. Over her time as a remote teacher Murphy has still managed to run the club and create events for students to enjoy.
"It was hard (advising Student Activities) because I was not allowed on campus as a remote teacher. So there were a lot of virtual meetings and events. We worked around that by doing virtual game nights of "guess that song", Pictionary, and others. The board has been challenged to maintain a community these last year without being able to do close contact events and trips.  Both years we ran Jeans For Genes supporting the Dup 15 Alliance – actually this past year we raised the most ever, over $1,500," Murphy said.
The little things have meant the most to Murphy throughout the challenges of her life.
"Having people down for a BBQ and laughing, virtual lunch meetings, collaborating with peers and singing random songs,  developing curriculum, essential questions, helping new teachers learn!  These all contribute to my heart! Talking out problems, creating new assessments and activities! Dressing up for Halloween with my peeps, video chatting to know about their day.  Getting emails, cards, and letters from students and staff. Hearing from alumni – helping with medical school applications, hearing about graduations, and softball playoffs. Being able to help and support others through celebrations, problems, and sharing ideas… This is what makes me feel alive," Murphy said. "Makes me feel normal. Being able to help others in whatever capacity that may be."
"
Teaching and coaching are my passion. Students need to be reminded that they are kids and they need to come play, make memories and laugh. And I hope that my classroom, coaching, student activities provided that place for many over the years,"
— Murphy
Murphy's strength comes from her love for the people around her and her drive to fight for her daughter. 
"What keeps me going is the hope that I have made a difference," Murphy said. " It is a desire to not just be forgotten. That my legacy will live on in Maya, my family, friends, students and coworkers. I want to know that I have made a difference and what I have done has mattered."
View Comments (2)
About the Contributor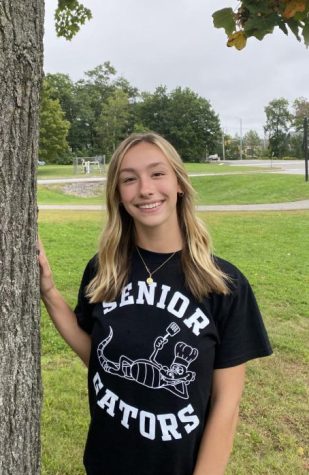 Olivia Windisch, Sports Chief
Olivia has been on staff with The Lancer Spirit for three years. Olivia is a huge sports girl; when she isn't on the field, court, or track with the Unified family, she spends her time cheering on Lancer Nation. Olivia is also involved in many clubs at LHS and enjoys spending her time volunteering. If there was an award for loudest fan... Olivia would win it.