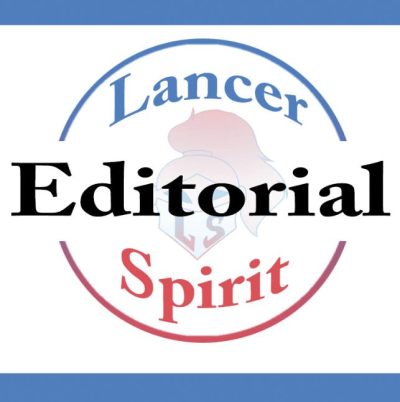 Logo created by Melina Illinger
We've been through a rough year: the pandemic, the loss of senior Jake Naar and counselor Mrs. Sherwood, and events being cancelled all made this year difficult for everyone. But through it all we stuck together as Lancer Nation and stayed strong.
Although we may look at this year as difficult and just want to forget it, there are some positives that came from it.
Mack Plaque
In the beginning of the year we were able to have fall sports again, the first sports season since last winter. Not only was the school able to organize sports in a safe way to fit the pandemic, but the athletes were able to overcome any struggles they were facing by adjusting to the school year to come together and have a great season. 
For the first time in years, Londonderry beat Pinkerton in Mack Plaque 5-3. The weekend started off with a win from the football team leading 23-14. Field hockey followed with a win 1-0, then boys' cross country 26-32, boys' soccer 1-0, and lastly volleyball with a win of 3-1.
Even though we weren't able to attend the games, we still cheered on the teams virtually, and came together to win the Mack Plaque.
Kate Sherwood Foundation and Walkathon
When our school and community was faced with a tragic event, the loss of our beloved counselor Kate Sherwood, this town was still able to come together to honor and remember her.
All over New England, hearts were placed outside in support of Sherwood and her family. The hearts said "#KindHeartsForKate" and featured phrases like "smile," "joy," "kindness," and many others. The hearts showed how big of an impact Sherwood had on not only our school, but across the country as well.
Along with the hearts, there were two foundations that hundreds of people helped out with: a foundation to help Sherwood's children with their future college tuition, and a scholarship foundation that will aid students in need.
In support of these foundations and the memory of Sherwood, the LHS Student Council hosted a walkathon from 10-3 p. m. on Sunday, May 16. At this event raffles were hosted where all the proceeds went to the Kate Sherwood Foundation. There was a large turnout where even live music was performed. Everyone who attended, honored Sherwood and showed their support for her family. Student Council's "Sherwood Walkathon" was a smashing success, collecting $9,000 and counting.
During such a hard time where everyone was grieving, it meant a lot that everyone was able to come together and stay strong.
Jake Naar Scholarship Foundation and Celebration of Life
The town was already facing an incredibly difficult time with the pandemic and then the loss of Sherwood. Everyone was doing the best they could and trying to help out in any way possible. But then we were faced with another unimaginable challenge: the loss of senior Jake Naar. 
Even through the grief, it was evident that Naar had made a significant imprint of positivity within our community. That night, when the news of his death spread through the town, students held a candle lighting ceremony at the LAFA fields. It was a way for everyone to grieve together and honor Naar's memory. Following this event, the Jake Naar Scholarship fund was created. Hundreds of people from many different regions showed their support by donating to the fund.
Lawn signs, sweatshirts, and bumper stickers were all material ways that helped donate to the foundation, while showing that they were there for the Naar family.
In this time of heartache, surrounding towns showed their condolences by donating and even sending flowers to LHS.
Another way our town remembered Naar was through the Celebration of Life. This event was graciously put on by LHS, inviting the entire town to come and commemorate Naar and the positive messages he left. The event took place on the varsity football field and featured many tributes to Naar, with his family there to watch and see everyone who was able to attend.
Throughout our town's unimaginable tragedies, we were still able to come together and do everything possible to help the Naar family and honor Jake's legacy.
Prom and Graduation:
This year was unpredictable. From hybrid to remote to back to hybrid to now full time, we've been through a lot of uncertainty. Not being able to predict what the next month would look like made it incredibly challenging for the Administration to foresee any events.
Yet, through it all they were still able to make it happen.
Although this year's prom and graduation won't look "pre-COVID-normal", the Administration team is doing everything in their power to make sure that the events are just as great. From having a professional staging team following and adjusting the new CDC guidelines, the Administration team is working nonstop to make this year of events as close to normal as possible. And for that we should be grateful.
So, overall, this year was rough. It's easy to say that this was one of the worst years to be a student and spend the next couple months trying to forget it, but even through the worst times, we showed strength. We should be proud of our community and proud of what we have accomplished.