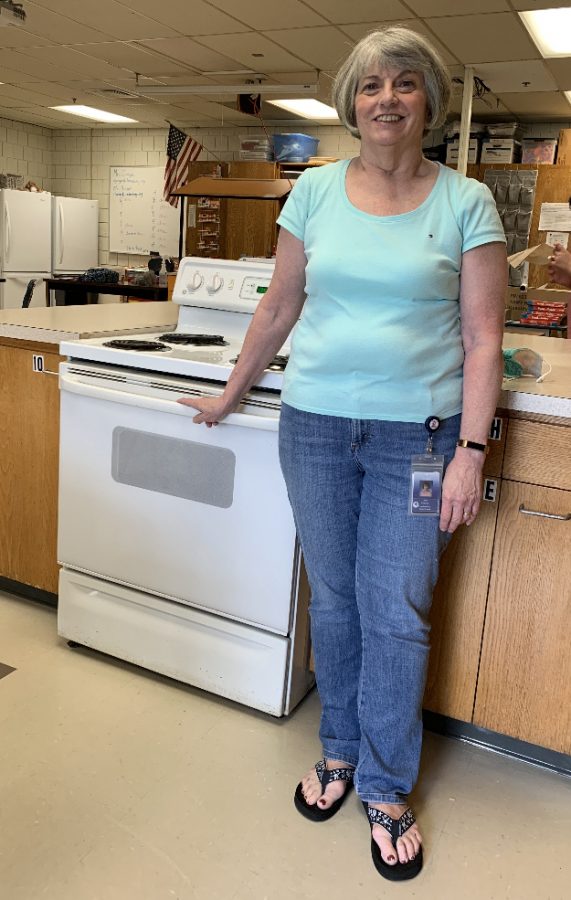 Photo by Natalie Karlson
Ann Gonyea is not your everyday teacher. She doesn't teach a core class, but she does teach her students some of the most important skills of adult life. She has been teaching at Londonderry as a family consumer science teacher since the school's opening in 1978, in fact, it's been her only teaching job.
However, becoming a high school teacher was not her first choice..
"I actually started out going for preschool education," Gonyea said. "Then while I was in college I saw the other aspects of what was offered in family consumer sciences, which was then called home economics. The sewing, the cooking, and the child development all really appealed to me."
So she changed her major and pursued what would become her lifelong career. Londonderry was just opening when she graduated and began looking for a place to start her educational journey.
"It was a brand new school, I was looking to be in the southern New Hampshire area, and I applied to so many schools," Gonyea said. "But this is the one I wanted to be at. It just seemed like a wonderful opportunity to be starting out at a brand new school, brand new teachers because we're all in the same boat."
Gonyea has not only positively impacted her students and the school, but her fellow teachers and staff have influenced and cared for her as well during her time here. It's one of the big reasons she stayed with the Lancer Nation for so long.
"The people here are very good," Gonyea said. "I had teachers who helped me starting out, my old department head, she was definitely someone who helped me in the right direction. I just enjoyed the people I was working with. They were kind, always willing to help, good sense of humor, and just nice to work with."
She loves our staff so much, and they, as well as the students, love her right back. In fact, the LHS student body has been so caring toward her, they've become her favorite part about teaching.
"I love the students," Gonyea said. "You meet some wonderful people, and it's nice to see that when they're understanding what you're teaching, they take an interest in it. They want to learn."
Teaching family consumer classes gives Gonyea a wide variety of topics to teach, and it allows her to combine her own interests with what she passes on to students. One of those things being her passion for sewing.
"It's something I've always enjoyed doing," she said. "When people start out it might be difficult, but when they get it, it's something that's enjoyable for you to do, it's relaxing and gives you a chance to be creative."
She also taught classes about cooking, and child development. Anytime you see a student walking down the hall at the end of the day with a baby doll that really cries, or if you walk down the ramp and smell something that makes your mouth water, that's Gonyea's teaching at work.
Now that she's retiring, she has a lot planned for her newfound free time.
"I have a lot of things I want to do," Gonyea said. "Things I've put off, now's the time to do them. I want to do some traveling, spend more time with my family, and do some of the things that I haven't done." 
And while LHS won't be the same without her, we all wish her the very best, and hope that she knows what an influential teacher and woman she's been to all of us here.
"Lancer Nation is a great place for our students, for our faculty and I want to say, just keep going," Gonyea said. "I think the faculty, the staff, and the students all help each other too, and that will always keep going. It's that kind of caring nature that makes it a welcoming place to be."