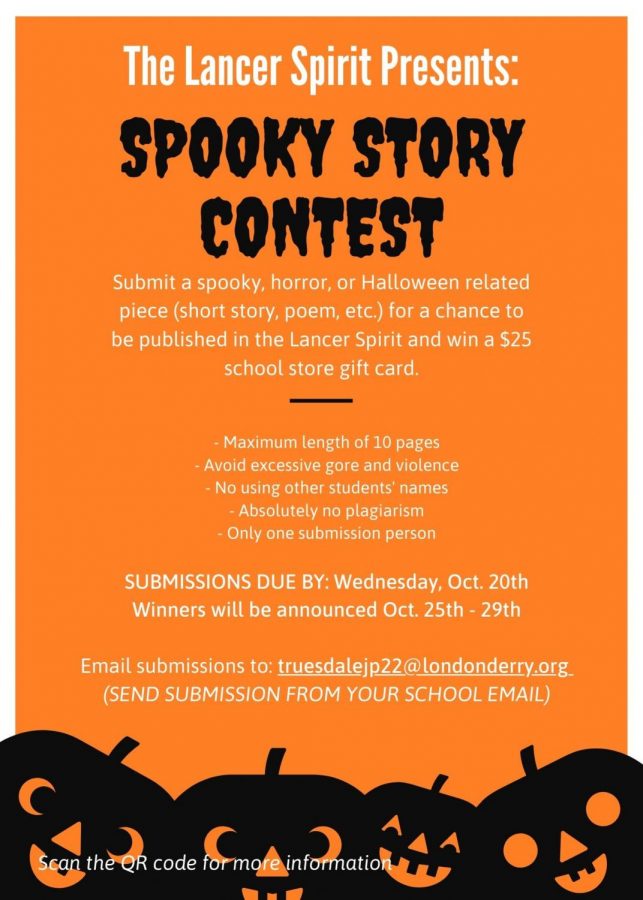 Photo by Josh Truesdale and Olivia Hamel
As Halloween returns, so does the Lancer Spirit's Spooky Creative Writing Contest! Students with an affinity for writing are encouraged to participate, and the first place winner will receive a $25 Lancer Locker gift card, along with being published in the October edition of the Lancer Spirit Magazine as well as online.
Submissions can be short stories, poems, or other works of creative writing and must be horror, spooky, or Halloween themed. 
Rules:
Horror, spooky, or Halloween themed
Must be no more than 10 pages
Avoid excessive gore and violence
No using other students' names
ABSOLUTELY NO PLAGIARISM!
Only one submission per person
Disclaimers:
 The Lancer Spirit reserves the right to edit grammar and spelling, but will not change the story
Your story is protected by copyright
Submitting:
Email submissions from a school email address to [email protected]. Please make the subject of the email "Spooky Writing Contest – [NAME OF SUBMISSION]". 
DUE BY: Wednesday, Oct. 20
The first place winner will be announced online and in the magazine on Friday, Oct. 29, and runner-ups will be announced online on the days leading up to it.
Please email [email protected] with any questions.