Each summer, close to 200,000 Little League teams compete for the chance of a lifetime: a ticket to Williamsport, Pennsylvania. As the birthplace of Little League Baseball, the town holds the famed Little League World Series (LLWS); a near two week competition housing the best little leaguers in the world. This year, the North Manchester-Hooksett (NMH) Little League team punched that Williamsport ticket.
The NMH All-Star team was formed back in June, composed of the regular season's best and brightest players. With a 13 man roster, the team had talent to spare. Led by manager Tim Devall, the team ended up scoring 68 runs and brought in six wins at the national and regional level.
"I didn't know we were going to be World Series good, but I knew the talent was there for a team from New Hampshire," Tim Devall said. 
NMH started their World Series run back in July, when they entered the State Tournament after going 18-4 throughout the regular season. The team became the District 2 champions after beating Laconia in a best out of three mini-series. After losing their first game, things looked low for NMH. Brayden Connolly, the team's starting third baseman, felt the pressure fighting back from the loss.
"When we lost the first game in Laconia for Districts, I didn't think we were going to go anywhere," Connolly said. "After winning states a few weeks later… that changed my perspective entirely."
After single-handedly beating Bedford twice for the state championship, NMH packed their bags and travelled down to Bristol, Connecticut to compete in the New England regionals. The boys played their first game against the Saco, Maine little league team. The team fell short with a 5-0 loss, staying silent on offense and defense.
"I think the lights were a little brighter down there," Tim Devall said. "Our team was a little bit more nervous."
Playing from behind was something NMH was used to, and prepared to do again. Mason Devall, the starting shortstop and pitcher, enjoys coming in as the underdog. In three of their four elimination tournaments, the team lost their first game, and still came back to win.
"It just feels good to fight back with our backs against the wall," Mason Devall said.
The NMH team bounced back hard after their loss against Maine when Mason Devall threw a perfect game against Vermont in 4 innings. Devall had 12 strikeouts in 88 pitches, and was backed by 10 runs being scored by his offense.
"I told them that we were the best team in New England," Tim Devall said. "And that game was the spark that got us back going."
The team then went on to win the New England Regional Championship in a  5-0 win against Massachusetts, and then a 11-1 win versus Connecticut. Tyler Chauvette, the starting catcher for the Little League team, helped lead the charge on offense, raking in a .444 batting average and a 1.389 slugging percentage.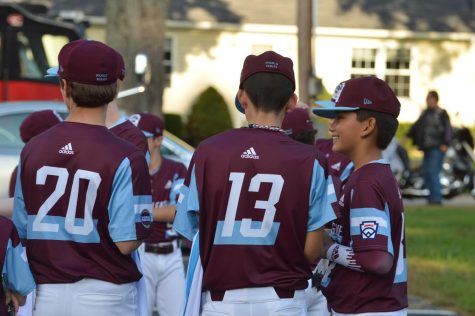 "[Regionals] ended up being a lot easier than I thought it would be," Chauvette said. "Once we got to Williamsport, it was a whole new ballgame."
As the Little League capital of the world, Williamsport holds two well designed complexes: Lamade Field and Volunteer Stadium. Much like thousands of other baseball families in the US, the Devalls had grown up watching the LLWS every summer. However, it was the Devall family who got to live under the lights this year.
"We were walking back up the hill to where we were staying," Tim Devall said. "It just so happened that Mason and I were walking up the stairs. He looked at me and said, 'Dad, can you believe we just practiced in Lamade stadium?' It was a surreal moment."
The NH team faced off against California for their first game, and came out flat with a 10-2 loss. With silent bats against strong pitching, the boys found themselves in the exact same spot they were in during Regionals. Tim Devall said that he knew the potential his team had, and was prepared to get them back on their level.
"We talked and said that we weren't satisfied with just being at the World Series," Tim Devall said. "It is a huge feat to get there, but we were down there to play baseball. I told them to embrace the energy. That made them more relaxed after that game."
The NH team snapped back into their game immediately; responding with a 4-1 win against Tennessee, and then a 14-6 win against Oregon. Their strong offense was backed heavily by twins Cal and Tristan Lucier, Mason Devall, and Ryson Michaud. In their combined postseason run, NH hit 11 home runs, and had a slugging average of 1.313.
"We had four or five boys who could hit the ball over the fence at any time and hit the ball hard," Tim Devall said. "We were strong up and down the lineup."
Mason Devall had earned the nickname "Warning Track" throughout the season due to his ability to come just shy of the fence. He hit his first homerun in the State Championship, and then hit his second at the LLWS.
"I couldn't hit a homerun on a 200 foot field, but I could on a 225 foot one," Mason Devall said. "I'd hit home runs before, but at the Little League World Series it was completely different. There's thousands of people watching you and it's just a really great feeling."
The NH team finished their summer run in a close comeback 4-3 loss against Ohio. Finishing as part of the top eight teams in the country, the support from back home was monumental. After every game, the coaches phones would be "swarmed with messages of congratulations", Tim Devall said.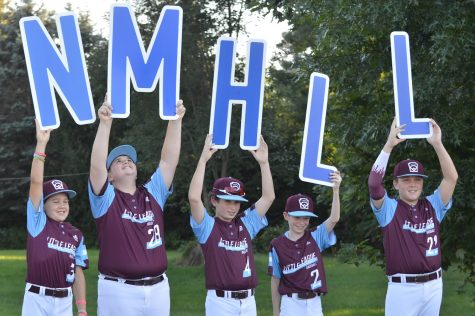 "You just don't know," Tim Devall said. "It still is amazing when you get home and someone recognizes you from the team. They walk up and tell you that they enjoyed watching and we did a great job. We appreciated all the support."
The NH team was welcomed back with a celebratory parade in September, which ran to one of the team's home fields: Donati Park. Towns from across the state swarmed the streets to cheer on their boys of summer.
"A lot of the kids I've been playing baseball with for years," Mason Devall said. "Being there with them was special."
As the next chapter opens up for this talented group of individuals, Tim Devall says he still has more coaching left in him. At the same time, Mason Devall looks towards his future with bright eyes and is committed to his determination and goals.
"I'm just working harder now," Mason Devall said. "I can imagine playing high school, college, and in the MLB but right now I just have to keep working hard every day."