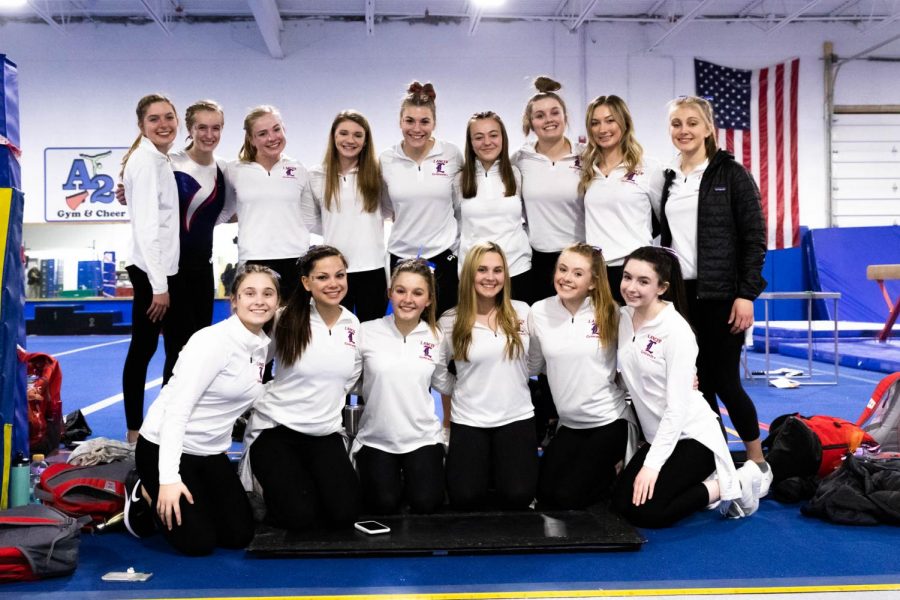 Courtesy of Laura Bowen
Lancer gymnastics is headed into their 2021-22 and has a strong team excited to compete in this year's meets. Senior Makenna Lord has set her mind on enjoying her last season of high school gymnastics. 
"It's the end of 14 years and getting to spend the last year with some of my best friends and be surrounded by everyone who supports me means the world," Lord said. "My biggest goal for the season is to just have fun."
The girls have always had a strong floor lineup and that hasn't changed this year. Senior Ella Houghton has been looking forward to showing off the talent of this year's team. 
 "Londonderry has always had some incredible floor routines, and now that we're allowed to have fans again, I know the girls will show them off more than ever," Hougton said. "We also had some incredible underclassmen vaults last year, so they should be looking even better this year. We have a lot of girls on the team this year too so that just means we'll have a greater selection of amazing gymnasts for our lineups."
Lord and Houghton have high hopes for the underclassmen that have been working to improve their skills each season. 
"I think everyone should be looking out for sophomore Lilly Haggett. As a strong upcoming level 9, she'll be one of our best gymnasts," Houghton said. "Her determination is incredible and I know she's ready to bring it to all 4 events this season."
For many seniors this season of gymnastics will be their last. 
"I'm not sure if I'll continue with club gymnastics in college so I'm trying to savor every last routine I compete this year. After the past couple tough years, I'm more focused on enjoying this season rather than anything else," Houghton said. "Competing for the school team as well as a club team can be a lot of pressure, so my goals are honestly to try my best and keep a good attitude for my teammates and I."
Team bonding for the girls is important especially because this year's team has 23 gymnasts, the most in the last four years. Over the past seasons the team has grown immensely and has plenty of new faces. 
"Outside of the gym, we have worked on a couple different fundraisers to help benefit our program and hope to do more team bonding events as long as COVID-19 allows," Lord said.
The girls have a close relationship with all of their teammates and work to bring each other together as a team.
"Our team is pretty special outside of gymnastics. For me, some of my closest friends are my fellow seniors and juniors on the team. Almost all of us do club gymnastics together as well as a couple other sports," Houghton said. "Gymnastics can be tough because it's so individualized, but the bond we have with each other as a team is so strong."
For Houghton and the rest of the seniors they share the common goal to make their last season one to remember.
"I think we're closer than ever this year, and I know it'll be tough towards the end when the seniors and I have to say goodbye," Houghton said. "I'll not only miss the team, but the lifelong friendships the team has given me."