Heading into the winter season, boys and girls skiing are ready to hit the slopes
Boys and girls skiing is looking forward to getting back on the slopes to work hard and improve this season.
Senior captain Alex Tufts has been on the team since her freshman year and has loved every second of it. She plans to make her senior season the best one yet.
"Overall, I am really looking forward to getting to lead the team for my final year," Tufts said. "Four years has flown by, but this will be one of the most special ways to be a leader. And of course, I can not wait to get back to skiing. We were fortunate to have a relatively normal season last year especially compared to some other sports impacted by COVID-19, but I can't wait for the snow to fly and the whole aspect of the race season to start again. I think we have a great team with a lot of potential and I look forward to having everyone back together."
As captain, Tufts plans to help her team improve from last year and be the best they can be. More importantly she will encourage everyone to have fun. 
"This season I hope to continue to push myself and my teammates on the mountain," Tufts said. "Each year I as well as the rest of the team has improved when reflecting from the last, so overall, improvement and challenging myself and others to do the best possible and improve is what I truly hope to accomplish. And of course, having fun because a ski team wouldn't be a ski team without all the fun we always have."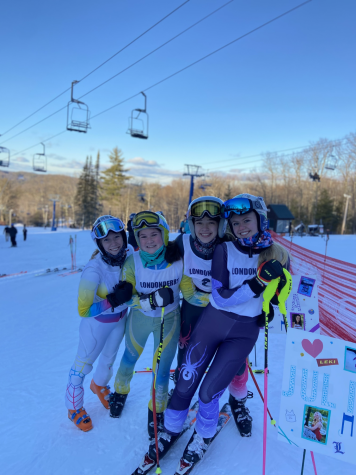 Junior Will Louiselle also hopes to improve his times, and encourage his team to do the same. With a somewhat normal season ahead, he plans to make the most of it.  
"I hope to strengthen my time on the slope and my leadership skills as a team leader. With the shortened schedule last year, our team wasn't on the mountain much," Louiselle said. "I'm most excited about meeting all the new people who are joining the ski team this year. Our team was fairly small last year and I really hope to be a role model."
Although skiing is primarily an individual sport, the team credits their success to the team mentality they have adopted. 
"The biggest strengths our team has is our teamwork and chemistry," Louiselle said. "We are always very respectful to other teams and more experienced skiers are always willing to lend a helping hand."
The Lancers are excited to get back onto the mountain and work hard. For Tufts and the rest of the seniors, this will be a season to remember.                                                                                         
"This season is special to me as a senior because I'm able to reflect on the past years, from freshman season all the way up to now," Tufts said. "I've made many longtime friends and worked with great coaches-one of them being my dad, who I get to have as my coach this year again for my last season. In addition to that, my sister, Maddie is a freshman, and I am beyond excited to have her on the team for my last year to race alongside her. I look forward to having them both there greatly because it makes it special to have your family involved in such an important sport."
Leave a Comment